Joe Biden Holds Big Lead Over Bernie Sanders in Arizona, but Coronavirus May Suppress Turnout: Poll
Joe Biden is 20 points in front of Bernie Sanders in Arizona ahead of the state's Democratic primary on Tuesday, a new survey has found, as a pollster warns that turnout is uncertain amid the COVID-19 pandemic.
The Monmouth University survey released on Monday shows Biden is supported by 51 percent of Arizona voters likely to vote in tomorrow's primary, while 31 percent back Sanders.
Hawaii Rep. Tulsi Gabbard, the third and final candidate still left in the primary race, polled with just 1 percent support, putting her behind three candidates no longer competing for the nomination.
Former Vice President Biden boasts a strong lead over Sen. Sanders (I-VT) among voters aged 50 and over (64 percent to 16 percent) and has a 29-point lead over the progressive congressman among white voters.
He was also found to beat Sanders among Arizona Democrats who had already voted, with 50 percent of the group backing Biden while 27 percent supported the Vermont senator.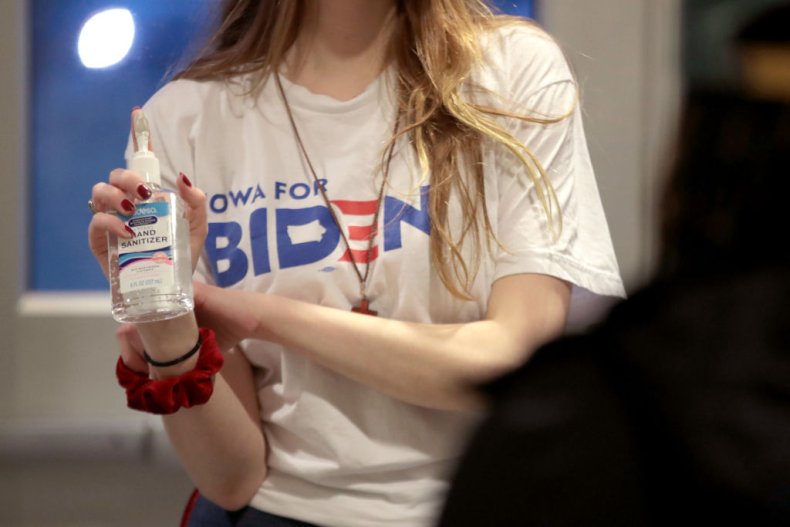 Biden's lead over Sanders among likely voters who had not yet cast their ballots is slimmer. A little more than half (51 percent) support the ex-vice president while 36 percent are keen on his progressive challenger.
Sen. Sanders performs best among Latino voters likely to participate in the state primary, according to the Monmouth poll, which shows 48 percent back the senator while 41 percent favor Biden.
The Monmouth University Polling Institute Director Patrick Murray said Biden has a "strong advantage" going into Arizona's Tuesday primary in a statement released with the poll results.
"This is because much of his support has already been banked in the early vote," he said. "The closure of many polling places due to COVID-19 means it is uncertain how many voters who planned to vote on Tuesday will actually show up."
Speaking to Newsweek by email, Murray added: "People might be willing to go to the polls but not wait in long lines if there are closures.
"National polling suggests that Democrats are more likely to social distance, but that doesn't tell us much about different groups within the Democratic electorate."
Amid fears over the spread of the novel coronavirus, Georgia and Louisiana have both delayed their state primaries.
But nominating contests in Arizona and three other states—Florida, Illinois and Ohio—are still slated to take place tomorrow.
The Monmouth University poll found that 53 percent of Arizona voters are either very or somewhat afraid of a family member becoming seriously ill as a result of being infected with the novel coronavirus.
The remaining 47 percent told pollsters they are either not too concerned or not concerned at all about COVID-19 causing a family member to become seriously ill.
On top of his lead in Arizona, Biden has also polled ahead of Sanders in the other three states going to the ballot box tomorrow.
Three surveys published by Emerson College on Thursday night found Biden had double-digit leads over Sanders in Florida, Illinois and Ohio, putting him on track to claim the bulk of delegates on offer.
The former vice president also has a larger head-to-head polling lead over President Donald Trump than Sen. Sanders, according to the Real Clear Politics average.
The Monmouth University poll published today shows Biden beating Trump by three points in Arizona while the president comes ahead of Sanders by 1 point in a hypothetical matchup.
"Impressions of the Democratic nominee will shift once the general election campaign gets underway, but Biden would start off by putting Arizona within reach," Murray said in a press release with the results.
Monmouth University pollsters surveyed 847 voters in Arizona from March 11 to March 14 for its wider polling, which has a 3.4 percentage point margin of error.
Results related to the Democratic primary are based on telephone interviews with 373 likely primary voters and have a 5.1 percent point margin of error.
World Health Organization advice for avoiding spread of COVID-19
Hygiene advice
Clean hands frequently with soap and water, or alcohol-based hand rub.
Wash hands after coughing or sneezing;
When caring for the sick; before; during and after food preparation; before eating; after using the toilet; when hands are visibly dirty; and after handling animals or waste.
Maintain at least 1 meter (3 feet) distance from anyone who is coughing or sneezing.
Avoid touching your hands, nose and mouth. Do not spit in public.
Cover your mouth and nose with a tissue or bent elbow when coughing or sneezing. Discard the tissue immediately and clean your hands.
Medical advice
If you feel unwell seek medical care early and call local health authorities in advance.
Stay up to date on COVID-19 developments issued by health authorities, follow guidance.
Mask usage
Healthy individuals only need to wear a mask if taking care of a sick person.
Wear a mask if you are coughing or sneezing.
Masks are effective when used in combination with frequent hand cleaning.
Do not touch the mask while wearing it. Clean hands if you touch the mask.
Learn how to properly put on, remove and dispose of masks.
Clean hands after disposing of mask, do not reuse single-use masks.