Joe Biden's 7 Biggest Achievements During His First Year as President
Today, Joe Biden wraps up his first year as President. For the last 12 months, President Biden has been grappling with the unenviable task of curtailing the ongoing COVID pandemic, restoring a waning economy, and solving the country's entrenched and divisive social issues.
It has been a taxing year for the President, who has led his administration through a year of notable ups-and-downs.
Nonetheless, the 46th resident of the White House has reason to be proud of his first year at 1600 Pennsylvania Avenue as despite the series of obstacles and challenges, Biden's administration has also achieved marked success.
As his freshman year draws to a close, Newsweek looks back on his major achievements over the last year.
1) $1.2 trillion bipartisan infrastructure package
One of Biden's flagship victories of the last year was the approval of a $1.2 trillion infrastructure package which drastically increased investment in the national network of bridges and roads, airports, public transport, national broadband internet, as well as waterways and energy systems.
The bipartisan bill was passed by the House in November by 228 votes to 206, with 13 Republicans breaking ranks to join the Democrats in support of the bill. Biden initially released the proposed bill in March, which was first approved by the Senate in August.
In a White House statement released at the time, the Biden administration claimed the bill would help tackle growing inflation by easing supply chain disruptions.
Republicans and moderate Democrats feared the bill's high budget would likely contribute to the ballooning inflation, despite a group of 15 Nobel Prize-winning economists backing the bill.
In a video Tweeted on November 8, Biden said: "We're doing so much with this legislation. It's going to make it easier for companies to get goods to market more quickly and reduce supply chain bottlenecks, now and for decades to come."
2) The $1.9 trillion COVID relief deal
In March, the Biden administration passed a $1.9 trillion coronavirus relief package designed to help the country combat the ongoing COVID pandemic.
The package provided direct payments of up to $1,400 to many struggling U.S. citizens, temporarily extended unemployment support by $300 per week, channeled approximately $20 billion into the COVID vaccination program, as well as providing $25 billion in rental support and a further $350 billion into state, tribal and local relief efforts.
The legislation was also designed to tackle child poverty and nutritional issues across the country. The bill invested almost $30 billion in restaurants and hospitality and raised the maximum Supplemental Nutrition Assistance Program support by 15 percent. Additionally, an extra $120 billion were invested into K-12 schools across the nation.
Additionally, 209 million Americans have received the full dose of the COVID vaccination and 249 million — 74 percent of the U.S. population — have received at least one dose of the vaccine.
3) Highest appointment of federal judges since Reagan
Biden has appointed 41 federal judges in his opening year at the White House. This is more than double those appointed by his predecessor Donald Trump and is the most a president has appointed in their freshman year since Ronald Reagan in 1981.
The president has also been mindful of issues of representation in his appointments over the last year, as 80 percent of the new federal judges are women and 53 percent are people of color.
In the long run, the federal judiciary's new look could have a lasting effect, as the lower courts are believed to be the trial stage for future Supreme Court contenders.
Since he was sworn in last January, Biden has nominated a total of 73 individuals to federal judgeships.
4) Halt on Federal Executions
President Biden is an opponent of the federal penalty and therefore reinstated a national freeze on federal executions, which had been in place for 17 years until former president Donald Trump ended the pause.
In July, the Biden administration opted to restore the pre-Trump status quo and imposed a suspension on federal executions while the Department of Justice assesses the existing procedures and policies.
The pause does not enable the President to halt executions at state level, though the Biden administration has vowed to eradicate capital punishment at federal level.
Prior to Biden's pause, there had been 13 federal executions under Trump.
5) Commitment to Combating Climate Change
During his presidential campaign and since taking office, Biden has been a vocal supporter of the need for a greater effort to tackle the climate crisis.
Shortly after coming to power, Biden re-joined the international Paris Climate Accord, which Trump had parted ways with, allowing the U.S. to continue to work with global players in the worldwide drive to deter the climate's deterioration.
Last November, the President joined an additional agreement aimed at reversing deforestation as well as presenting a 100-country strong pledge to reduce greenhouse emissions by at least 30 percent by 2030.
Additionally, in December, Biden ordered all government agencies to immediately halt the financing of new international carbon-intensive fossil fuel projects, and instead work towards clean energy use.
Despite the Biden administration's commitment to tackling the climate crisis, the U.S. did not sign a global pledge designed to end the use of coal power that was announced at the COP26 summit.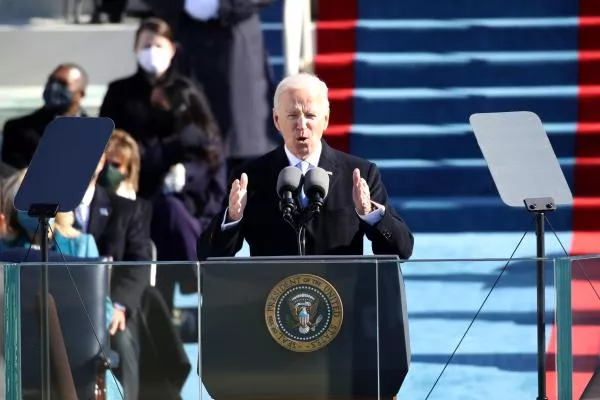 6) Support for Transgender Service Members
Within his first week at the White House, Biden issued an executive order to overturn Trump-era ban on openly transgender members of the U.S. military.
The original ban was first announced by Trump during his first year in power, as the former president tweeted that the U.S. military would cease to allow trangender Americans from serving in the military, claiming it imposed "tremendous medical costs and disruption".
Trump's ban came into effect in April 2019, existing transgender personnel remained in service but new recruits were turned back.
According to the Department of Defence data analyzed by the non-profit group Palm Center, there were approximately 8,980 active transgender troops in service in 2019.
Biden's repeal represents a considerable step forward in the fight for transgender rights in the U.S., though has not been considered as pivotal as Barack Obama's 2010 decision to overturn the longstanding Don't Ask, Don't Tell policy.
7) Reduced unemployment
The Biden administration has also been faced with the challenge of restoring a semblance of normalcy to an economy burdened by the pandemic. In his freshman year, Biden has managed to reduce the rate of national unemployment.
In December, the national unemployment rate dropped to 3.9 percent while jobless claims sunk to their lowest levels since 1969. When Biden took office, the unemployment rate stood at 6.3 percent.
Despite the growing inflation, wages paid by private businesses also saw an increase of 2.4 percent from January through October last year, while disposable income rose by 3 percent.
{{#isDisplay}} {{/isDisplay}}