Joe Biden Blames Climate Change for West Coast Wildfire Threat, Vows to Take Action
U.S. President Joe Biden announced he is launching new measures to try to combat wildfires across the West Coast, blaming climate change for the danger and record-breaking heat wave the states along the Pacific are facing.
"Right now we have to act and act fast," Biden said at the White House during a meeting with governors from western states on Wednesday. "We're late in the game here."
Biden is pitching a trillion-dollar infrastructure package—scaled back from his initial $2 trillion proposal—pulling out some parts that aren't viewed as traditional infrastructure efforts. Progressive Democrats have been pushing for money to address the climate crisis to be increased.
"Climate change is driving the dangerous confluence of extreme heat and prolonged drought," the president said during the meeting. "We're seeing wildfires of greater intensity that move with more speed and last well beyond traditional months, traditional months of the fire season."
Oregon Governor Kate Brown just a day earlier declared a state of emergency because of the imminent threat of wildfires across her state.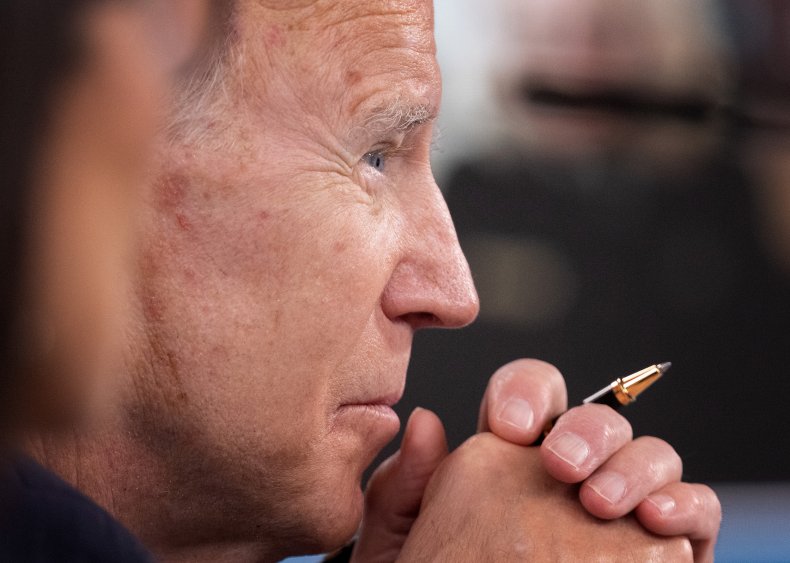 "With fire seasons increasingly starting earlier and lasting longer, it is up to each of us to do our part to prevent wildfires and be prepared for the ones we can't prevent. I am urging Oregonians to take charge in preventing human-caused fires by being prepared, safe, responsible, and aware," Brown said in a statement.
Biden has proposed increasing firefighter pay, bolstering the people available for work by ending seasonal deadlines and adding military members to the effort to fight firefighters.
"We can't cut corners when it comes to managing our wildfires or supporting our firefighters," he said.
Dubbed "hotshot firefighters" who work for the federal government's Forest Service, have reportedly been walking off the job over their $13.45 an hour pay. Biden said he learned about the wages last week and called the situation "unacceptable." He called on Congress to adopt measures to ensure that nobody is paid under $15 an hour.
Biden met last week with FEMA administrator Deanne Criswell and the White House Homeland Preparedness team for more input on preventing, preparing for and responding to extreme weather events.
Last year was the worst wildfire season in California's history, and experts have attributed it to the climate crisis.
A bipartisan infrastructure agreement reached by lawmakers but awaiting final approval would put $50 billion toward resilience to wildfires and drought preparation.
Biden's budget proposal for the coming fiscal year would pump $30 billion more into wildfire management and disaster relief.
During his public address, Biden argued that wildfires are "not a partisan phenomenon" and "don't stop at a county or a state line"—thinly veiled barbs at his Republican detractors who have denied climate science.
"We need a coordinated, comprehensive response with all the federal working, all the federal government working in close cooperation to support you, the states," Biden told the governors.
Congress ultimately would have to agree to most increased resources for wildfire protection and relief.