Joe Biden Blames Trouble Passing Voting Rights on 2 Dems 'Who Vote More' With GOP
President Joe Biden has blamed two Democratic Senators who "vote more with" Republicans for Democrats' difficulties in passing voting rights legislation through Congress.
Biden said that the "sacred right" to vote is currently "under assault with incredible intensity" during his speech in Tulsa, Oklahoma on Tuesday. The president described ongoing Republican efforts to pass restrictive voting bills at the state level as "simply un-American." He vowed that June would be "a month of action" for Democrats to preserve and expand voting rights, with Vice President Kamala Harris set to lead the charge.
Biden did not name the Democratic senators that could stand in the way of passing bills like the For the People Act and the John Lewis Voting Rights Act, although he was likely referring to Sen. Joe Manchin (D-W. Va.) and Sen. Kyrsten Sinema (D-Ariz.). Both senators are moderates who have come under heavy criticism this year over perceptions that they are obstructing elements of the Democratic agenda, particularly due to their refusal to support eliminating the Senate's filibuster rule.
"I hear all the folks on TV say, 'why doesn't Biden get this done?'" said Biden. "Well, because Biden only has a majority of effectively four votes in the House and a tie in the Senate—with two members of the Senate who vote more with my Republican friends. But we're not giving up."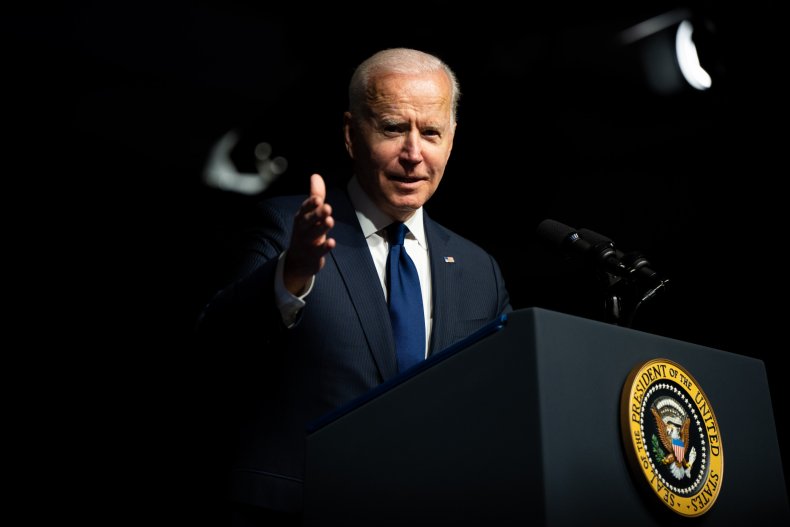 Biden characterized the current Democratic voting rights push as a crucial component of racial justice. He noted that the For the People Act had passed in the House earlier in the year and is expected to be taken up in the Senate later this month. Despite potential difficulties from Manchin and Sinema, he promised to "fight like heck with every tool at my disposal for its passage." Biden said that leadership from Harris would help be crucial in "ramping up our efforts to overcome again."
"To signify the importance of our efforts, today I'm asking Vice President Harris to help these efforts and lead them, among her many other responsibilities," Biden said. "With her leadership and your support, we're going to overcome again, I promise you. But it's gonna take a hell of a lot of work."
Biden was speaking in Tulsa to mark the centenary of a violent racist attack on Black residents that killed as many as 300 people, while injuring and leaving many thousands more homeless in 1921. The president stressed the importance of memorializing the incident, saying it was "not a riot" but "a massacre," after meeting with the last three surviving victims of the attack on "Black Wall Street."
Harris issued a statement on the effort shortly after Biden's speech concluded. The vice president said that she would work with voting rights groups and community organizations "to help strengthen and uplift efforts on voting rights nationwide" in the coming weeks, while also promising to work towards advancing legislation through Congress.
"We will also work with members of Congress to help advance these bills," Harris said. "The work ahead of us is to make voting accessible to all American voters, and to make sure every vote is counted through a free, fair, and transparent process. This is the work of democracy."
Newsweek reached out to the offices of Manchin and Sinema for comment.