Biden Blasts Trump for Pardoning U.S. Service Members Linked to War Crimes
Democratic presidential front-runner Joe Biden on Sunday morning criticized President Donald Trump for pardoning American service members who have been linked to war crimes, shortly after Trump tweeted a backhanded compliment that Biden is not a "rabid dog" as North Korea claimed.
Biden tweeted: "Trump's intervention in the American military justice system to pardon service members accused or convicted of war crimes betrays the rule of law, the values that make our country exceptional & the men and women who wear the uniform honorably."
The former vice president concluded that Trump "is not fit to command our troops."
Trump on Friday signed executive grants of clemency, or full pardons, for Army First Lieutenant Clint Lorance and Army Major Mathew Golsteyn.
Lorance was found guilty of second-degree murder for telling soldiers to shoot at three men in Afghanistan, and has served more than six years of his 19-year sentence. Golsteyn is awaiting trail for allegedly killing someone he believed made terrorist bombs in Afghanistan, and has plead not guilty.
In a press release, the White House stated that Lorance made the decision "under difficult circumstances and prioritizing the lives of American troops" and that "a swift resolution to the case of Major Golsteyn is in the interests of justice."
The U.S. military justice system "helps ensure good order and discipline for our millions of uniformed military members and holds to account those who violate the Uniform Code of Military Justice," the release said.
"For more than two hundred years, presidents have used their authority to offer second chances to deserving individuals, including those in uniform who have served our country," it stated. "These actions are in keeping with this long history."
Biden was not the only 2020 Democratic candidate who condemned Trump for pardoning Lorance and Golsteyn. Pete Buttigieg, who is mayor of South Bend, Indiana, and served in Afghanistan, tweeted: "There's nothing pro-military about overruling our military justice system to prevent it from delivering accountability for war crimes."
"The president has again dishonored our armed services," Buttigieg said.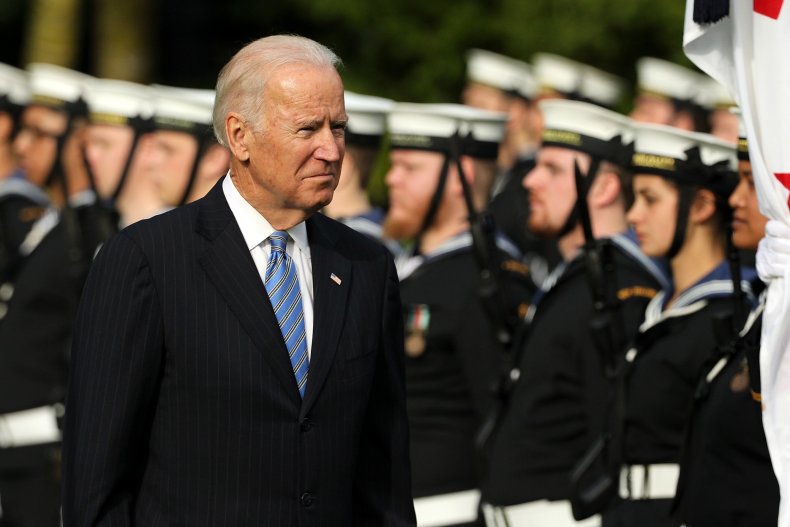 Biden's tweet attacking Trump came less than an hour after Trump appeared to defend Biden from a biting characterization from North Korea.
"Mr. Chairman, Joe Biden may be Sleepy and Very Slow, but he is not a 'rabid dog.' He is actually somewhat better than that," Trump tweeted. "But I am the only one who can get you where you have to be. You should act quickly, get the deal done. See you soon!"
On Saturday, Biden tweeted a photo of himself with former President Barack Obama along with the comment, "Two elections. Zero criminal convictions."