Joe Biden Braces for Heckling at Difficult State of the Union Speech
President Joe Biden could be bracing for interruptions and heckling during his second State of the Union speech on Tuesday, less than a year after he was heckled before a joint session of Congress.
The president will give the speech as he is being investigated by Special Counsel Robert Hur over his handling of classified documents and amid ongoing criticism of his response to a suspected Chinese spy balloon.
It will also be the first time Biden has addressed Congress since Republicans took the majority in the House of Representatives and he may be poised to criticize the GOP ahead of a likely showdown over the federal debt ceiling.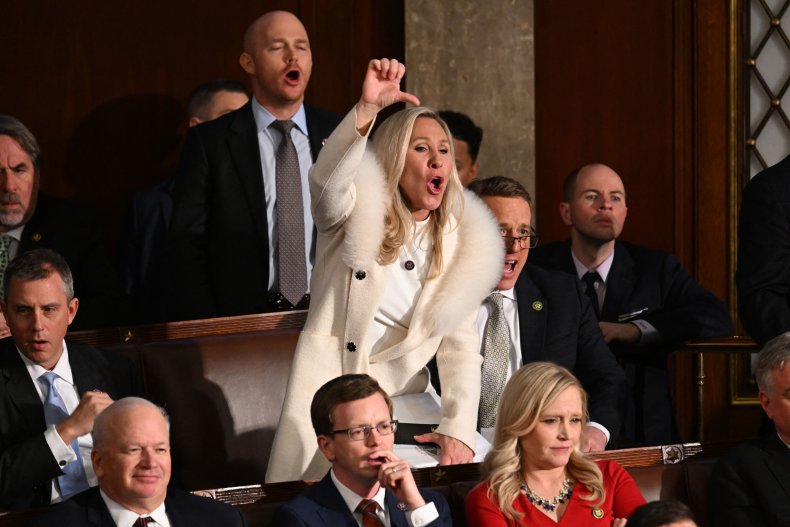 Any criticism of Republican aims could prompt heckling, while Biden is also certain to tout his administration's achievements over the past two years, which could also be the target of boos.
Biden delivered his first State of the Union address on March 1, 2022 and he was interrupted by Republican Representatives Lauren Boebert and Marjorie Taylor Greene.
The pair, who are both strong supporters of former President Donald Trump, tried to start a chant of "build the wall" during Biden's speech—a reference to Trump's signature 2016 campaign pledge to construct a wall along the U.S.-Mexico border.
Boebert also made reference to 13 U.S. service members who had been killed during the withdrawal from Afghanistan in 2021 while Biden was discussing conditions affecting U.S. personnel.
As Biden referred to "many of the world's fittest and best trained warriors in the world—never the same: headaches, numbness, dizziness, a cancer that would put them in a flag-draped coffin," Boebert shouted, "13 of them."
According to a report from Politico on Sunday, unnamed White House aides have said they would welcome a similar incident to last year's interruption as a means of drawing a contrast between Biden and House Republicans.
Both Boebert and Greene are expected to be in attendance on Tuesday but it remains to be seen whether they will offer a repeat performance. Other members of the new House Republican majority could also choose to heckle the president.
Greene and Boebert are now members of the powerful House Oversight Committee and they may play a key role in investigations of the Biden administration.
Speaker of the House Kevin McCarthy has said he intends to be "respectful" at the State of the Union and will not tear up Biden's speech as former Speaker of the House Nancy Pelosi famously did with Trump's State of the Union speech in 2020.
Despite McCarthy's comments, other members of the Republican majority may choose to heckle Biden on Tuesday.
In September 2009, Republican Representative Joe Wilson famously shouted "You lie!" at then-President Barack Obama during a speech he delivered to a joint session of Congress about health care.
Wilson later apologized over the incident and was reprimanded by a vote of the House, which was then controlled by Democrats.
Newsweek has asked the White House for comment.