President Joe Biden and the Democrats are facing the most difficult midterm elections in 48 years, according to new polling from Gallup that shows Americans' dissatisfaction with the state of the U.S.
Gallup found that the mood of the nation is the worst it has been in any midterm election year since 1974—the year that Richard Nixon resigned from the presidency following the Watergate scandal and investigations.
According to the new survey, just 13 percent of Americans were satisfied with the direction the U.S. is going and just 16 percent approve of the job Congress is doing. About 87 percent of Americans are now dissatisfied with the direction of the country and 82 percent disapprove of Congress.
Biden's job approval stood at 41 percent in June and was unchanged since May. Disapproval of the president now stands at 57 percent, while 3 percent of respondents had no opinion.
Gallup's latest poll was conducted from June 1 to 20 with a random sample of 1,005 U.S. adults and has a margin of error of +/-4 percent.
In its May survey, Gallup had found that Americans' mood was the worst it has been since 1974, with just 16 percent satisfied with where the country was going. That figure declined by three points in June, while approval of Congress fell from 18 percent in May to 16 percent in June.
Gallup also took into account Americans' views on the economy when analyzing the mood of the nation and the potential impact on the midterm election. In May, 46 percent of Americans had a negative view of the economy compared to 14 percent who had a positive view—a net negative of 32 points.
The U.S. is currently dealing with a high cost of living and rising prices, with the Bureau of Labor Statistics reporting that the annualized rate of inflation in May was 8.6 percent—a 40-year high.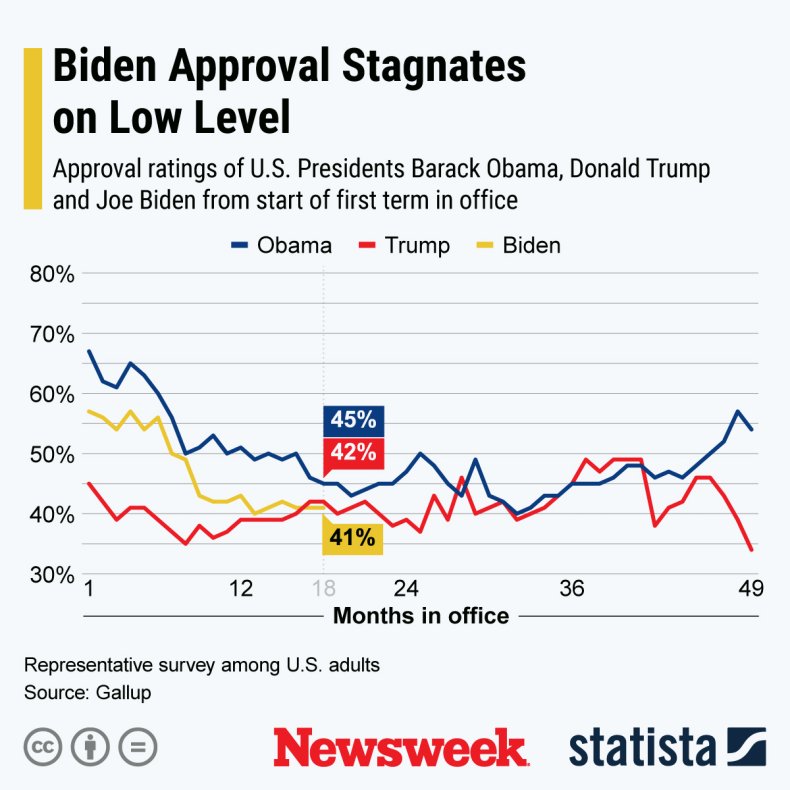 This graphic above, provided by Statista, illustrates the approval ratings of U.S. Presidents Barack Obama, Donald Trump and Joe Biden among a representative survey of adults in the U.S.
At 16 percent, approval of Congress has never been lower in a midterm election year since Gallup began recording it in 1974. Gallup has measured satisfaction with the state of the country in each midterm year since 1982. That metric's lowest previous point was at 22 percent in 2010.
Gallup has been gauging views on economic conditions in midterm years since 1994, and the figure's lowest previous point was a net negative of 31 percent in 2010.
It is worth noting that Gallup's figures from previous years usually come from October or November of that year. Nonetheless, if current trends continue into November, Democrats could be facing a very difficult environment.
In 2018, Gallup found that then-President Donald Trump's approval was 41 percent, while 21 percent approved of Congress.
Satisfaction with the direction of the country at that time was 33 percent and Americans had a net positive view of the economy of 43 percent. The Republican Party lost 40 seats in the House that year.
Democrats could be on track for even greater loss as Gallup suggested the national mood "puts Democrats' U.S. House majority in significant jeopardy."
The president's party has lost an average of 23 seats in midterm elections since 1974 with the greatest loss of seats taking place under then-President Barack Obama in 2010, when the Democrats lost 63 seats.
Poll tracker FiveThirtyEight's generic congressional ballot shows Republicans maintaining a slight lead over Democrats. As of June 22, the GOP enjoyed 44.8 percent support to Democrats' 42.5 percent.
If Republicans can retake the House of Representatives, they will effectively be able to stymie Biden's agenda for the two years leading up to the 2024 presidential election.