Joe Biden administration Can 'Break the Stranglehold of the Past,' Al Gore Says in Op-Ed
Former Vice President Al Gore has said that President-elect Joe Biden offers a chance for the country to reclaim its "leadership position in the world" on issues such as climate change, after "four years in the back seat" under President Donald Trump.
In an op-ed in The New York Times on Saturday, Gore criticized Trump's decision to withdrawal from the Paris climate agreement, accused the outgoing president of overseeing "colossal failure" during the coronavirus pandemic, and said that "bitter divisions were exposed and weaponized" in recent years.
Gore struck a more optimistic note on the future for climate change and the U.S. under Biden, despite what he called "monumental" challenges ahead.
"What lies before us is the opportunity to build a more just and equitable way of life for all humankind," he wrote. "This potential new beginning comes at a rare moment when it may be possible to break the stranglehold of the past over the future, when the trajectory of history might be altered by what we choose to do with a new vision."
President Trump announced in June 2017 that the U.S. would withdraw from the Paris agreement, which aimed to reduce global emissions of greenhouse gases, but UN rules meant it could only leave on November 4—the day after the U.S. election. President-elect Biden has said that he will rejoin the deal as soon as possible.
Writing on the fifth anniversary of the agreement, Gore said Biden can lead a "unified global effort" in doing so.
"Slowing the rapid warming of the planet will require a unified global effort," he said.
"Mr. Biden can lead by strengthening the country's commitment to reduce emissions under the Paris Agreement — something the country is poised to do thanks to the work of cities, states, businesses and investors, which have continued to make progress despite resistance from the Trump administration."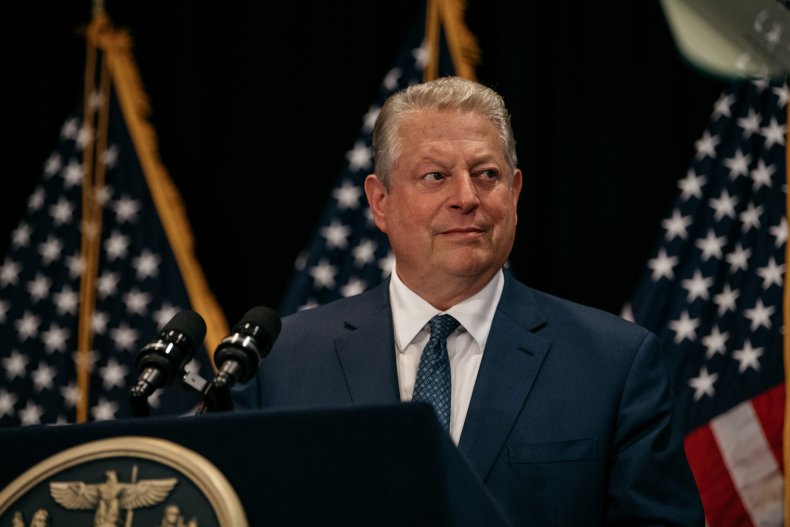 A Intergovernmental Panel on Climate Change report published in 2018, warned that the world faced coastal flooding and droughts if greenhouse gas emissions were not reduced by 45 percent from 2010 levels by 2030 and 100 percent by 2050.
Citing the report, Gore said that new commitments to reduce fossil fuel use from world leaders—including in the EU, China, Japan, South Korea and the U.K.— and scientific breakthroughs in renewable energy, had offered an opportunity to "build a more just and equitable way of life."
In the op-ed, which came exactly 20 years since Gore conceded the 2000 presidential election race to George W. Bush, the former VP wrote: "Even then, a speedy phaseout of carbon pollution will require functional democracies.
"With the casting of a majority of the Electoral College votes on Monday for Mr. Biden, and then his inauguration, we will make a start in restoring America as the country best positioned to lead the world's struggle to solve the climate crisis.
"To do that, we need to deal forthrightly with our shortcomings instead of touting our strengths. That, and that alone, can position the United States to recover the respect of other nations and restore their confidence in America as a reliable partner in the great challenges humankind faces."
Those challenges include the coronavirus pandemic, which he said would be overcome following U.S. regulators approving Pfizer's vaccine for emergency use on Friday.
Such rapid development of the vaccine, Gore added, "should put an end to the concerted challenges to facts and science that have threatened to undermine reason as the basis for decision-making."
But he warned that climate change was an "even more life-threatening battle ... with consequences measured not only in months and years, but also in centuries and millenniums."
He concluded: "As in the pandemic, knowledge will be our salvation, but to succeed, we must learn to work together, lest we perish together."
President-elect Biden's inauguration is scheduled for January 20.