Democratic Senate candidate Jaime Harrison, who is running against Republican Senator Lindsey Graham in South Carolina, has said that Joe Biden is appearing on television every day and is providing a balance and a somber reflection in reaction to the COVID-19 pandemic.
"He's trying to be a sense of calm in this really great storm that we have," Harrison told BBC's Hardtalk program.
Harrison said that he can make "Nostradamus" predictions that he will win the election in South Carolina, and that Biden will win the presidential race both in his state and in the nation as a whole.
"What the U.S. people are looking for is real, true and tested leadership, someone who is not going to demonize the American people but is going to be there to protect them, to fight for them, to push for them, their families, their communities," Harrison said.
"Under our leadership, things will get better."
The last four polls have Graham an average of nine points ahead of Harrison.
Biden won every county in the South Carolina Democratic primary. But nearly every forecaster says South Carolina is a safe Republican seat, with RealClearPolitics being the outlier but still forecasting a lean towards Republicans.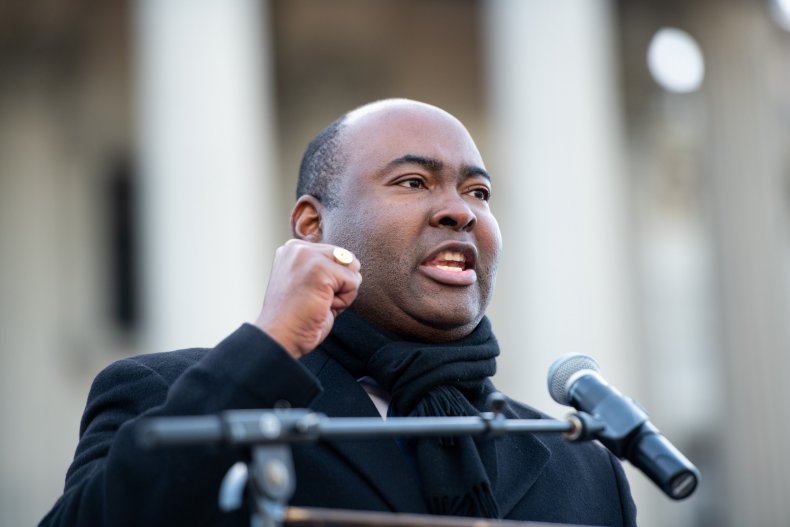 Harrison said that his work on the ground shows how much it matters that officials are working for the people, particularly amid the coronavirus pandemic, and that the virus is highlighting concerns that were already present.
"We've done things on the ground to help people," he said.
"The existing health disparities, the existing racial disparities, the existing economic disparities that were here prior to COVID are now again being amplified because of the situation we are in.
"Many of the essential workers, the people working at grocery stores, the people who are working in all of these jobs that we need to still operate, the folks who occupy those jobs are, it tends to be, minorities or lower-income folks.
"These folks are at the front lines," Harrison continued. "They don't have the opportunity to say that they can work from home because of the economic anxieties and disparities they face.
"Right now, it is exposing is those disparities in our society and that's what we have to work on: the lack of Medicaid expansion... rural hospitals have closed in South Carolina.
"Once we're out of this, we need to address those problems underlying in this pandemic that we're facing right now."
Harrison also talked about the balance between providing support to business and to people in these challenging times.
"The thing that makes this country great are our people," he said.
"We've got to, first and foremost, make sure that we are investing in the greatest asset we have which are our people. And that's all our people, not just a select group or a select few.
"We're going to need a whole new generation of political leaders in this country that will focus on making sure that if this sort of situation happens again, that some of the difficulties people are experiencing right now is not what happens the next time around."
The Republican Graham has served in the Senate since 2003.