Former Vice President Joe Biden took his latest jab at Vermont Senator Bernie Sanders Friday, dismissing criticism about his 2002 vote in favor of the Iraq War by simply replying: "Bernie's got enough baggage."
Speaking with reporters in Cedar Rapids, Iowa, Biden attempted to brush off several of Sanders' recent critical comments. For instance, Sanders has repeatedly stated that Biden's long Senate voting record will be held against him in the general election, including the then-Delaware senator's vote for NAFTA and in favor of invading Iraq in the United States' failed search for weapons of mass destruction. The two presidential rivals have taken increasingly snippy swipes at each other in recent weeks, culminating with Biden telling reporters Friday they won't get the two to fight.
Sanders told The Washington Post last week that Biden has "a lot of baggage" -- a phrase the former vice president then threw back at Sanders when asked for a response.
"I don't respond to Bernie's ridiculous comments," Biden said when asked why Sanders is questioning his judgment about Iraq and foreign policy.
"You're not going to get me in a fight with Bernie," Biden continued. "Bernie's got enough baggage."
Sanders recently told both the Los Angeles Times and The Washington Post that Biden's record on trade deals and Iraq will hurt him in the same way Hillary Clinton's past was used against her in the 2016 general election. Speaking with the Post last week, Sanders said: "It's just a lot of baggage that Joe takes into a campaign, which isn't going to create energy and excitement. He brings a record which is so weak that it just cannot create the kind of excitement and energy that is going to be needed to defeat Donald Trump."
"It doesn't take much imagination to understand that Trump will be saying, 'You see this guy? He voted for NAFTA,'" the Vermont senator added to the Post.
Last week, Biden and Sanders engaged in a brief but jocular exchange over Sanders' claim Trump will "eat his lunch," should he win the Democratic Party nomination in July. Asked to respond, Biden simply smiled and told reporters: "Tell him to come and I'll give him some dessert at the White House."
David Sirota, Sanders' campaign senior adviser, has repeatedly called out Biden's record on social media, frequently deriding Biden's characterization of himself as a more "electable" candidate than Sanders.
"Bernie has run 11 federal races, flipping a GOP House & GOP Senate seat & won 1,865 presidential primary delegates, which means he isn't vetted. Biden got blasted out of 2 past presidential campaigns without winning a single delegate, which means he's the safe bet. I am a smart," Sirota remarked on Twitter Thursday.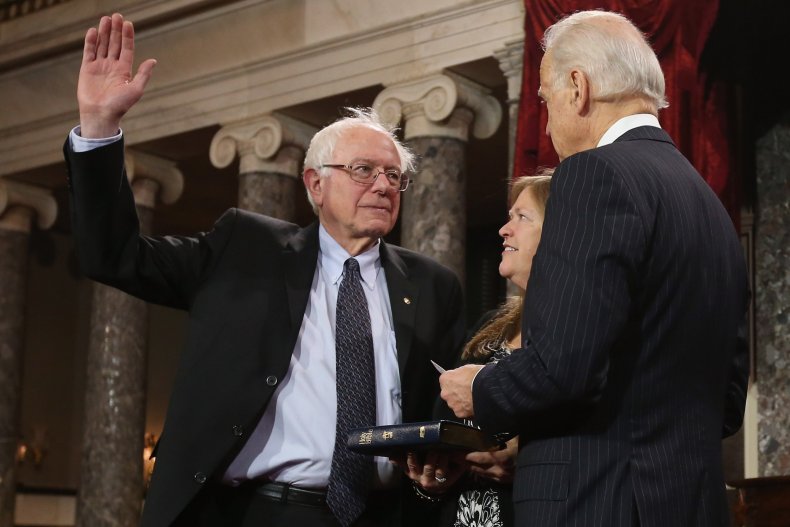 Sanders voted against the war in Iraq as a senator and described the Trans-Pacific Partnership (TPP) trade deal a "disaster" during his 2016 presidential campaign.