Joe Biden Calling Satchel Paige 'Great Negro at the Time' Sparks Twitter Debate
Comments made by President Joe Biden about Satchel Paige during a Veterans Day speech Thursday caused an immediate debate on social media about whether he referred to the baseball legend as "the great negro" or had simply misspoken.
Paige, a Black pitcher in baseball's Negro Leagues before breaking into Major League Baseball late into his career, is considered by many to be one of the greatest to ever play his position.
During his speech at Arlington National Cemetery, Biden said he had "adopted the attitude of the great Negro—at the time—pitcher in the Negro leagues, went on to become a great pitcher in the pros in Major League Baseball after Jackie Robinson, his name was Satchel Paige. And Satchel Paige on his 47th birthday pitched a win against Chicago."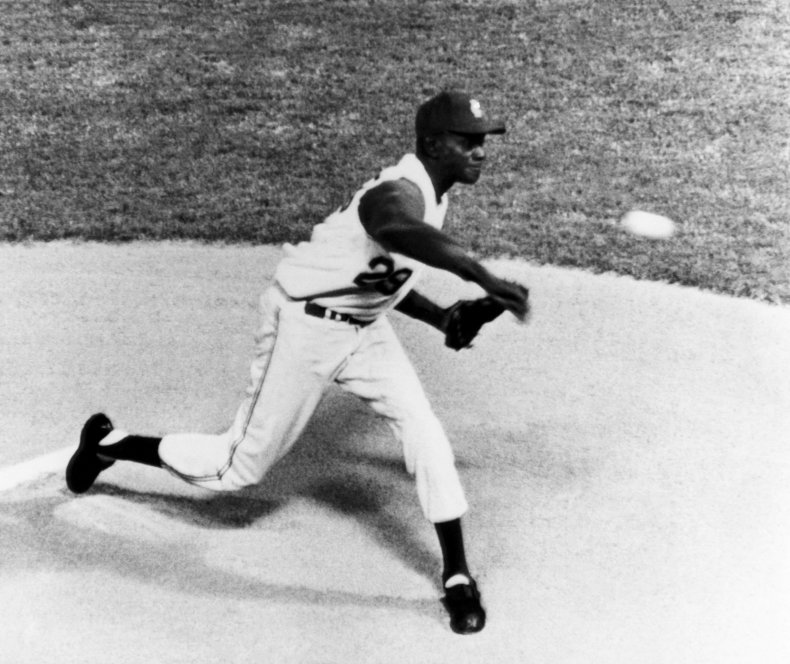 Biden's remarks were made after acknowledging the birthday of 95-year-old Donald Blinken, an ex-U.S. ambassador and father of Secretary of State Antony Blinken.
Biden recounted that reporters had asked Paige how he felt about being 47. The president recalled, "He said, 'Boys that's not how I look at it. I look at it this way, how old would you be if you didn't know how old you were?'"
"I'm 50 years old, and the ambassador's 47," Biden joked.
Eric Trump, son of the former president, was among those who quickly took to Twitter to question Biden. He wrote, "Did Biden just say what I think he said?!"
Another person tweeted that there would have been an "explosion" if former President Donald Trump had made the comment.
But Biden had defenders, too. Some self-identified conservatives even defended the Democratic president.
The president delivered his speech at Arlington Cemetery's Memorial Amphitheater while attending a wreath-laying ceremony at the Tomb of the Unknown Soldier, which turned 100 years old on Thursday. He paid tribute to veterans past and present, as well as to his late son Beau, who served in Iraq.
"Each of our veterans is a link in a chain of patriots that has stood in defense of our country," Biden said. "Each understood the price of freedom, and each shouldered that burden on our behalf."
He also honored Colin Powell, who passed away on October 18. Biden called the retired general a friend "who earned the universal respect of the Americans and people for his leadership in uniform and out."
Newsweek contacted the White House and the Satchel Paige Foundation for comment.