Joe Biden Calls for Probe Into Whether Illegal Conduct Is to Blame for High Gas Prices
President Joe Biden is calling for an investigation into whether illegal conduct is responsible for driving gas prices up.
In a letter sent Wednesday to the Federal Trade Commission (FTC), Biden said there's "mounting evidence of anti-consumer behavior by oil and gas companies."
"The bottom line is this: gasoline prices at the pump remain high, even though oil and gas companies' costs are declining," Biden wrote to the commission's chair, Lina Khan.
The president specifically highlighted the "unexplained large gap" between the decline in cost of unfinished gasoline and the higher than average price at the pump for everyday consumers.
Biden also noted that the "two largest oil and gas companies" in the nation are expected to double their net income compared with 2019 levels.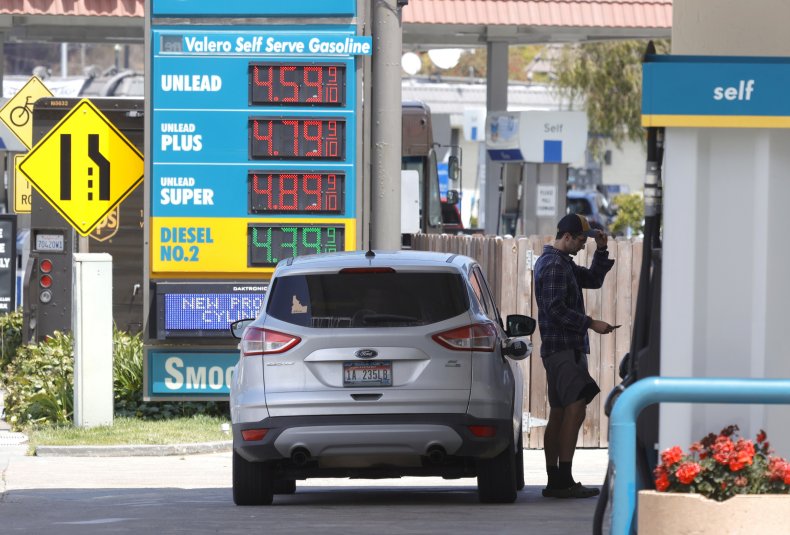 "I do not accept hard-working Americans paying more for gas because of anti-competitive or otherwise potentially illegal conduct," Biden wrote. "I therefore ask that the Commission further examine what is happening with oil and gas markets, and that you bring all of the Commission's tools to bear if you uncover any wrongdoing."
Newsweek reached out to the Federal Trade Commission for comment on Biden's letter.
Today, the average price for a gallon of regular unleaded gas is $3.413—more than a dollar higher than the average price one year ago—according to data from the American Automobile Association (AAA).
In 19 states, the cost of a gallon of regular unleaded gas is higher than AAA's average price. California currently has the highest price, with a gallon costing $4.692. The price is an all-time high for the Golden State.
The administration has come under fire for rising gas prices, with both sides of the aisle pushing the White House to take more action.
Senate Majority Leader Chuck Schumer earlier this week called on Biden to tap emergency petroleum reserves to drive down prices. Energy Secretary Jennifer Granholm has said the president's considering using the reserves, located in Texas and Louisiana.
In September, Biden directed the Energy Department to access petroleum reserves to prevent gas shortages and price surges after Hurricane Ida hit Louisiana and other parts of the South.
But some industry experts have said presidents usually have little control over gas prices.
"Unfortunately, U.S. presidents do not have good options to lower domestic fuel prices in the near term," Bob McNally, president of Rapidan Energy Group and the former White House senior director for international energy, previously told Newsweek.