Joe Biden 'Can't Picture' Having U.S. Troops in Afghanistan by Next Year
President Joe Biden has announced that he believed U.S. troops would exit Afghanistan by the end of the year as his administration faces a looming withdrawal deadline agreed upon by his predecessor.
Former President Donald Trump struck a peace agreement with the Taliban last year that included a condition of pulling U.S. troops by May 1.
Biden said during his first presidential press conference on Thursday that it was "going to be hard" to meet that mark "just in terms of tactical reasons." He said the subject of Afghanistan had continually come up during early discussions with allies, including the NATO Western military alliance, among which some member states also have a military presence in the country.
"If we leave we're going to do so in a safe and orderly way," Biden said, noting that the deal, in its current form, did not appear to be working out.
"We will leave, the question is when we leave," Biden said, but noted that it was not his "intention to stay for a long time."
Asked if it was likely that U.S. troops would remain past 2021, the president responded: "I can't picture that being the case."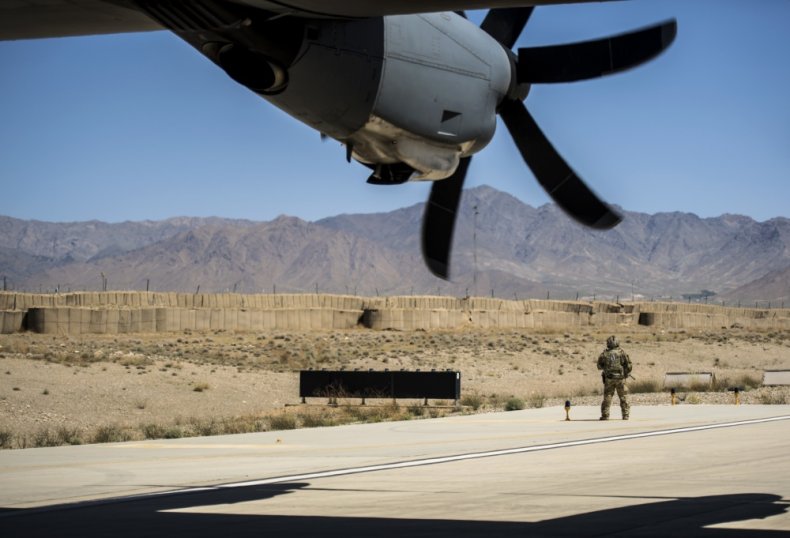 The U.S.-led war in Afghanistan was first launched in the wake of the 9/11 attacks orchestrated by Al-Qaeda, then allied with the Taliban, who controlled much of the country in 2001. The U.S. managed to quickly push back the group, but has struggled to support local security forces grappled with an insurgency ever since.
Consecutive U.S. presidents have sought to end what has become the longest war in U.S. history, however, the Trump administration's landmark deal constituted the first official agreement to withdraw.
Biden, who was chairman of the Senate Foreign Relations Committee when the war began and later handled it as vice president to former President Barack Obama from 2009 to 2016, has been critical of the extended U.S. military presence. At the same time, he's faced concerns over finally withdrawing forces as the deadline approaches.
A number of U.S. officials have shed doubt on the Taliban's commitment to the existing peace agreement as the Afghan government blames the group for a wave of violence consuming the country in recent months.
Earlier Thursday, U.S. Special Operations Command chief Army General Richard D. Clarke said Afghan security forces would be unable to take on the Taliban without U.S. military support.
"The capabilities that the U.S. provides for the Afghans to be able to combat the Taliban and other threats that reside in Afghanistan are critical to their success," Clarke told lawmakers.
The Taliban has insisted that the existing framework be followed as is.
"There is no doubt that adherence to the agreement and its provisions will contribute greatly to ending the war and solving problems, because it was the result of tremendous efforts and efforts," Taliban spokesperson Mohammad Naeem said in a statement sent to Newsweek last month.
"Just as commitment will help in solving problems, so lack of commitment not only does not help in solving problems, but also causes problems and increases them," he added. "Therefore, it is necessary for all parties concerned to abide by the agreement."
But since then, the U.S. has launched airstrikes on the Taliban, justifying the move by arguing that the fighters were "actively attacking and maneuvering on" Afghan soldiers earlier this month. The Taliban, which has not targeted international forces since the peace deal was reached, warned it would take defensive measures if such actions continued.
This is a developing news story. More information will be added as it becomes available.