Joe Biden's Chances of Winning Election Jump 6 Points in One Week: Forecast
Former Vice President Joe Biden's chances of winning the presidential election have jumped by six points in one week, a new forecast shows.
The daily forecast published by The Economist predicted that Biden had an 85 percent chance of winning the November election, and a 96 percent chance of taking home the most votes.
President Donald Trump's chances of being re-elected were far slimmer as of Thursday evening, according to the forecast, which gave him a 15 percent chance of winning a second term in the White House.
The Economist also predicted that the commander-in-chief had only a 4 percent chance picking up more votes than his Democratic challenger.
When the newspaper's forecast appeared Thursday last week, Biden was predicted to have a 79 percent chance of winning this year's presidential election.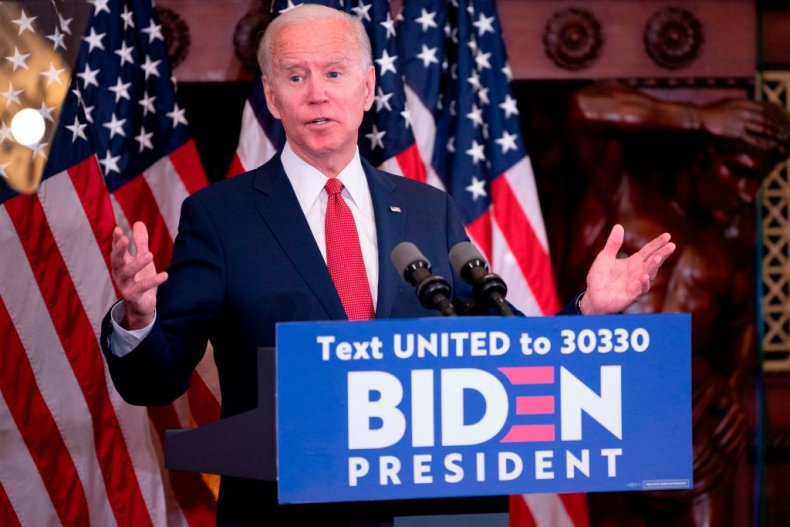 By comparison, Trump was estimated to have a 15 percent chance of being re-elected—an increase of six points on his current ranking.
The model estimated yesterday that the former vice president was set to win almost 54 percent of the popular vote—up fro 53 percent on June 4.
Explaining a 2-point shift in Biden's hopes of winning the election over the last day, The Economist data journalist G. Elliott Morris tweeted: "The chance of a Biden victory increased from 83 to 85%. Most of this was caused by a Biden+13 & Biden+8 poll nationally (both weighted by past vote), and a D+3 poll in FL.
"Trump's approval ratings also decreased today, dragging down our prior."
In its forecast of predicted electoral college votes, The Economist combines national and state-level polling with economic indicators to inform its modeling.
President Trump's forecast chance of winning the November election slumped by six points in the same week his disapproval rating hit its highest level since the peak of the impeachment inquiry.
According to FiveThirtyEight's presidential approval rating tracker, Trump's disapproval rating was at 54.8 percent as of Wednesday morning. On November 4 last year, his average disapproval rating hit 55 percent.
The president's approval rating was also at its lowest level since mid-November, with 41 percent of voters backing his record in office on average.
Recent state-level polling could also give Trump's team cause for concern.
One Florida poll released by the Republican firm Cyngal on Thursday put Biden 3.2 percentage points ahead of Trump in the key battleground state.
Another survey published by EPIC-MRA pollsters on Sunday found the Democratic nominee had a 12 percentage point lead over the president in Michigan—a swing state Trump narrowly carried at the 2016 election.