Joe Biden Cheered at Pro Wrestling Event After Student Loan Announcement
Last night, an unexpected confluence occurred between politics and professional wrestling when President Joe Biden was referenced during an All Elite Wrestling (AEW) show. Perhaps even more surprising, Biden's name was met with applause from the live audience.
Biden was unexpectedly name-dropped on the TBS broadcast of AEW's Dynamite show by "Platinum" Max Caster, a wrestler who raps live as he makes his entrance to the ring. On Wednesday, he accompanied Billy Gunn to his match against his son, Colten Gunn.
"You little jerks get no respect," Caster rapped toward Colten and his brother Austin Gunn, who stood together in the ring. "We wipe you out like Biden did student debt."
The line drew mostly cheers from the crowd, though it's unclear if the reaction was out of appreciation for Caster's diss or approval for Biden's announcement that the government will cancel up to $20,000 worth of federal student loans for millions of Americans.
"Biden getting applause lines at pro wrestling. Tell me more about how canceling student debt is a political liability," political commentator Richard Allen Smith tweeted.
Video of the moment has spread across social media, including by some well-known progressives.
Former Ohio state senator and political activist Nina Turner posted the clip on Twitter and wrote, "Student debt cancelation is popular and relevant, culturally."
Kyle Kulinski, another prominent activist who hosts a popular YouTube show, also shared the clip on Twitter.
Other Twitter users have also commented on Caster's Biden mention.
"Biden getting respect on AEW. Didn't see that coming," read one tweet.
Another person quoted the line in a post and added, "My face hurts from the smile."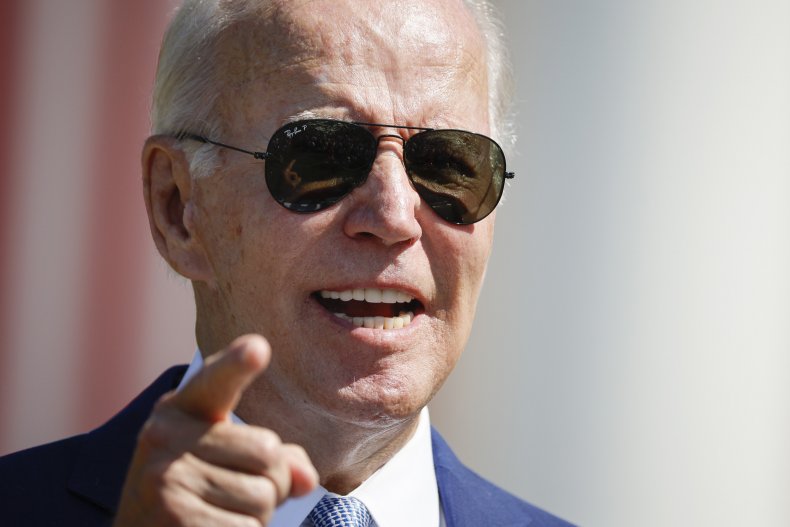 AEW is the second-largest wrestling promotion in the United States after World Wrestling Entertainment (WWE). The company has often positioned itself as a progressive alternative to WWE and has a diverse roster of wrestlers that includes Nyla Rose, a transgender wrestler who once held AEW's women's championship.
Tony Khan, the founder and co-owner of AEW, also received attention for tweeting out his support for the Black Lives Matter movement during the height of the social justice protests of 2020.
WWE largely veers away from public stances on politics. However, the company has had ties with former President Donald Trump in the past. Trump is a member of the WWE Hall of Fame, though he was inducted before he served in the White House. He also appeared in a prominent wrestling storyline in 2007 that led to an appearance at WrestleMania, the company's largest annual event.
Linda McMahon, a former WWE executive and wife of recently-retired WWE CEO Vince McMahon, also served in Trump's cabinet as the head of the Small Business Administration.
Newsweek has reached out to AEW for comment.