Joe Biden Claims to Have Worked on 2016 Paris Climate Deal with Chinese Leader who Died in 1997
Presidential candidate Joe Biden appeared to make another misstep during a campaign event in South Carolina on Monday, claiming to have worked on the Paris Climate Accord with former Chinese leader Deng Xiaoping, who died 19 years before the agreement was signed.
The former vice president spoke at the College of Charleston on Monday as the Democratic presidential hopefuls prepare for Saturday's South Carolina primary, which the Biden campaign is hoping will supercharge his as-yet sluggish charge for the party nomination.
Biden touted his two terms as vice president under President Barack Obama, arguing his experience made him the right person to take on and defeat President Donald Trump.
The former vice president cited his work on the Paris Climate Accord—from which Trump withdrew early in his presidency—as evidence of his ability to work with world leaders and gain their support for multilateral projects.
But Biden, who has made multiple blunders while on the campaign trail, undermined his point by apparently confusing Chinese leaders, claiming to have worked on the deal with former premier Deng Xiaoping who died in 1997.
"One of the things I'm proudest of is getting passed, getting moved, getting in control of the Paris Climate Accord," Biden told the crowd. "I'm the guy who came back after meeting with Deng Xiaoping and making the case that I believe China will join if we put pressure on them. We got almost 200 nations to join."
Deng led China from 1978 until his retirement in 1992. Under his leadership, the Communist Party opened China to foreign investment and reaped the rewards of breakneck economic growth. The decision laid the foundations for contemporary China and its enormous economy.
Current Chinese President Xi Jinping took power in 2013 and has overseen China's involvement in the Paris deal, which was signed in 2016.
It is unclear whether Biden mixed up the two leaders' names or was referring to someone else. Newsweek has contacted his campaign for comment.
Biden has long been a proponent of the Paris agreement, and has criticized Trump for stepping away from the deal. Last year, Biden called Trump's decision "reckless," said it shows he does not understand "what we're up against" and shows he is "incapable of real leadership."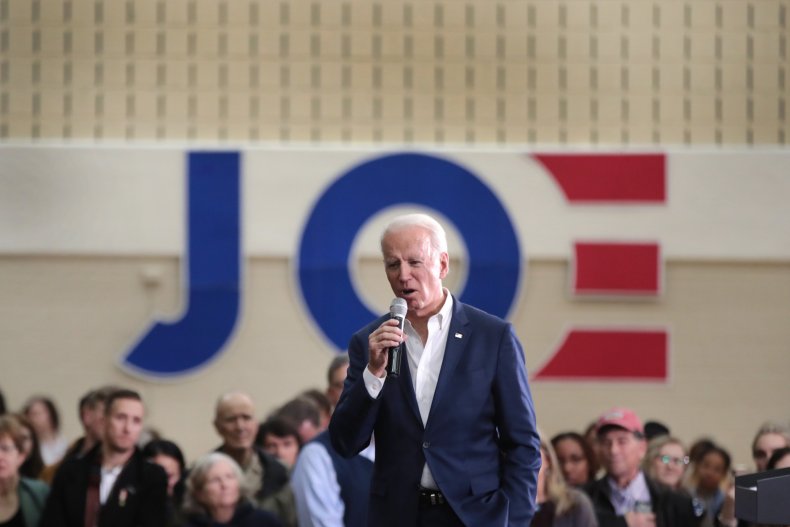 Biden has said he will re-enter the Paris accord if elected president, alongside pushing for net-zero emissions by 2050 and banning new oil and gas permits on public lands and waters.
The former vice president is the favorite to win the South Carolina primary on Saturday. It has been described as his "firewall state" given the large proportion of black voters, among whom Biden is popular.
Initially considered the Democratic front runner, Biden has far lagged badly behind leader Sen. Bernie Sanders and has struggled to break away from moderate candidates.