Joe Biden Comes Out Against Legalizing Weed, Says It's Potentially a 'Gateway Drug' — Alexandria Ocasio-Cortez Disagrees
Former Vice President Joe Biden this weekend came out against legalizing marijuana on a federal level because he claims the substance could potentially be a "gateway drug." Hours later, progressive Democratic congresswoman Alexandria Ocasio-Cortez argued against the 2020 frontrunner's stance.
Biden on Saturday said he would refuse to legalize marijuana nationwide until research sheds further light on the substance during a town hall in Las Vegas. "The truth of the matter is, there's not nearly been enough evidence that has been acquired as to whether or not it is a gateway drug," the 2020 frontrunner said, according to Business Insider. "It's a debate, and I want a lot more before I legalize it nationally. I want to make sure we know a lot more about the science behind it."
Despite his remarks, Biden also made clear that he's not completely against cannabis use. "States should be able to make a judgment to legalize marijuana," he said, adding that he backs medical marijuana and would decriminalize possession of the drug.
Hours later, Ocasio-Cortez, a high-profile freshman progressive who recently threw her support behind Senator Bernie Sanders' 2020 campaign, tweeted: "Marijuana should be legalized, and drug consumption should be decriminalized. These are matters of public health."
The Democratic congresswoman's remarks come after several 2020 candidates, including Sanders and Senators Cory Booker, Kamala Harris and Elizabeth Warren, vowed to legalize pot nationwide if elected president in 2020. South Bend, Indiana Mayor Pete Buttigieg, former HUD secretary Julian Castro, Hawaii congresswoman Tulsi Gabbard, Senator Amy Klobuchar, author Marianne Williamson and former entrepreneur Andrew Yang have also expressed support for legalizing the substance.
The graphic below, provided by Statista, illustrates where marijuana is legalised across the U.S.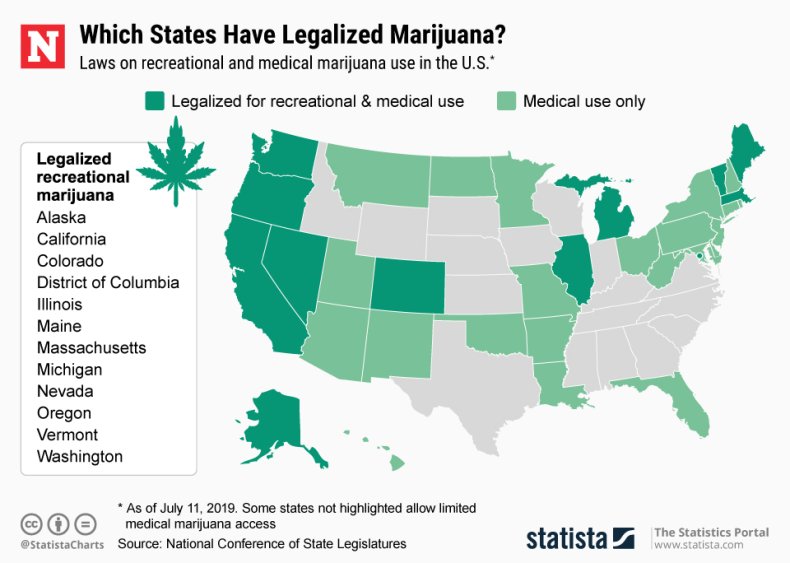 Marijuana has been classified as a Schedule I substance by the Drug Enforcement Administration since 1970, alongside heroin and LSD. Previously, Biden has indicated that he would seek to move cannabis into Schedule II so that it's benefits and impacts can be further studied.
"It is not irrational to do more scientific investigation to determine, which we have not done significantly enough, whether or not there are any things that relate to whether it's a gateway drug or not," the former Vice President said on Saturday.
Like Biden, three 2020 hopefuls, Steve Bullock, John Delaney and Wayne Messam, have taken the view that marijuana legalization should be left up to the states to decide, according to Politico.
Dozens of states across America have already passed laws to legalize cannabis in some form, including California, Colorado, Illinois, Maine, Massachusetts, Michigan, Nevada and Oregon.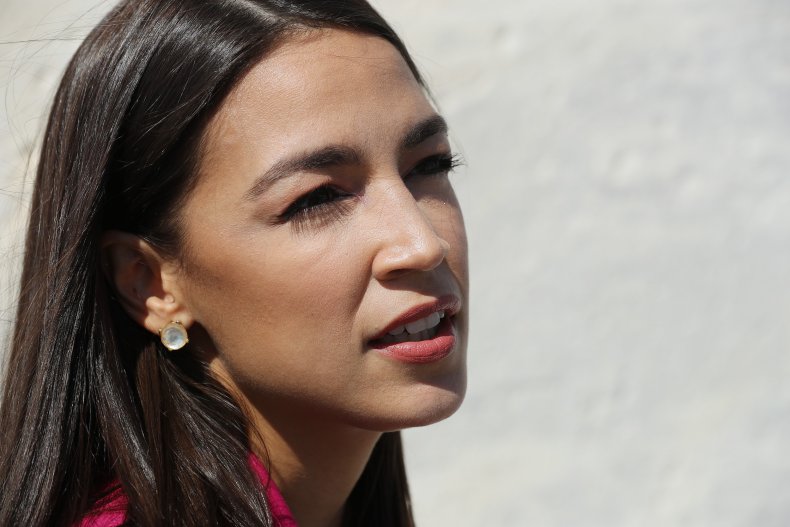 This article was updated to include an infographic.