Joe Biden Is 'Confident We'll Emerge Victorious' as Race Remains Too Close to Call
Speaking to the public on Wednesday, Joe Biden expressed optimism about the election results even though the presidential race remains too close to call.
"After a long night of counting, it's clear that we're winning enough states to reach 270 electoral votes needed to win the presidency," Biden said during a brief speech in Wilmington, Delaware. The Democratic nominee was joined onstage by his running mate, Senator Kamala Harris.
He added, "I'm not here to declare we've won. But I am here to report, when the count is finished, we believe we will be the winners."
As of Wednesday afternoon, Biden held a narrow lead in the Electoral College. After the Associated Press called Wisconsin for the former vice president, he had 248 electoral votes to Trump's 214.
In fact, Biden has broken the record for most votes won by any presidential nominee in U.S. history. As of 4 p.m. ET on Wednesday, he had amassed more than 70 million votes, passing Barack Obama's 2008 record of more than 69.4 million.
Biden celebrated the record turnout during his speech on Wednesday, saying that Americans "once again proved that democracy is the heartbeat of this nation."
But the race is still too close to call, as millions of votes have yet to be counted in key swing states like Pennsylvania and Michigan. In the former, more than 1 million ballots still had to be counted as of 2:30 p.m.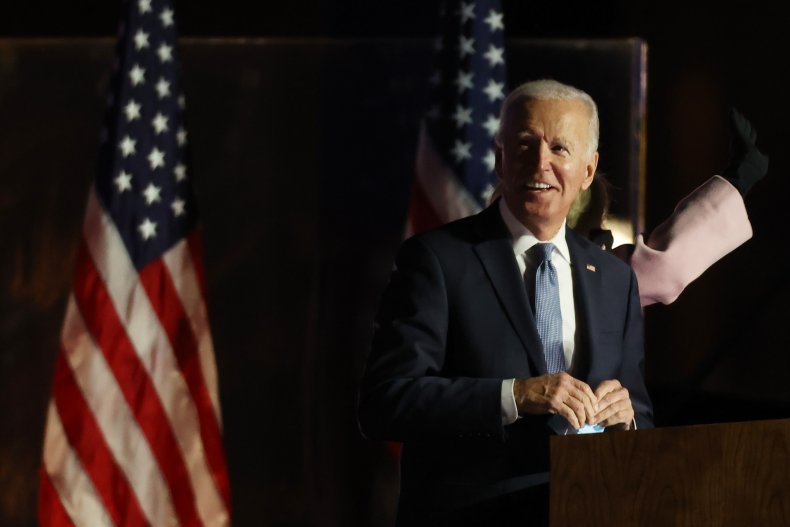 Meanwhile, in key swing states the president's campaign has filed several lawsuits targeting the counting of ballots.
In Michigan, Trump's legal team filed a suit on Wednesday to halt the counting of ballots there. In a statement, campaign manager Bill Stepien claimed his team had been refused access at counting stations to observe the opening of mail-in ballots. Biden is currently ahead in the Wolverine State by a razor-thin margin.
The president's campaign is also going to the Supreme Court to ask for an intervention in a pending case challenging a Pennsylvania Supreme Court decision that allowed ballots to be counted for up to three days after Election Day.
Biden said in his remarks Wednesday that every count must be counted and emphasized that the election will be decided by the people.
"We the people will not be silenced. We the people will not be bullied. We the people will not surrender," he said. "My friends, I'm confident we'll emerge victorious."
The former vice president urged unity after the election, saying it's important to "turn down the temperature" and come together as a nation.
"To make progress, we have to stop treating our opponents as enemies," Biden said. "We are not enemies."