Joe Biden Could Sweep States Bernie Sanders Won in 2016, Poll Shows
Former Vice President Joe Biden could win big in states that Vermont Senator Bernie Sanders triumphed in during the 2016 Democratic primary.
According to Public Policy Polling, Biden is leading Sanders in two of the senator's strongest 2016 states: Kansas and Wisconsin. Both surveys, which were conducted earlier this week, showed the former vice president with double-digit leads.
In Wisconsin, Biden has 55 percent support from likely primary voters compared with Sanders' 39 percent support. Hawaii Representative Tulsi Gabbard, the only other remaining candidate in the Democratic primary, was polling at just 3 percent in the Midwest state.
While he's currently trailing Biden by 16 percentage points, Sanders had a decisive win in Wisconsin during the 2016 Democratic primary. He had a 14-point margin of victory over Hillary Clinton.
The former vice president has an even bigger lead in Kansas, a state that Sanders won in 2016 by 36 points. The new poll showed Biden with 59 percent support while Sanders trailed behind with 35 percent support. Again, Gabbard only notched 3 percent support.
Wisconsin voters will head to the polls on April 7 to weigh in on which Democrat they want to see nominated at the party's convention this summer. The state has 84 delegates to allocate—the most of any state Sanders won last election cycle that has yet to vote. Kansas will vote on May 2 and will award 39 delegates.
If Biden does come out on top in Wisconsin and Kansas, it wouldn't be the first time he edged out Sanders in a state he previously won.
During the March 10 primaries, Biden ended Sanders' reign in Michigan and Idaho. Michigan may have been the most devastating loss of the night for the Vermont senator. His unexpected upset victory there in 2016 was a turning point for his campaign.
Biden also clinched victories in Oklahoma, Minnesota, and Maine on Super Tuesday—all states that went for Sanders in 2016.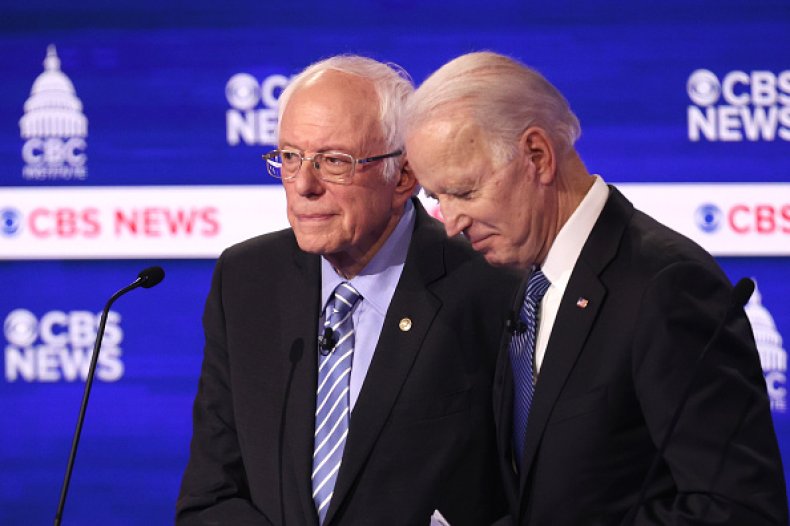 Biden and Sanders have been battling for front runner status in the Democratic primary since a slew of candidates dropped their White House bids earlier this month. Tom Steyer, Pete Buttigieg, Amy Klobuchar and Michael Bloomberg all exited the race in the span of four days. Massachusetts Senator Elizabeth Warren departed the primary days later after a disappointing performance on Super Tuesday.
As of Thursday afternoon, Biden was in first place with 867 delegates. Sanders followed closely behind with 711 delegates. Gabbard still only had two delegates after failing to pick up any more during the March 10 primaries.
Following his poor showing on Super Tuesday 2, Sanders supporters expressed their disappointment but were adamant that he should remain in the race. The next day, Sanders held a press conference to give a status update on his campaign, telling reporters that he isn't going anywhere and that he looked forward to debating Biden on March 15 in Arizona.
"Tragically, we have a president today who is a pathological liar and who is running a corrupt administration," Sanders said. "In my view, he is a racist, a sexist, a homophobe, a xenophobe and a religious bigot, and he must be defeated, and I will do everything in my power to make that happen."
The Public Policy Polling surveys were conducted from March 10 to March 11. The group surveyed 898 likely Democratic primary voters in Wisconsin and 550 in Kansas. The margin of error for the Wisconsin poll is plus or minus 3.3 percentage points and the margin of error for Kansas is plus or minus 4.2 percentage points.