Joe Biden's COVID Mocked by OAN Anchor Who Speculates if He Will Die
An anchor with conservative One America News (OAN) has mocked President Joe Biden for contracting COVID-19 and speculated that the president could die from the virus after his diagnosis was announced on Thursday.
Alison Steinberg suggested that Biden's diagnosis was "conveniently timed" and could be used as an excuse to remove him from office and replace him with Vice President Kamala Harris.
Biden is reportedly experiencing "very mild symptoms" and is taking Paxlovid, an antiviral drug designed to reduce the severity of the disease, as treatment for the virus. The 79-year-old is fully vaccinated, having received two doses of the Pfizer coronavirus vaccine before taking office, a booster shot in September 2021 and an additional dose on March 30.
In one video shared to Twitter by PatriotTakes—an account that monitors what it describes as "right-wing extremism and other threats to democracy"—Steinberg asked her followers to submit their views about Biden getting COVID.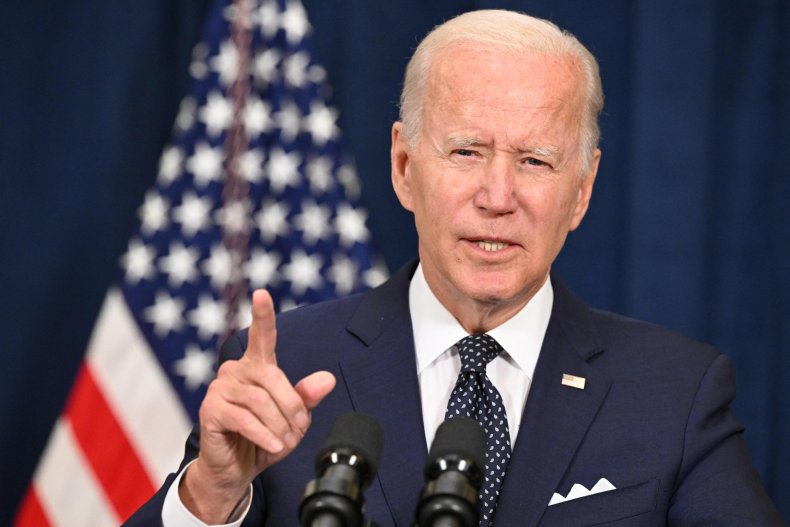 "What do you think's gonna happen?" Steinberg asked in a video apparently shared on Instagram. "Will he come back and say he's so glad he got the shots, it could have been much worse?"
"Or do you think he's gonna..." she said before making a slicing motion across her neck, indicating the possibility that Biden could die.
Steinberg returned to the subject again during remarks on OAN on Thursday when she suggested Biden should have been wearing a face mask but also mocked the use of a mask, referring to it as a "face diaper."
"I wouldn't be shocked if after this, the CDC decided to take this overreach another step further and started trying to mandate hazmat suits for everyone," Steinberg said.
"That would actually make way more sense if they want this failing, garbage narrative of theirs to remain somewhat believable," she said, arguing that COVID-19 mandates were unconstitutional.
"Why not just go all in? Forget the N95. Let's go for full-on gas masks to compliment our disposable orange jumpsuits," Steinberg mocked.
Steinberg then said she was curious to know what her audience thought of the situation.
"Is Biden coming down with the China virus an orchestrated stunt to scare people into believing the extra deadly Omicron variant is here so they can blame the unvaxxed and push more jabs?" Steinberg asked.
"Is it perhaps conveniently timed along with the impending climate crisis to prime us for upcoming future lockdowns?" she said. "Is it a ploy to oust Biden and install the first Black what-is-a-woman president?"
Biden said he's "doing great" in a tweet following his positive COVID test on Thursday, while first lady Jill Biden tested negative but is wearing a mask in line with CDC guidelines.
Verizon confirmed this week that it will no longer include OAN as part of its channel line up and said the network had not agreed to "fair terms." Verizon is the largest carrier of OAN after DirecTV declined to renew its contract with the network in January.
Newsweek has asked the White House for comment.