Joe Biden's 5 Key Points on America's Winter COVID Plan
President Joe Biden has unveiled his administration's winter plan to tackle COVID-19, after the first cases of the new Omicron variant were identified in the United States.
Speaking at the National Institutes of Health (NIH) on Thursday, Biden reaffirmed that the plan "doesn't include shutdowns or lockdowns" but would be vaccine- and testing-led.
He outlined what he called "five key actions" the administration will take.
Here are the key takeaways about those steps.
1. Expanding the Vaccine Booster Campaign
President Biden once again encouraged the uptake of COVID-19 vaccine booster shots, promising to provide them for up to 100 million people.
To aid the rollout, he promised: "More outreach, more appointments, more hours, more times and sites to walk in."
Pharmacies have been asked to offer more appointments and operate longer walk-in hours, the president said, "including weeknights and weekends."
"So you can get vaccinated at a time that works best for you and your family," he added.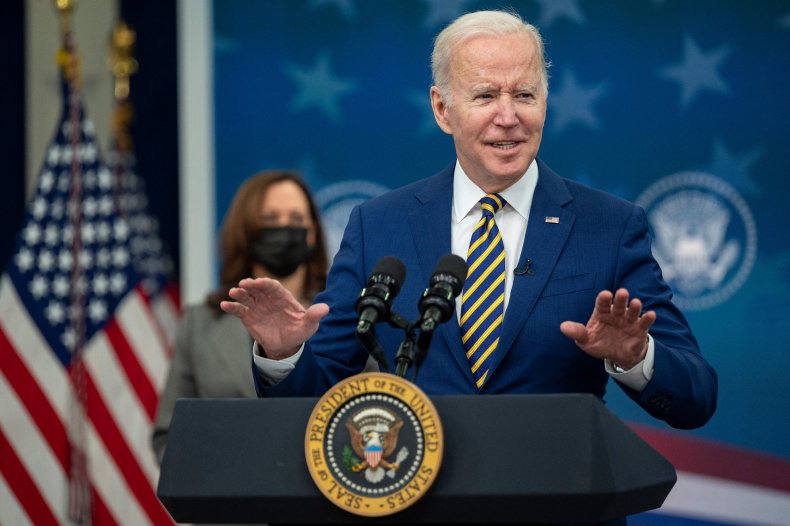 Federal employees will be able to claim paid time off to in order to receive the shots, said Biden, who would be asking private employers to offer the same.
Biden also encouraged people to text their ZIP Code to 438829 to find where you can get a booster shot from any one of "80,000 locations coast-to-coast."
2. More Child Shots and In-Person Teaching
The Biden administration will step up its efforts to vaccinate children aged 5 and over, Biden said, promising new policies to help students stay in school.
New family vaccination clinics—some of which will be mobile—will make it easier "for children, parents, and whole families to get vaccinated in one place," he said.
And in an effort to avoid children having to quarantine after a positive test at their school, he teased a new "test-to-stay" policy that would see students able to return after a negative test.
3. Free At-Home Tests
Health insurers will cover the cost of an at-home test, Biden said, in an effort to make "more available than ever before."
"So that if you're one of the 150 million Americans with private health insurance, next month your plan will cover at-home tests," the president said.
For those without insurance, free tests will be made available "at thousands of convenient locations" where people will be able to pick them up and take them home.
"The bottom line: This winter, you'll be able to test for free in the comfort of your home and have some peace of mind," Biden said.
4. Improving Care for People With COVID
The president said his administration plans to improve care for those people who contract COVID-19 and communities that experience rising cases.
The number of "surge response teams" will be increased from 20 to 60 and they will be "ready to deploy to states that experience a surge in cases" this winter.
Biden added that medicines for COVID, such as monoclonal antibody treatments and Merck's new antiviral pill, would be made more widely available.
"And like with the distribution of the vaccines, we will ensure that these medicines will be available to the hardest-hit communities in America as well," Biden said.
5. Vaccines for Countries in Need
Biden's winter plan also addressed vaccinations for other countries that are in need, with the president saying "We also need to vaccinate the rest of the world," citing the 280 million doses that have already been shipped to 110 nations.
"Now, today I am announcing that we'll accelerate the delivery of more vaccines to countries that need it, pledging to deliver 200 million dose - more doses within the next 100 days - on our way to delivering more than 1.2 billion doses for the rest of the world," the president said.
Biden added that while no vaccine dose shipped abroad would "ever come at the expense of any American" there was "a moral obligation" to provide vaccines for other countries.