Joe Biden Criticizes 'Incompetence' of Trump Administration Handling of Coronavirus Response: 'This President Hasn't Allowed His Scientists to Speak'
Democratic presidential candidate Joe Biden strongly criticized the "incompetence" of Donald Trump's administration in handling the government's response to the coronavirus (COVID-19), suggesting the president is ignoring science and not acting properly to address the problem.
There have been 71 confirmed cases of coronavirus across the U.S., but Washington State declared an official state of emergency this weekend, warning that as many as 1,500 people could have been infected there. Fears about the virus' rapid spread have also already led to over $4.3 trillion in stock market value losses. Despite the concerns, Trump told attendees of a South Carolina rally on Friday that the virus was a "new hoax" created by Democrats.
"What's going on here? This is not a Democratic hoax, this is incompetence on the part of the president of the United States at the expense of the country and the world," Biden said, referencing Trump's comment during an interview with ABC's This Week on Sunday.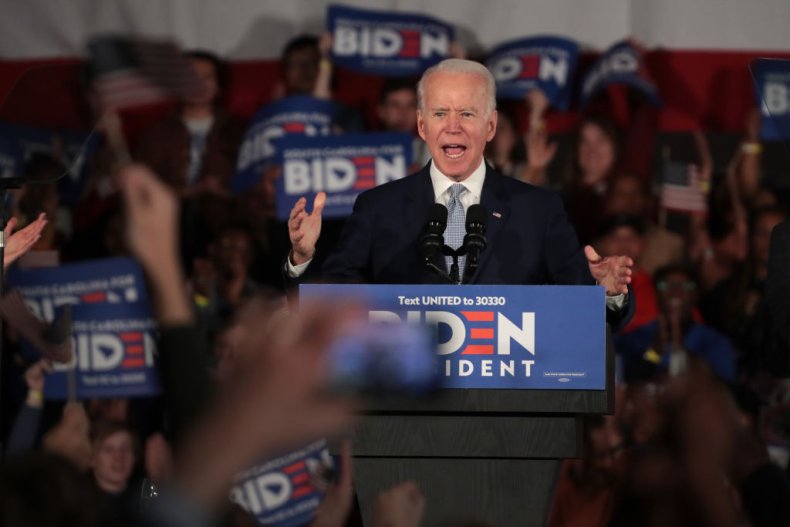 Earlier in his remarks, Biden also raised concerns that Trump wasn't allowing scientists to take the lead in handling the administration's response to coronavirus.
"This president hasn't allowed his scientists to speak, number one," Biden, who served as vice president in the former administration of President Barack Obama, said. "He has the vice president speaking, not the scientists who know what they're talking about."
Biden went on to point out that Trump's administration had cut funding to the Centers for Disease Control and Prevention. He noted that the president had also tried to cut funding to the National Institute of Health and had eliminated an office set up by the Obama administration "to deal with pandemic diseases."
"This has been outrageous, the way they've proceeded," he said.
Newsweek has reached out to the White House for comment in response to Biden's criticism, but the administration had not responded by the time of publication.
After the first person was confirmed to have died from coronavirus in the U.S. on Saturday, Trump doubled down on his previous "hoax" remark.
"The hoax is on them [the Democrats]. I'm not talking about what's happening here," the president said at the White House.
"I don't like it when they are criticizing [federal health officials], and that's the hoax," he argued.
Some 85,000 people have been confirmed to have been infected by the virus globally, with nearly 3,000 deaths reported. The vast majority of the infections and deaths have been in China, where coronavirus was first known to arise.
Experts currently assess the virus' death rate is 2 percent or less. People 30 or younger appear to be significantly less likely to die after being infected, with the rate of death spiking among people 50 or older. The rate has been highest in those over the age of 80, and pre-existing health conditions--such as diabetes and heart disease--appear to exacerbate the impact of coronavirus. Men also are somewhat more likely to die than women, based on the available data analyses.
Vice President Mike Pence, who Trump has put in charge of leading the government's response to the virus, said on Sunday that a vaccine would begin clinical trials within six weeks, Fox News reported. Trump's decision to put Pence in charge has been strongly criticized by many Democrats and some health experts, as the vice president's actions reportedly led to a significant increase in HIV infections during his tenure as Indiana's governor.
Joe Biden Criticizes 'Incompetence' of Trump Administration Handling of Coronavirus Response: 'This President Hasn't Allowed His Scientists to Speak' | U.S.