Joe Biden Crosses 80 Million Votes, 10 Million More Than Obama Got
President-elect Joe Biden has received more than 80 million votes in his election bid—more than any candidate in history.
The former vice president is on track to secure 306 electoral college votes, even as President Donald Trump continues to mount a campaign contesting the race and claim that he was actually the winner.
Biden, who has received about 6 million more votes than Trump overall, already has set a record for the highest number of votes for a winning presidential candidate, with Trump at 74 million votes also setting a record for the most for a losing candidate and most votes for a sitting president.
Biden's tally has smashed records set by former President Barack Obama's victory in 2008 with nearly 70 million votes and in 2012 with nearly 66 million votes.
The U.S. Elections Project estimates that 66.5 percent of eligible voters cast ballots this year—the highest percentage in decades.
Many voters cast ballots early or by mail because of the ongoing coronavirus pandemic, which has been the focus of Trump's challenges to the results. Trump's team has filed multiple lawsuits to try to fight the results but there have been no credible cases to date of widespread voter fraud.
All major media outlets have projected Biden as the winner in the race, even as Trump refuses to concede that he lost his reelection bid.
"I know watching these vote tallies on TV move slowly upward can be numbing," Biden told reporters after the election. "But never forget: the tallies aren't just numbers — they represent votes."
The exact vote count is pending. Four years ago, Trump got about 63 million votes—then a record for any Republican candidate in history—to Democratic rival Hillary Clinton's 65 million votes. Trump came out on top in the electoral college tally.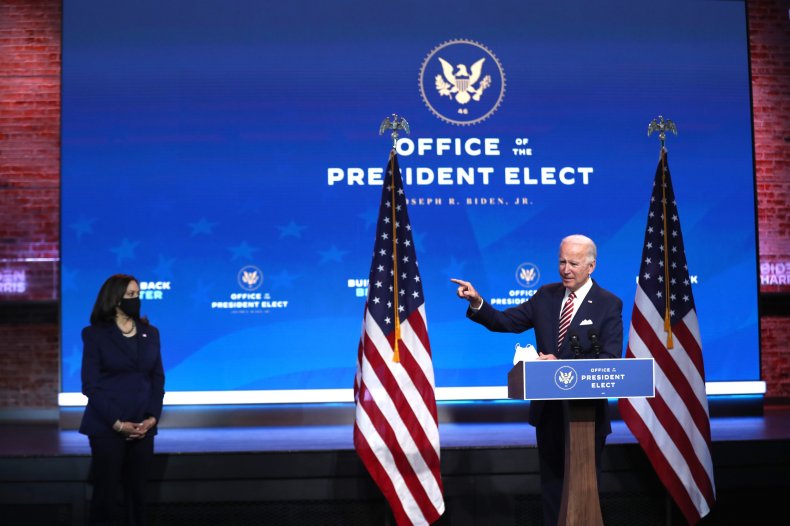 Biden has begun the early stages of the administrative transition, including naming top White House staffers, even as Trump's administration has blocked the official transition process from taking place. He's set to formally introduce key administration figures, including Antony Blinken as his pick for secretary of state and Alejandro Mayorkas to lead the Department of Homeland Security, on Tuesday.
The official presidential inauguration will take place on January 20.
"While we're waiting for the final results, I want people to know we are not waiting to get to work," Biden said.
Though he hasn't conceded, Trump has indicated that he plans to run again in 2024 if he is, in fact, unsuccessful this year.
Trump hasn't formally taken questions from reporters since the election, though he has taken a couple of speaking engagements to address the coronavirus pandemic and his administration's efforts to facilitate a vaccine.