Joe Biden Damns America's Inaction After Santa Clarita School Shooting: 'What Does That Say About Our Soul?'
Former Vice President Joe Biden railed against the Republican establishment and the gun lobby at a campaign speech in California on Thursday, just hours after a shooting at a high school in Santa Clarita left two students dead and three others injured.
Speaking in downtown Los Angeles, Biden framed himself as the only Democratic 2020 candidate who has passed significant gun law reform and demanded action to rid schools of gun violence.
"You parents and grandparents, you send off children—6, 7, 8, 9, 10 years old—and the first thing they learn is how to duck and cover," Biden said, according to the Los Angeles Times.
"We're now making sure that we provide children the ability to avoid being shot in school," he continued. "What does that say about our soul?"
The attack took place at Saugus High School, some 40 miles northwest of where Biden spoke. The shooter was a 16-year-old student who was celebrating his birthday on Thursday. Police said he was wounded by a self-inflicted gunshot to the head.
Biden told the L.A. crowd, "I'm so tired about people talking about your prayers. Damn it, we have to protect these kids. We have to do it now."
On Twitter, he added, "No kid should fear their safety in school & no parent should worry whether their kid will come home…We need real gun reform to make our schools safer."
The former vice president claimed he was the candidate to deliver real change on gun legislation. "I'm the only one running who's ever passed anything really big," he said.
The graphic below, provided by Statista, illustrates the rise in the number of school shootings each decade since 1970.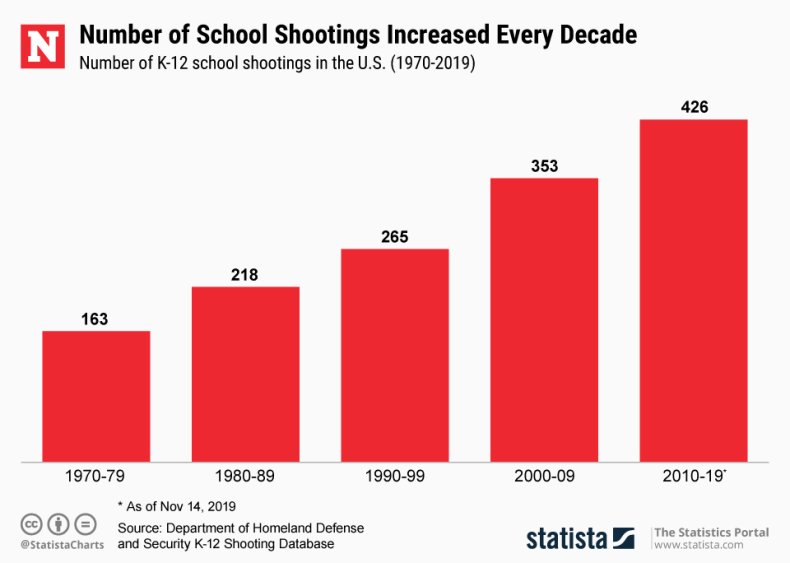 Along with Biden, Sen. Elizabeth Warren, Sen. Bernie Sanders and Mayor Pete Buttigieg currently make up the leading pack as the Democratic field bears down on the February Iowa caucus.
All three of Biden's main challengers expressed their horror on Twitter and called for concrete action to stop America's mass shooting epidemic.
Warren said she was "heartsick for the victims of this horrifying shooting and their families," and declared, "We shouldn't have to live like this. Students shouldn't live in fear when they go to school. We must act now to end gun violence."
Sanders said the scourge of gun violence "must end." He added, "We have a moral obligation to say: children's lives are more important than gun manufacturers' profits. We must pass common sense gun safety legislation."
Buttigieg directly accused the National Rifle Association of complicity, and said the lobby along with "our leaders in Washington must be held accountable."
The South Bend, Indiana mayor said details were still emerging, but what is clear is that "in America today, children are scared to go to school. Parents and teachers are terrified. And that can't stand."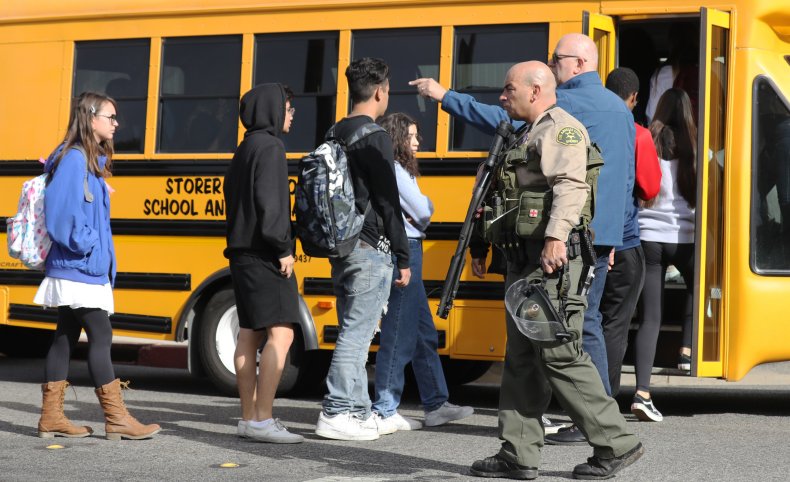 This article was updated to include an infographic.