Biden Says U.S. Would Defend Taiwan if China Invaded: 'Commitment We Made'
President Joe Biden said on Monday that Washington would help defend Taiwan from a Chinese invasion should Beijing try try to assert its claims over the self-governing island.
The president's latest remarks will likely anger China, which says Taiwan is part of its territory under its "One China" policy despite the democratic island being under separate government since the Chinese Civil War.
China has not ruled out using military force to achieve its ambitions in Taiwan, but the U.S. continues to support Taiwan's autonomy, providing it with weapons and military training.
Tensions in the region have been particularly high over the last 18 months, as China has been flying military sorties close to Taiwan on an almost daily basis. The largest comprised 56 aircraft on October 4, 2021.
This chart by Statista shows Chinese incursions into Taiwanese airspace.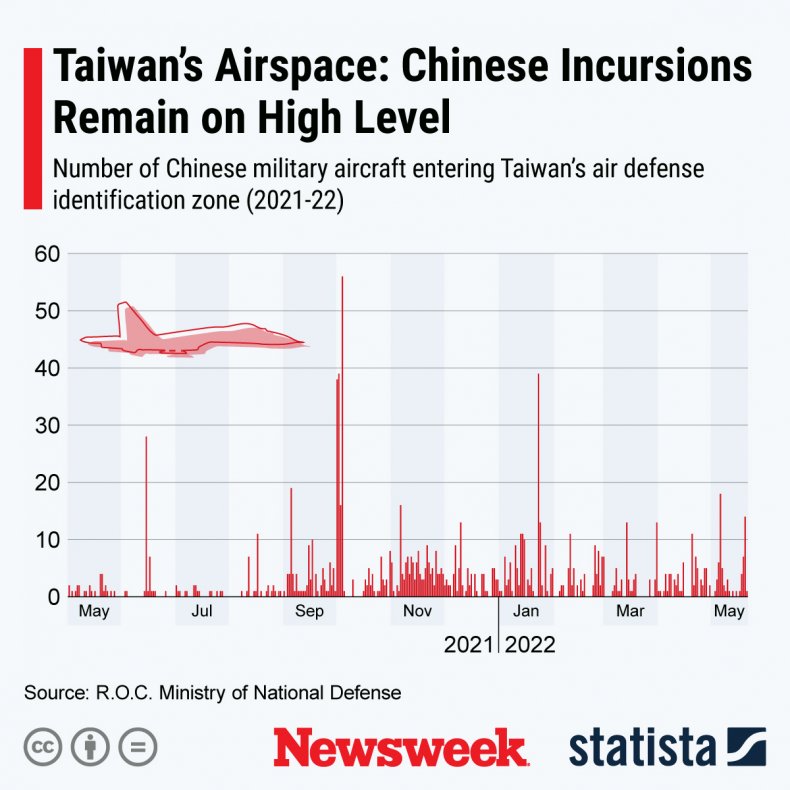 Biden told reporters in Tokyo on Monday that China was flirting with danger by sending its aircraft close to Taiwan.
He said that the American responsibility to protect Taiwan was "even stronger" following Russia's invasion of Ukraine.
"That's the commitment we made," Biden said.
He added that if China tried to invade Taiwan, it would "just not be appropriate…it would dislocate the entire region and be another action similar to what happened in Ukraine."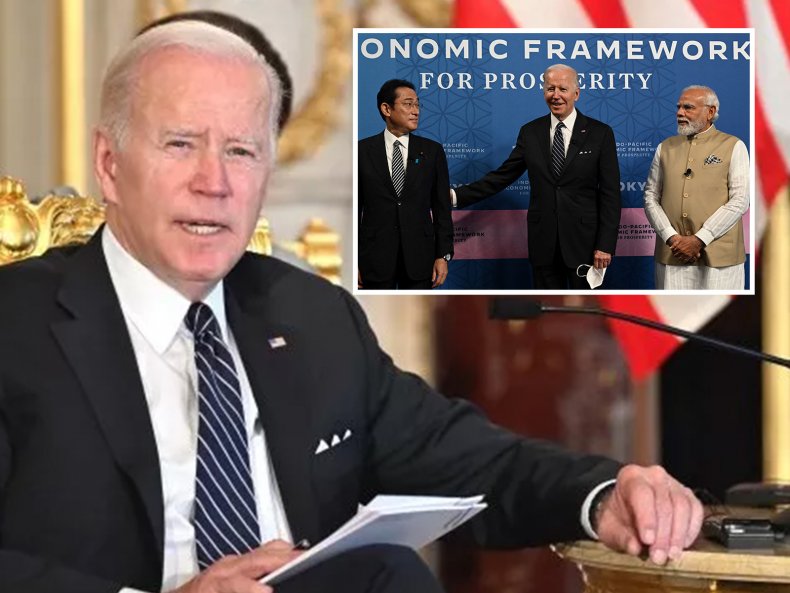 The "One China" policy posits that there is only one Chinese government, and that any country that wants diplomatic ties with China must not officially have a diplomatic relationship with Taipei. As a result, Taiwan has been diplomatically isolated from the international community. However, the U.S. retains a strong unofficial relationship with the island.
"America is committed to a One China policy but that does not mean China has the jurisdiction to use force to take Taiwan," Biden said.
"My expectation is that will not happen," he added.
The comments were made on Biden's second day in Japan. On Monday, he met with Japanese Prime Minister Fumio Kishida and other leaders of the "Quad" group that comprises the U.S., Australia, Japan and India.
Before making the remarks on Taiwan, Biden told Kishida that he would back Japan's permanent membership of a reformed U.N. security council, a move that China will likely veto.
After talks with his Pakistani counterpart Bilawal Bhutto Zardari in Guangzhou on Sunday, Chinese Foreign Minister Wang Yi said the U.S. Indo-Pacific strategy is inciting hostility and undermining peace.
"The United States' Indo-Pacific strategy creates severe anxiety around the world, particularly in Asia Pacific countries," he said, according to the Chinese foreign ministry.
Wang said that the U.S. wants to confine China and make Asia-Pacific countries pawns in the face of American hegemony.
"Facts will prove that the so-called Indo-Pacific strategy is in essence a strategy to create division, to incite confrontation, and to undermine peace," Wang said.
Update 5/23/22, 4:24 a.m. EDT: This article has been updated to include comments by U.S. President Joe Biden.