Joe Biden's Awkward Debate Performance Compared to Mr. Magoo by Barack Obama's Former Aide
Former Vice President Joe Biden found his performance in the November Democratic debate mocked from by former Obama adviser, who described the presidential hopeful as "Mr. Magooing his way through this."
During a panel discussion on CNN, David Axelrod, who was former President Barack Obama's chief strategist during his campaign, commented that he thought Biden still "has a play here," despite failing to impress in any of the Democratic debates thus far.
"Biden, I wouldn't say he was a house of fire in any of the debates that we've been to. And yet he comes... kind of bumps along, kind of Mr. Magooing his way through this. You keep worrying he's going to hit a wall, but he's moving forward," Axelrod said on Wednesday night, following the debate in Georgia.
"Obviously, he's losing some altitude in Iowa, New Hampshire, that should be concerning to him," Axelrod added. "But if he can survive those states because of his strong support in the African-American community and because he has a cultural kinship with working-class whites, non-college whites, you know, he has a play here."
Biden has put in a shaky performance in the Democratic debates thus far, Wednesday night's debate being no exception, with the former VP giving awkward answers to questions including on the topic of violence against women—his advice to society to "keep punching at it, keep punching at it," appearing tone-deaf.
On the topic of black voters too, Biden touted his credentials but missed the mark when suggesting that he was the only candidate to have secured the support of the only black women to be elected to Senate. Cue fellow Democratic presidential hopeful, California Senator Kamala Harris attempting to remind Biden of her presence.
But in the polls, Biden is hanging on, despite failing to impress on the debate stage. He has been among the frontrunners since announcing his candidacy—currently enjoying a 12.7 lead on closest rival Elizabeth Warren, who at one point was level with the former vice president.
And while the CNN panel suggested that late entrant Michael Bloomberg may find it hard to get a foothold in an already crowded race, CNN guest and commentator Van Jones suggested Biden's bumbling may have given Bloomberg some hope.
"If I'm Bloomberg and I'm watching, I say to myself you've got Biden doing pretty well, Pete doing pretty well. Where is the room for the moderate to come in?" Jones said.
"And then Biden blows four tires in the last 10 minutes. If you're Bloomberg you start looking and going, 'Hey man,'" he added.
The infographic below, provided by Statista, illustrates the number of minutes spoken by debate participants.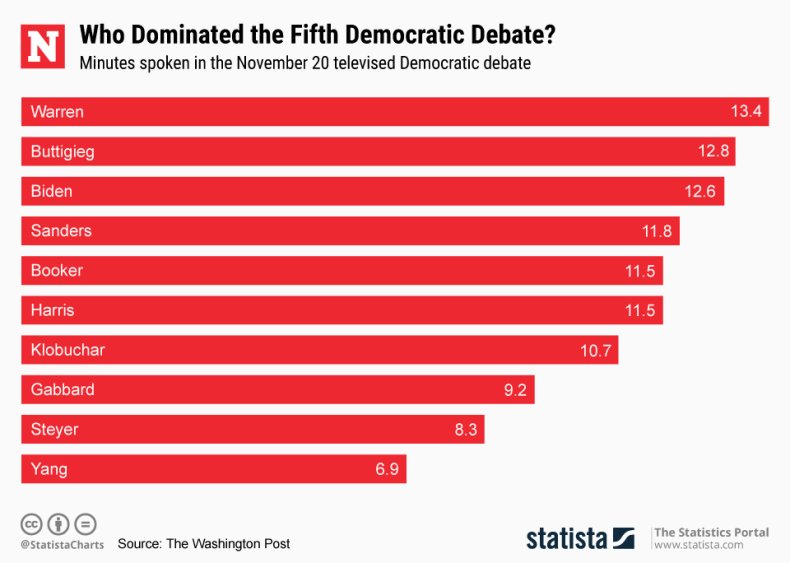 This article was updated to include an infographic.