Joe Biden: Democrats Will Win the Senate
Joe Biden said he thinks Democrats will win back control of the U.S. Senate in the November midterms despite analysts' belief that there is little chance they can do so.
The former vice president said strong economic numbers should have pushed President Donald Trump's approval rating higher, but voters' anger with his administration and its actions is holding it down.
Biden also suggested that the country's "basic, basic values" are "being shredded right now" by a political culture in America for which Trump is a figurehead, something that will alarm voters as they head to the ballot boxes.
"I really do think we'll win the Senate," Biden, who served in the Obama administration from 2009 to 2017, said at a London event held Wednesday by foreign affairs think tank Chatham House.
Newsweek subscription offers >
"And the core of that is not dissatisfaction at the moment with the economy, because it's not in bad shape. I think Barack [Obama] should get some credit for the shape it's in," he continued. "I think people are wondering: What defines America these days? And I think you're going to see some movement. I may be wrong."
At the end of August, political analyst Stuart Rothenberg told Reuters the Democrats face "an almost impossible map" in retaking the Senate because some incumbents are defending seats in states Trump won convincingly in 2016.
FiveThirtyEight's forecast has Republicans at a four in five chance of holding the Senate, while Democrats have just a one in five chance of taking it back.
Biden, who was a U.S. senator from Delaware for over three decades, deflected a question at the Chatham House event about his own presidential ambitions, although he is considering running in 2020.
Newsweek subscription offers >
He said that "there are many people in the Democratic Party who could beat Trump" but added he is not a candidate for the nomination "at this point," leaving the door open to a run.
One theme of Biden's speech was what he called the "crossroads of competing values." He urged those who believe in open societies to "put fear to one side" in the fight for the Western liberal order against autocrats and their supporters.
He also said there is a "competition of systems" and a "competition of values" between the West on one side and the likes of China and Russia on the other.
"As I say at home on occasion, it's time to pick our heads up. We can own the 21st century in a way that makes life better for everyone. It's totally within our capacity to do so," Biden said, calling on those who believe in Western values to regain their confidence in fighting for them.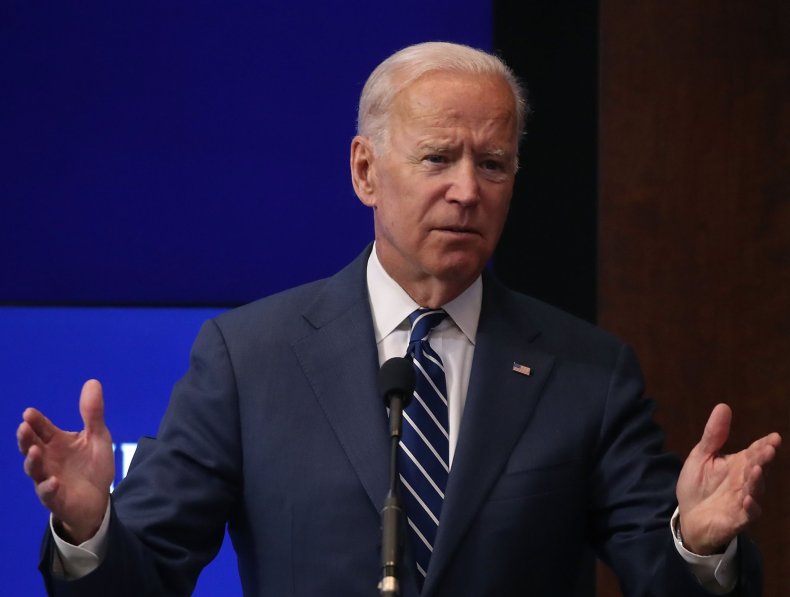 Joe Biden: Democrats Will Win the Senate | U.S.