Joe Biden Denies Bernie Sanders Leads Him Among Black Voters Under 35, Despite Polls Saying Otherwise
Democratic presidential candidate Joe Biden insisted that fellow frontrunner Bernie Sanders was not drawing more support from young black voters, despite multiple recent polls showing that the senator from Vermont is in fact in the lead with the demographic.
Biden's comments came during the 2020 Iowa Brown & Black Presidential Forum on Martin Luther King Jr. Day Monday. During the forum, eight presidential candidates took questions from VICE News about their campaigns, policies and electability.
"He is not leading me [with] black voters under the age [of 35]," Biden claimed, when asked why he thought Sanders was drawing more support from the younger black community. "Look, all I know is I'm leading everybody combined with black voters," he said.
As the crowd laughed, the former vice president doubled down to tout his support from the African-American community.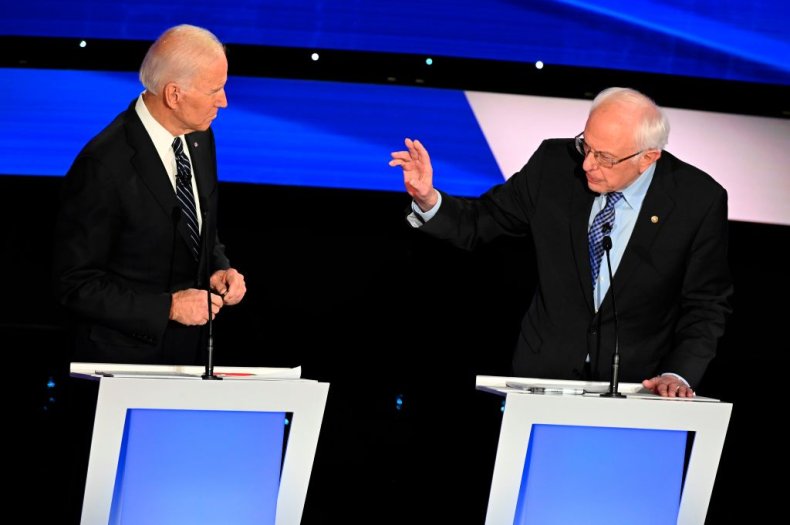 "Name me anybody who has remotely close to the support I have with the African-American community nationally," he said. One of the interviewers then interjected, noting that VICE News actually had recently done a poll showing that Sanders drew about the same amount of support from black voters as Biden.
"But he's way behind me," Biden insisted.
The VICE News-Ipsos Poll, however, found that Biden and Sanders were in a statistical tie, with Sanders slightly ahead. In that survey, 56 percent said they would "consider voting" for Sanders, while just 54 percent said they would "consider voting" for Biden. Both politicians were far ahead of any other candidate in the race, with only 39 percent of respondents saying the same about Senator Elizabeth Warren, and just 27 percent saying the same for former New York City Mayor Michael Bloomberg.
When it comes to young black voters, a major poll by The Washington Post and Ipsos, conducted from January 2 to 8, showed that black Democrats ages 18 to 34 support Sanders over Biden by a significant margin. Biden only garners 30 percent support from the younger voters, while Sanders takes 42 percent. However, Biden is the clear frontrunner overall in that poll, with 48 percent of black voters saying they back Biden compared to 20 percent for Sanders. None of the other candidates register in the double digits.
Recent polling by The Wall Street Journal and NBC News also has shown that black millennial voters are showing greater excitement about Sanders than they are for Biden. However, their polling also found that older black voters are strongly behind the former vice president.
The latest polling data from Morning Consult still shows Biden as the Democratic frontrunner, with 29 percent nationally compared with Sanders at 23 percent. But Sanders has surged in polling over the past couple months, with a recent CNN/Des Moines Register survey finding Sanders leading the pack in Iowa, with Biden five points behind in fourth place.