President Joe Biden on Friday said that the Democratic Party remains united ahead of the 2022 midterm elections.
Speaking at an Earth Day event in Seattle, Biden shut down reports that the party is divided on key issues.
"They talk about the split in the Democratic Party. There's virtually no split in the Democratic Party," Biden said. He went on to note that in the 50-50 Senate, any single senator can "change the dynamic."
The remarks came as Biden's domestic agenda has stalled in Congress. His signature Build Back Better legislation to expand the social safety net and combat climate change passed the House of Representatives but was essentially killed by West Virginia Senator Joe Manchin. Arizona Senator Kyrsten Sinema, another moderate Democrat sometimes at odds with the party's proposals, is reportedly throwing cold water on the idea of reviving the bill, according to Axios.
Build Back Better isn't the only area where Democrats have clashed. Members of the party have recently questioned the administration's decision to lift Title 42, a rule implemented under former President Donald Trump to restrict immigration during the coronavirus pandemic.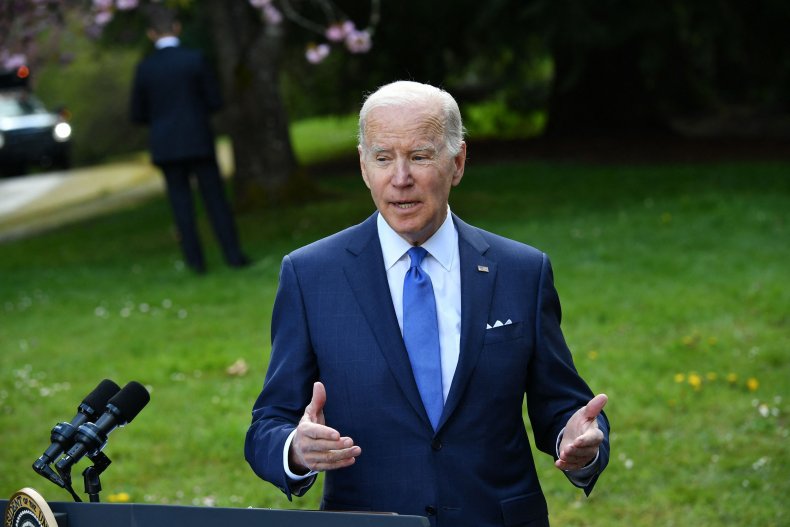 The U.S. Centers for Disease Control and Prevention recently announced that the rule would be suspended on May 23. The action will likely lead to an influx of people at the U.S.-Mexico border, the White House has said.
Democrats could block the administration from ending Title 42. Earlier this week, Democratic Senator Gary Peters of Michigan said he shared some of the concerns of his colleagues about lifting the policy.
"Unless we have a well-thought-out plan, I think it is something that should be revisited and perhaps delayed," Peters said, according to Politico. "I'm going to defer judgment on that until I give the administration opportunity to fully articulate what that plan is."
Biden has hit the road the past several weeks to tout the accomplishments his administration has achieved ahead of the November elections. This week, he made stops in New Hampshire and Oregon to discuss the funding the states will receive from the bipartisan infrastructure law.
But some in the party argue more needs to be done to win over voters this fall. Progressives are currently pushing Biden to cancel student loan debt before the midterms, a move that could help the party win over younger voters.
"Democrats win elections when we show we understand the painful economic realities facing American families and convince voters we will deliver meaningful change," Senator Elizabeth Warren recently wrote in a New York Times op-ed. "To put it bluntly: if we fail to use the months remaining before the elections to deliver on more of our agenda, Democrats are headed toward big losses in the midterms."