Joe Biden Says He Won't Be 'Recreating' the Obama White House But Doesn't Say What He Would Do Differently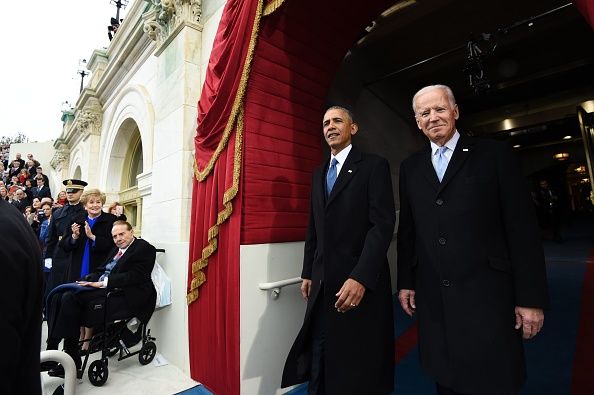 During his first television interview since announcing his 2020 candidacy, former Vice President Joe Biden did not say how exactly his administration would be different than that of his former boss Barack Obama but claimed he would not be "recreating" the past.
The View co-host Meghan McCain, daughter of the late Republican senator John McCain, pressed the Democrat on what the "single biggest difference would be between an Obama White House and a Biden White House?"
"Look, the reason why the president and I got along is philosophically we're in the same place," Biden said during an interview on Friday morning. "I hope that I've learned from him and that relationship."
"We disagreed on implementation of some things, we disagreed on timings of some things," Biden said, adding that he and Obama could always "talk about anything" even if they held opposing views. But ultimately, Biden did not share any specifics policies or issues that he would tackle differently than Obama if elected president in November 2020.
The former vice president went on to describe his "great" friendship with Obama, but said the goal of his presidential run is about moving the country forward, not repeating the actions of past administrations.
"It's about moving to the future. It's not about recreating what we did," he said. "It's about taking the same decency and philosophy that we have and taking it into the future. There's so much we can do, my Lord."
After months of anticipation, Biden finally entered the crowded Democratic primary field on Thursday. In his campaign announcement, Biden said that the 2020 election is a "battle for the soul of this nation."
Shortly after the announcement, Obama spokeswoman Katie Hill said that the former president "has long said that selecting Joe Biden as his running mate in 2008 was one of the best decisions he ever made."
Hill also said that Obama "relied on the vice president's knowledge, insight and judgment, throughout both campaigns and the entire presidency. The two forged a special bond over the last 10 years and remain close today."
But the former president stopped at making an explicit endorsement, though Biden told reporters in passing on Thursday that Obama didn't make an endorsement because he asked the former president not to. Biden repeated that claim during his interview on The View.
"I didn't want it to look like he was putting the thumb on the scale," Biden said. "I'm going to do this based on who I am, not by the president going out and trying to say 'This is the guy you should be with.'"
Biden went on to say he is "incredibly proud" to have served with Obama for eight years, adding that what the two are most proud of is not having "a whisper of scandal" in the administration—a subtle jab at the chaos that often surrounds Donald Trump's White House.
Trump responded to Biden's announcement on Thursday morning, in which he gave the 76-year-old the nickname "Sleepy Joe."
"Welcome to the race Sleepy Joe," Trump tweeted. "I only hope you have the intelligence, long in doubt, to wage a successful primary campaign. It will be nasty - you will be dealing with people who truly have some very sick & demented ideas. But if you make it, I will see you at the Starting Gate!"
Then, on Friday morning, 72-year-old Trump called himself "a young, vibrant man" in another dig aimed at Biden. "I think that I just feel like a young man," Trump told reporters on the White House lawn. "I'm so young. I can't believe it, I'm the youngest person.
Biden, 76, responded to Trump's criticism on The View, saying that if Trump "looks young and vibrant to me, I should probably go home."