Biden Scoffs at Reporter's 'Silly Question' About Khashoggi Killing
President Joe Biden on Friday scoffed at a reporter's question about the death of veteran Saudi journalist Jamal Khashoggi, who was a vocal critic of the Saudi regime and was killed by Saudi government agents.
The question came as part of a press briefing held during Biden's visit to Saudi Arabia, where he met with multiple Arab leaders including Crown Prince Mohammed bin Salman.
When asked how he can be sure another similar incident will not happen again, Biden answered, "God love you, what a silly question. How can I possibly be sure of any of that? I just made it clear if anything occurs like that again, they'll get that response and much more," referring to his past criticism of the crown prince over his alleged involvement in Khashoggi's death in 2018 in Istanbul.
"I'm not going to remain silent. Can I predict anything is gonna happen, let alone here, let alone any other part of the world? No," he added.
This is Biden's first trip to the Middle East since he took office. The president has received a lot of criticism for his fist bump with the crown prince on Friday amid Saudi Arabia's record of human rights abuses, even though he said that he brought up the Khashoggi case during their meeting.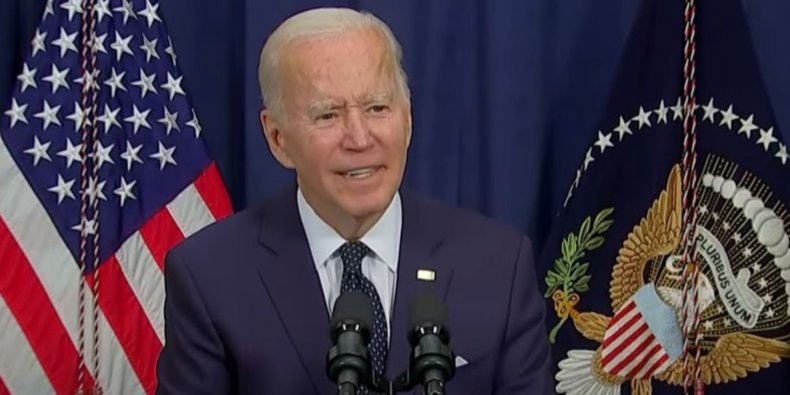 In response to Biden's visit, Prince Turki Al-Faisal, the kingdom's former intelligence chief and diplomat, told CNBC on Friday that "President Biden, in my view, he's coming as a much diminished president than when he was first elected."
Meanwhile, Biden was asked moments earlier during the news conference whether he regrets calling Saudi leaders a "pariah" in the past, to which he responded: "I don't regret anything that I said. What happened to Khashoggi was outrageous."
During a Democratic party debate in November 2019, Biden said that he would "make them in fact the pariah that they are" as he vowed to take an opposing stance against Saudi Arabia over allegations of human rights violations.
Biden's past comments drew criticism from Saudi leaders. In June, Salem al-Yami, a former official of the Saudi Foreign Ministry, told Newsweek that "the way the U.S. targets Saudi Arabia when addressing human rights violations is unacceptable."
"The U.S. sees that Saudi Arabia is above the law and needs to be held accountable and punished, and this is not a proper diplomatic language that should be used between two countries who are allies," he said, adding that focusing on human rights-related issues while failing to fully address Washington's own shortcomings "ruins the U.S.-Saudi relations."
"Bringing up the Khashoggi case will not help the U.S.," Yami said, "and interfering in such cases doesn't help the Americans."
During Biden's visit on Friday, delegations from Saudi Arabia and the United States discussed ways to make sure that global energy is secured and that there are enough oil supplies to support global economic growth.
Though Yami noted that any Saudi plan to increase oil production in an effort to help combat rising energy prices in the U.S. would have to align with the kingdom's existing agreements with the Organization of Petroleum Exporting Countries (OPEC), he said that "the Saudis are capable of finding a way to supply America with the oil they need."
However, he said that "there will be an exchange for that, and, at this point, America has to do a lot of things."
Update 07/15/2022, 5:50 p.m. ET: This article has been updated to include additional information.