Joe Biden Doesn't Want to Debate Bernie Sanders Again: 'We've Had Enough Debates'
Democratic presidential candidate Joe Biden told reporters Wednesday that having another debate with his progressive rival, Vermont Senator Bernie Sanders, is unnecessary.
Biden, who served as Barack Obama's vice president, became the front-runner for the Democratic nomination after an unprecedented comeback in the South Carolina primary at the end of February rebooted his struggling campaign. Sanders, who had garnered an early lead, has performed poorly in most states that have voted since then, but has remained in the race.
During Wednesday's virtual press conference, Biden was asked by a reporter about the possibility of an April debate with the senator.
"My focus is just dealing with this [coronavirus] crisis right now. I haven't thought about any more debates," he said. "I think we've had enough debates. I think we should get on with this."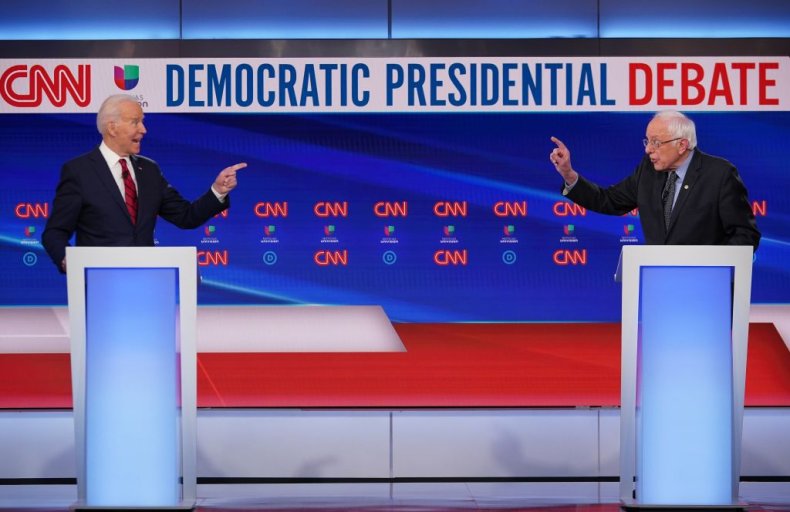 Sanders' campaign did not immediately respond to Newsweek's request for comment. But the campaign has previously said the senator would go up against Biden again if a debate is held in April.
"Senator Sanders is still running for president," Mike Casca, the candidate's director of communication, told The New York Times on Tuesday. "If there is a debate in April, he plans to be there."
After a series of major defeats, many Biden supporters and moderate Democrats have urged Sanders to drop out of the race and allow the former vice president to work toward unifying the party. But as the coronavirus pandemic has taken center stage and the Democratic nomination process has faded from national attention, Sanders has shifted his campaign to spread awareness about the outbreak and raise funds for those negatively affected by the crisis.
Most political analysts see it as next to impossible for Sanders to come back now and win the party's nomination. Nearly all recent national polls show him trailing Biden by double digits, with surveys of individual states yet to vote in the primary process presenting a similarly dismal outlook for the senator.
Last week, Sanders was asked by a CNN reporter about how long he planned to stay in the race. The candidate responded with frustration, as he wanted to discuss the response to the coronavirus pandemic.
"You have to stop with this. I'm dealing with a f---ing global crisis. You know? We're dealing with it, and you're asking me these questions," Sanders said.
"Right now, I'm trying to do my best to make sure that we don't have an economic meltdown and that people don't die," he added. "Is that enough to you? To keep you busy for today?"