Joe Biden and Donald Trump are Virtually Tied in Head-to-Head Florida Match-Ups
Former Vice President Joe Biden and President Donald Trump are at a statistical tie in Florida, recent statewide polls showed.
Two polls this month from Florida Atlantic University and Univision show Trump leading by two and three percent, respectively, in a hypothetical matchup if Biden becomes the Democratic nominee. But because the results are within the margins of error, the numbers suggest a statistical dead heat.
Among Hispanic voters—a large and key demographic in Florida—a survey by Mason-Dixon Polling for Telemundo showed Biden boasting a 20-point lead: 58 percent compared to Trump's 38 percent.
As a swing state in the general election worth 29 electoral votes, the Sunshine State has helped to determine past presidential winners.
In 2016, Trump won Florida over Hillary Clinton by just one percent, or roughly 113,000 votes. And in 2012, President Barack Obama won the state over Mitt Romney by less than one percent, or about 73,000 votes.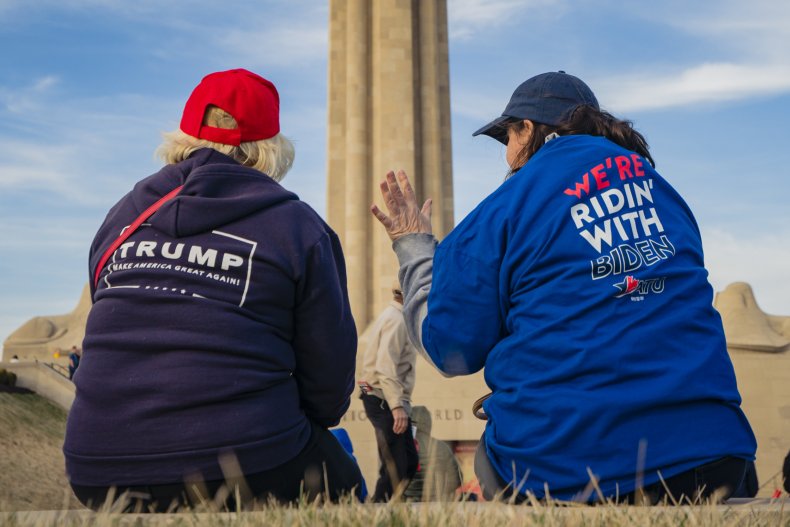 In primary elections Tuesday, Biden is set to expand his delegate lead over his Democratic opponent, Vermont Senator Bernie Sanders, bringing him one step closer to clinching the nomination to face off against Trump. Primary voters were scheduled to head to the polls in Florida, Arizona, Ohio and Illinois, where Biden is poised to win each state against Sanders, according to state polls.
However, the election in Ohio was postponed by the governor until June 2 due to the coronavirus pandemic.
Nationwide polls over the past month have showed Biden defeating Trump by an average of more than 6 percentage points, according to RealClear Politics.
Biden and Sanders have both branded themselves as Democrats' greatest chance to unseat the president. But moderate Democrats have warned that Sanders, a self-described democratic socialist, is far too extreme to beat Trump and could hurt down-ballot candidates.
"I hope to win the nomination," Sanders said Sunday night during a one-on-one debate against Biden. "But if I don't win the nomination, I, and I think every other Democratic candidate, is prepared to come together to do everything humanly possible to defeat Donald Trump."
Biden made the same promise and took it one step further by vowing to campaign for Sanders.
"I believe the people who support me will do the same thing, because the existential threat to the United States of America is Donald Trump," he said.