Joe Biden, Donald Trump Campaign Yard Signs Pilfered in Florida County
In picturesque Jefferson County, Florida, campaign lawn signs for both Joe Biden and Donald Trump have been stolen or defaced as part of what one local Democratic Party member calls an uncharacteristic undercurrent in an otherwise calm and quiet tightly knit community.
"I've seen it in the way people react to signs and having to wear masks," said Gladys Roann-Watson, chair of Jefferson County's Democratic Executive Committee. "It seems like a form of subtle aggression toward people who are not supporting the administration that's in there now."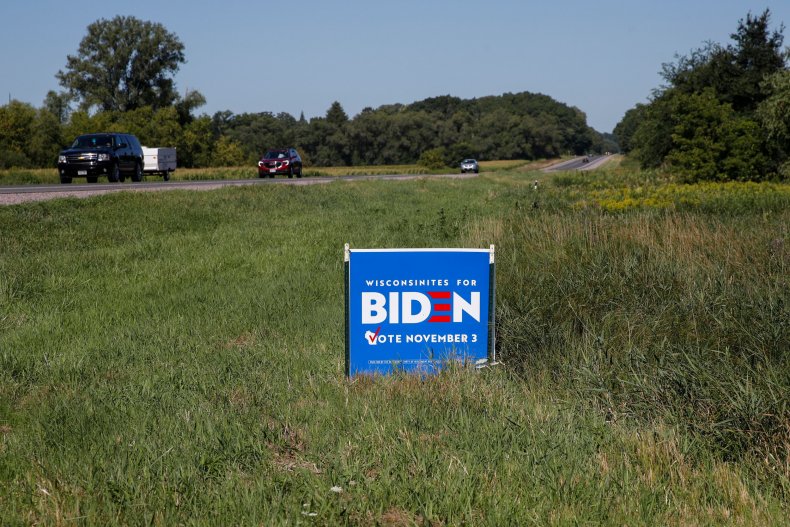 Roann-Watson said numerous people have told her that many of the 200 Biden signs the county Party distributed recently are disappearing from their yards overnight.
For their part, the GOP has come out strongly against taking other people's yard signs.
"The Republican Party of Florida does not condone the defacing or theft of campaign signs regardless of candidate or party affiliation," said Alia Faraj-Johnson, spokesperson for the Republican Party of Florida. "Simply put—it is against the law and anyone that witnesses a person engaging in that activity should immediately report it to law enforcement."
Several residents have complained that several Trump campaign signs have been taken from where they were planted, and at least one Biden sign was spray-painted black, the Jefferson County Sheriff's Office told the Monticello News & Jefferson County Journal earlier this month.
Often a lone presidential campaign sign goes missing from a lawn while signs for local candidates remain untouched, leaving the motivation for the disappearance unclear, Sheriff Mac McNeill told the Monticello News & Jefferson County News. The sheriff said theft of yard signs is a second-degree misdemeanor offense punishable by up to 60 days in jail and up to a $500 fine.
Roann-Watson, a retired nurse, said that during the COVID-19 pandemic she has been confronted over wearing a personal protection mask.
"They're not real aggressive, but they question why I'm wearing a mask," she said. "From being a nurse, you learn to keep a barrier between yourself and whatever else is out there when you're working in a hospital or nursing home or confined space."
Extending from Georgia at its north end to the Gulf of Mexico, the panhandle county, well known for its corn, watermelon and farms, had an estimated population of 14,246 in 2019. Of the 10,072 registered voters in the county, 5,141 are Democrats, 3,741 are Republicans, with the rest registered with other parties or no affiliation, as of this week.
In the past three presidential elections the county voted twice for Barack Obama, who won by 3.66% in 2008 and again in 2012 by 1.75%, and then Trump flipped the county red in 2016 with a 5.06% victory.
Jefferson County Republican Party officials were not immediately available for comment.
Joe Biden, Donald Trump Campaign Yard Signs Pilfered in Florida County | Politics