For Biden to Beat Trump in a Digital Campaign, Strategists Say These Two Things Are Essential
Joe Biden could capitalize on the advantages of digital-first campaigning but must be authentic and targeted in his approach, experts have told Newsweek.
With swathes of the nation still under stay-at-home measures and with those not locked down still practicing social distancing, traditional face-to-face engagements have been, at least temporarily, demoted to a relic of the past.
As the presumptive Democratic nominee, former Vice President Biden faces heading into an election against President Donald Trump—who has the spotlight associated with that of an incumbent and a huge online following. At time of writing, Biden has 5.4 million followers on Twitter. Trump has just shy of 80 million.
With usual tactics impossible to carry out, Biden will need to utilize the online sphere.
"Nothing accelerates adaptation like necessity," Tara McGowan, CEO of ACRONYM, told Newsweek. "We were seeing incredible innovation in the primaries and of course now with coronavirus it's definitely incentivized campaigns to adapt."
McGowan, whose organization looks to advance "progressive causes" through innovative digital means, while working alongside its political action committee to run anti-Trump ad campaigns, said the landscape posed by COVID-19 has "changed the conversation" around strategy.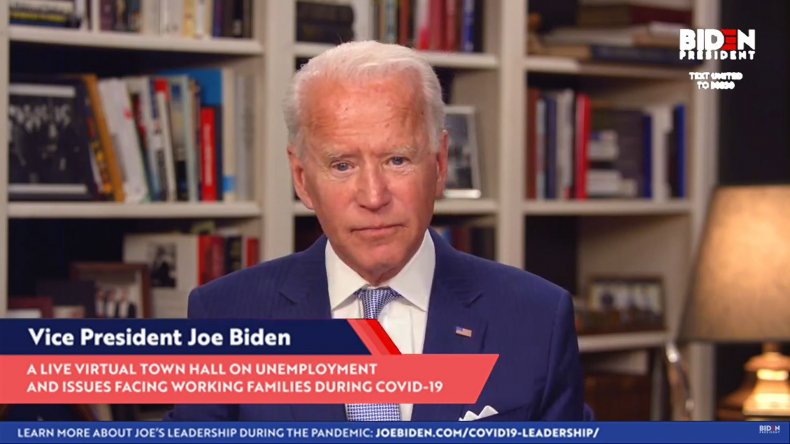 This, she said, meant seasoned hands perhaps adverse to digitizing their approach no longer having an argument against it.
With the necessity for online work highlighted, how Biden moves to use such platforms is essential.
A key point will be ensuring his presence comes across as authentic, McGowan said.
"In order to have essential content on social media you must be authentic. The bar for authenticity is so high, people's threshold for bulls*** is very low.
"One of Trump's strengths is that he is authentically himself all of the time. A lot of testing has shown the more gritty the content is the more effective it can be."
And with finding the right voice, who Biden picks to target with it also becomes a focal point.
McGowan said: "Being able to target specific audiences has always been a benefit of digital outreach. It allows you to tailor your message to voters—it's the same as marketing a product.
"Data and privacy are rightfully complicated issues. But it's really important for a campaign to contact specific audiences.
"It's one of the biggest advantages the Trump campaign still has. Joe Biden is starting at a disadvantage on data."
As well as using data to pinpoint messaging, McGowan also expressed the importance of direct connections from candidates to voters, praising his attempts at doing this already via video calls.
"I think a really powerful strategy is when campaigns and candidates campaign with people directly," she said. "I think the more campaigns can carve out more time for candidates directly with voters is going to pay dividends."
Eric Wilson, a digital-first political strategist who previously worked on Senator Marco Rubio's 2016 campaign for president, also highlighted the importance of being able to be specific with online reach.
"The reality has been for a while that most of what's effective in a campaign happens under the surface, that important work of building data and contacting voters," he told Newsweek.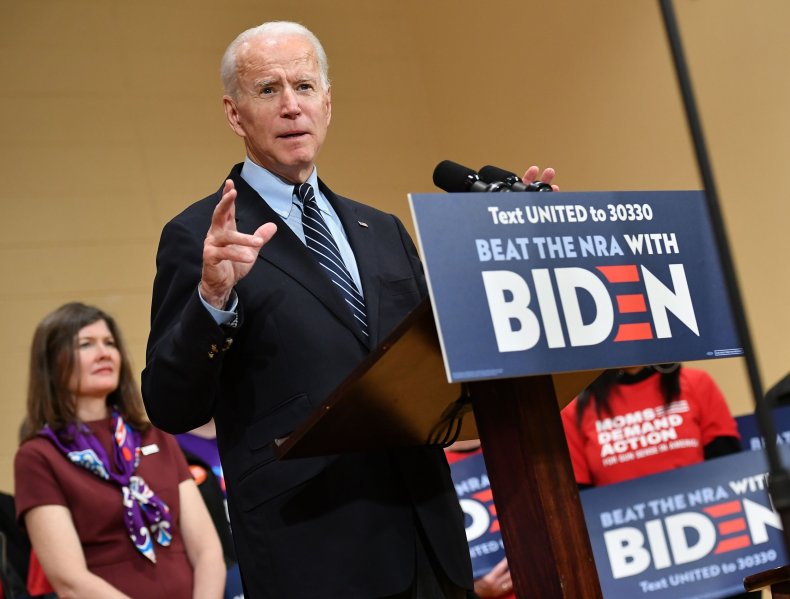 Biden is said to be scaling up his digital team in order to ratchet up his online presence—but Wilson also stresses the importance of needing to "buy into" the action.
"He could hire a hundred people team - but if Joe Biden isn't listening to advice he's getting from digital strategists that doesn't matter," Wilson said.
"It's got to come from the top down. Joe Biden has to buy into this.
"The greatest challenge is cultural. If they don't believe in the importance of online engagement, you're going to struggle."
He also echoes the need for authenticity—describing this as a trait often favored on digital platforms.
"Social media platforms, online media, really rewards people who are raw," he said.
Mark Borkowski, a British publicist and author, addressed the unprecedented situation Biden is campaigning in, which he thinks is made harder given the position Trump has as the incumbent. This combination he said provides a communications challenge "like no other."
"Joe Biden is running a Presidential campaign the likes of which has never been run before. The ability of the incumbent to grab media attention has been raised to an ultimate level," Borkowski, whose company has worked with the celebrities such as Prince and Led Zeppelin, told Newsweek.
"Trump has always been brilliant at grabbing news cycles, but with this daily crisis and a captive audience, he had risen to even more omnipresent levels. Joe Biden however is sat, alone, in his basement. It's a political communication challenge like none other."
He added that there are "six months to go and pressure will only rise."
Dr. Stuart Thomson, an honorary research fellow in the Department of Politics and International Relations at the University of Aberdeen and head of public affairs for law firm BDB Pitmans, said that the coronavirus crisis "has multiplied the importance of incumbency exponentially."
He told Newsweek that "even the world's best communicator would struggle against this," while he touted "shareable content" which can be focused at relevant people as something Biden will need to create.
"Biden is getting more adept at using social media, and other channels, but from a comparatively low starting point. His campaign needs a mix of big ideas and the ability to show-up the President for any failings," he said. "It can then turn these into shareable content, designed for the platform and targeted at specific voter groups."
Other notable words of advice to Biden have come from David Plouffe and David Axelrod, who both supported strategy for Barack Obama's successful campaigns.
The pair wrote in The New York Times that Biden will have to "up the tempo" in his campaigning, urging him to embrace "virtual, data-driven tools and creative tactics."
Amid the pandemic Biden has been creating videos in a studio created in the basement of his home, while he has also made a number of hires to his digital team.
Over the weekend, Biden shared a video of himself and Sen. Elizabeth Warren, who has backed his campaign, calling up contributors to thank them personally.
He has also conducted televised interviews from his home, as well virtual events, such as a Tampa rally held over YouTube. However, technical glitches caused some issues for the latter—prompting derision from Republicans.
Endorsements from fellow Democrats, including Hillary Clinton and Barack Obama, have also had to be conducted through videos.
A podcast, named "Here's the deal" has also been among Biden's digital offering.
In a tweet earlier this month, Rob Flaherty, Biden's digital director, acknowledged the "battle" that would be conducted online.
He said: "The boss says this is a battle for the soul of the nation, but it's also a battle for the soul of the internet."
Expanding on plans to win the online fight, Flaherty added: "We're gonna run a creative-first, data-driven program that centers community and the grassroots supporters who have powered our campaign. And we'll do it with empathy, and compassion."
Newsweek has contacted the Biden campaign for further comment.
Correction 5/19/20, 4:45 a.m. ET: This article was updated to correct the name of law firm BDB Pitmans.