Democratic presidential candidate Joe Biden has taken aim at President Donald Trump in an area which the president has long touted as a key strength: The economy.
Biden on Tuesday further outlined his economic agenda, which he vowed would look to address racial inequalities across the United States.
A plan, released by Biden's campaign team, vowed that the former vice president's plan was "built on the proposition that we must build our economy back better than it was before the COVID-19 crisis."
Suggestions for this "stronger, resilient, and inclusive economy," including plans to funnel federal money to small businesses, with development programs for those and to boost disadvantaged neighborhoods. His plans would focus particularly on supporting minority-owned businesses.
These comments came as a fourth part in his "Build Back Better" proposals, in which he has looked to take on Trump in the economic realm in which he had often lagged behind in public opinion.
In a speech in Wilmington, Delaware, Biden took aim directly at the president, taking a combative stance and branding Trump unable to deliver upon his promises of a recovery.
"He can't turn the economy around," Biden said-suggesting this had led Trump to make other comments which were divisive as another means to garner support.
"He's determined to stoke division and chaos," Biden said.
"It's not good for the country, but Donald Trump doesn't care. His campaign is failing and he's looking for a lifeline."
Trump has long vowed to build back the economy to the levels it was at pre-pandemic, touting those previous heights as unprecedented achievements and asserting that he could lead the country to reach those levels again.
Polling has previously shown the economy as one area Trump has remained consistently ahead of Biden in.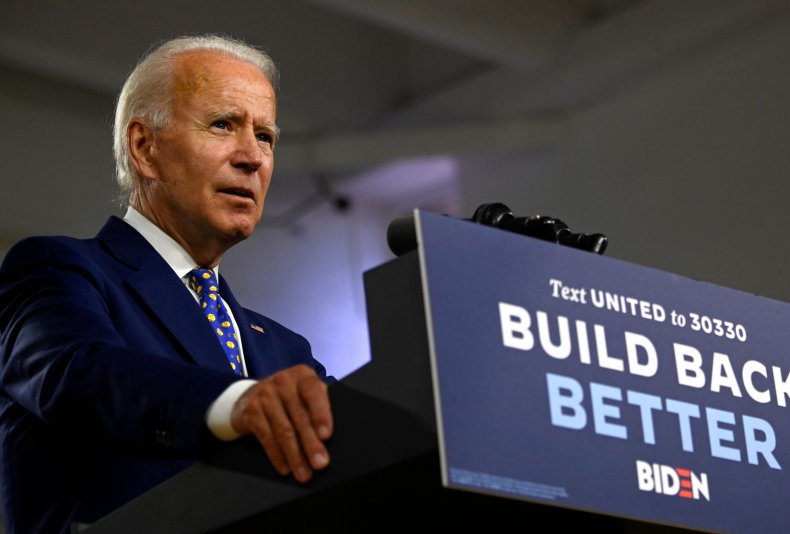 But, as Biden looks to focus upon his policy there, this lead has depleted in recent weeks.
Polling from Morning Consult recently put Trump's advantage on the economy at just a 1-point lead, with 44 percent trusting him over Biden compared to 43 percent the other way. The polling was conducted July 17 to 19 among 1,991 registered voters.
In similar previous polling in April, Trump had had an 8-point lead. Biden's gains in terms of economy also align with him maintaining a steady lead in nation polling in regards to the general vote, with him also gaining advantages in several battlegrounds.
A poll earlier this month, from Quinnipiac University, gave Biden a 5-point lead, with 50 percent stating they thin he would do a better job handling the economy compared to 45 percent who thought that of Trump. Respondents, made up of 1,273 self-identified registered voters, answered this question in a survey carried out July 9 to 13. Biden's lead showed a switch from Trump being ahead in similar polling in June.
Biden's comments on the economy come with millions struggling due to the pandemic, with polling suggesting half of all U.S. households have suffered a negative economic impact due to the outbreak.
Trump has insisted he is steering the economy, which has been ravaged by lockdowns implemented to stem the COVID-19 spread, back on track, previously touting job gains and the stock market as "doing GREAT!"
"I created the greatest economy we've ever had. And now, we're creating it again," he said previously.
However, recent surges in coronavirus and areas having to pause or revers reopening plans has added a further stumbling block to overcome.
Last week, the number of weekly jobless claims rose for the first time week-on-week since March.
This comes as talks continue over plans for a further stimulus package, in order to assist citizens across the nation and attempt to settle the impact across the United States.
In a statement following details of Biden's latest plans, Trump campaign senior adviser Katrina Pierson said: "Joe Biden's record and proposals prove that he indiscriminately spreads economic misery for all Americans, so he has addressed inequality that way. And the basic fact remains that no one should listen to a lecture on racial justice from Joe Biden."
She further said in the statement that Trump had a "a true record of accomplishment for Black Americans."
Newsweek has contacted the Biden campaign for comment.
Spikes across the U.S. have seen the number of confirmed COVID-19 cases surpass 4.2 million, according to Johns Hopkins University figures.
The graphic below, from Statista, shows the states with highest confirmed numbers as of July 27.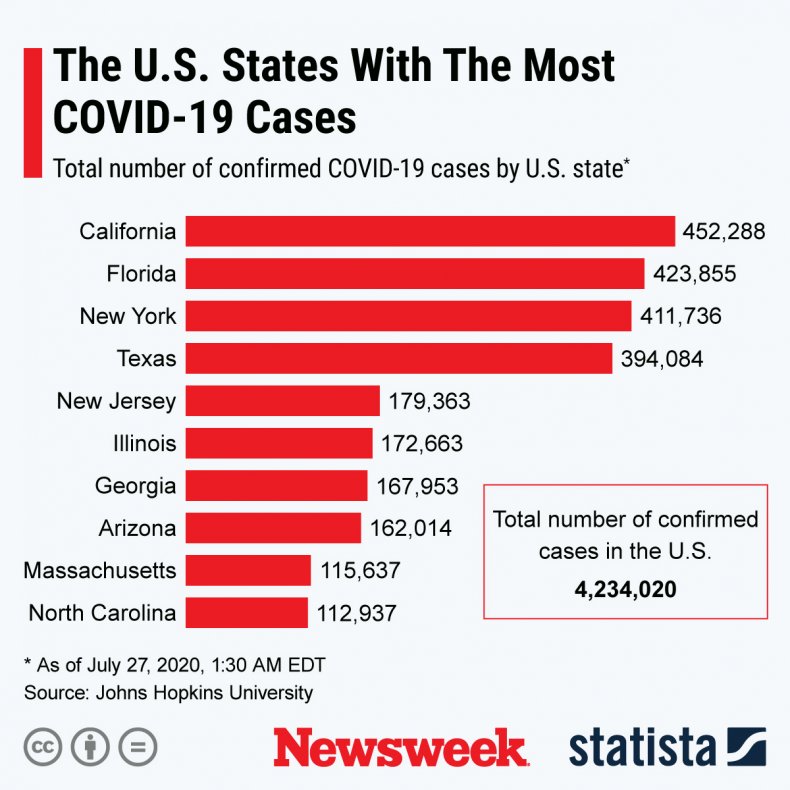 Update 7/29/2020: This page was updated with comment from the Trump campaign.