Biden Maintains Lead Over Trump Who Has Never Achieved Majority Approval Rating From Americans
With just over five weeks until the election, Joe Biden currently has a 10-point national lead over President Donald Trump, with the Democratic candidate trusted more to help with the coronavirus pandemic, health care, and to deliver equal treatment of racial groups.
According to an ABC News/Washington Post poll, Biden currently has a 54-44 percentage advantage over the president. The poll also notes that Trump remains in the "precarious position" of being the first president in 81 years of modern polling never to achieve majority approval during his time in office. The survey finds that Trump is currently at 44 percent approval rating among all Americans.
The poll showed that while more people trust Biden over Trump to handle the coronavirus pandemic by 51-40 percent, this has shrunk from a 20 point lead of 54-34 in mid-July. A net 58 percent of voters say they somewhat or strongly disapprove of Trump's handling of the coronavirus.
Trump is polling more favorably on the economy, which voters state as the most important issue of November's election, ahead of COVID-19.
Trump has a 52 percent approval rating when asked how he has handled the economy so far. When asked who they trust more on the economy, 49 percent trust the president compared to 46 percent who trust Biden.
Forty percent of Americans believe the economy is also in good shape, up from 31 percent in August. Trump also leads by 82-17 percent against Biden among likely voters who rate the economy positively.
Despite frequently promising to bring back "law and order" to the country, Trump is not as trusted to handle crime compared to Biden, who polls ahead at 50-44 percent.
The poll also finds that Biden has a 20-point lead over Trump on trust to handle equal treatment of racial groups (Biden 56-36 Trump), a 16-point lead on trust with health care (54-38), and 8 points on handling the next Supreme Court nomination (50-42), an issue which is now a major talking point following the death of Ruth Bader Ginsberg on September 18.
Biden trails Trump in terms of enthusiasm from those likely to vote for each candidate, with 59 percent stating they are "very enthusiastic" to support Trump, compared to 42 percent of Biden backers. Nine percent stated they are "not at all" enthusiastic about voting for Biden at the upcoming election, compared to 6 percent for Trump.
Trump and Biden are due to meet for their first presidential campaign debate on Tuesday.
The ABC News/Washington Post poll was conducted between September 21 and 24 by landline and cellular phone using a random national sample of 1,008 adults, including 889 registered voters and 739 likely voters.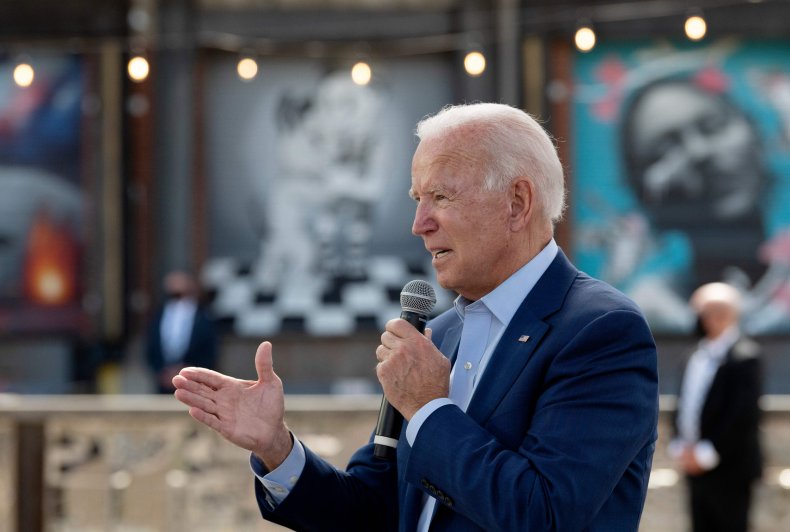 Update 9/28/20, 5.20 a.m. ET: This article's headline and body was updated for clarity.