Joe Biden Visa Decision on Donald Trump's 'Muslim Ban' Infuriates Progressives
Progressives have accused President Joe Biden of continuing to unfairly deny entry to thousands of immigrants, despite rescinding the so-called "Muslim ban" imposed by his predecessor.
One of Biden's first actions when he took office was to reverse former President Donald Trump's travel ban on 13 mostly Muslim-majority and African countries, describing it as a "stain on our national conscience." He tasked the State Department to come up with a way to deal with the issue within 45 days.
On Monday, the State Department announced those who had been denied entry to the U.S. on or after January 20, 2020 could "seek readjudication" without resubmitting their application forms if their initial requests were valid.
Those denied entry before that date could also be reconsidered, although they needed to submit new applications.
However, applicants selected via the diversity lottery who had not been issued visas because of the ban between the fiscal years of 2017 and 2020 would not be entitled to new visas.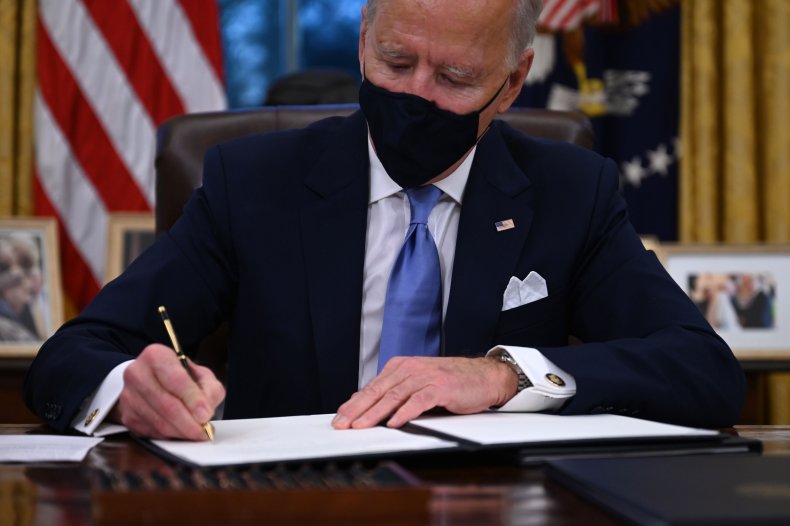 They were barred from the visas under the scheme, which aimed to encourage migration from underrepresented people, "as the deadlines for visa issuance in those fiscal years have expired," the State Department said on its website.
The American Civil Liberties Union (ACLU) said that a large number of Africans would be affected and that Biden "has failed to help so many of those harmed" by the Trump administration's immigration restrictions.
"Instead of restoring this opportunity, President Biden just dusted off Trump's 'CLOSED' sign and locked the door behind him," ACLU's senior legislative and advocacy counsel, Manar Waheed, said in a statement.
"Although Biden made the Muslim ban recession a day one priority, that alone is not enough. Today, he cemented Trump's legacy of harm."
Michigan representative Rashida Tlaib retweeted the ACLU statement and added the message: "This is infuriating." Fellow progressive Democratic lawmaker, Ayanna Pressley, referred to Biden's quote when he rescinded the ban, tweeting: "The Muslim ban is a stain on our national conscience," adding, "So the cycle of harm must be broken. This is unacceptable."
The executive order Trump issued in January 2017 limited entry to seven majority nations and, after legal challenges, was upheld and expanded. In February 2020, some African countries were added to the list, sparking accusations of racism.
Since December 2017, around 40,000 people have been barred from entering the U.S. under the ban, according to State Department data.
In January 2020, around 75,000 immigrant visa cases were pending at the National Visa Center, while last month, that had increased almost six-fold to 473,000.
Krish O'Mara Vignarajah, president of the nonprofit Lutheran Immigration and Refugee Service, told the Huffington Post: "The least we can do is offer an opportunity for re-adjudication without prejudice, and streamline the application process." Newsweek has contacted the White House for comment.
The graphic below provided by Statista shows the number of people granted asylum in the U.S.