Joe Biden has a strong lead over President Donald Trump going into the final weekend before the election although his advantage has narrowed slightly in the last month according to a poll carried out for Fox News.
The survey by the network found that Biden is eight percentage points ahead of the president—52 percent to 44 percent, which is outside the poll's 2.5 percent margin for error. However, this is slightly less than the ten-point advantage Biden enjoyed over Trump at the start of October.
Two percent of respondents supported a third-party candidate while a further two percent were undecided. The survey conducted between October 27 and 29, shows Trump was preferred over Biden by White men (+17 points), rural voters (+18 points), and White evangelical Christians (+50), although those margins are lower than what he received in 2016.
Biden was well clear of Trump among women, Hispanics black voters and those aged under 30.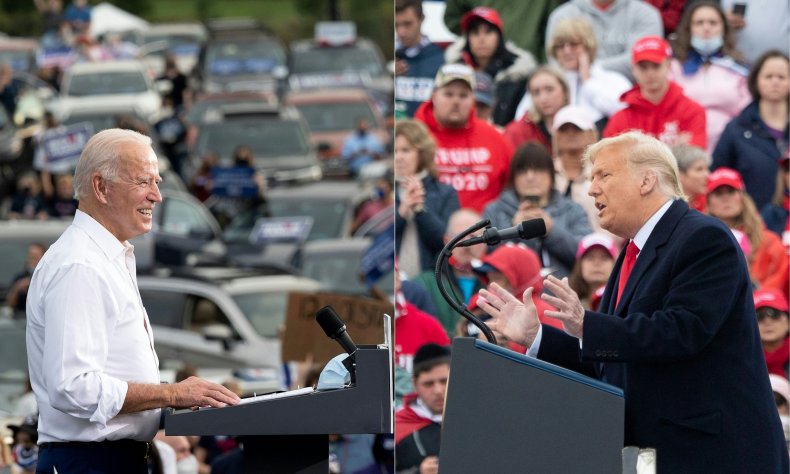 "It's hard to see the national race shifting significantly in the closing days, but that doesn't mean it's impossible for Trump to again thread the needle on an Electoral College victory," Democratic pollster Chris Anderson, who helped conduct the survey told Fox News.
Unlike in 2016 when voters had negative views of both Democratic contender Hillary Clinton as well as Trump, one of the candidates in this year's race has a clear advantage of being considered likeable, according to the network. Some 55 percent of respondents view Biden favorably, compared with 44 percent unfavorably, giving him a +11 net personal rating.
On the other hand, only 44 percent view Trump positively and 55 percent negatively, giving him a -11 personal rating.
Trump's approval rating as president has stayed roughly the same over the last couple of months, with 46 percent of people approving of the job he is doing, while 54 percent disapprove.
Over a third of respondents had already cast their ballots, and among them, Biden was ahead of Trump by 29 points. Trump is 16 points ahead among those casting their ballots on November 3.
In an 11th hour blitz of battleground states in the final days before Election Day, Trump is campaigning in Michigan, Wisconsin and Minnesota, while Biden heads to Minnesota, Wisconsin and Iowa. Other surveys show Biden ahead both nationally and in key swing states, with the RealClearPolitics national polling average shows Biden up 7.9 percent
"Biden has the advantage among key groups, especially seniors, suburbanites, and independents," said Daron Shaw, who also helped carry out the Fox survey.
"Trump needs a few more points out of these groups to win re-election. But the main impediment is the stubborn stability of the race; it hasn't changed much all year despite pandemics, economic collapses, and massive social unrest."