Biden 14 Points Ahead of Trump, Well Clear Among Women and Nonwhites: Poll
Joe Biden is 14 points clear of President Donald Trump according to a poll which suggests the former vice president is enjoying considerably more support than his election rival among women and nonwhite voters.
The survey of voters by The New York Times and Siena College found that Biden was ahead of Trump by 50 percent to 36 percent. The former Delaware senator was also far more popular than the White House incumbent among Black and Hispanic voters.
When asked who they would vote for in the November election, 79 percent of African American respondents said they would back Biden—a massive 74 percentage points clear of Trump. Among Hispanic voters, the gap was 39 points (64 percent to 25 percent). Biden also had a 22-point lead among women (55 percent to 33 percent).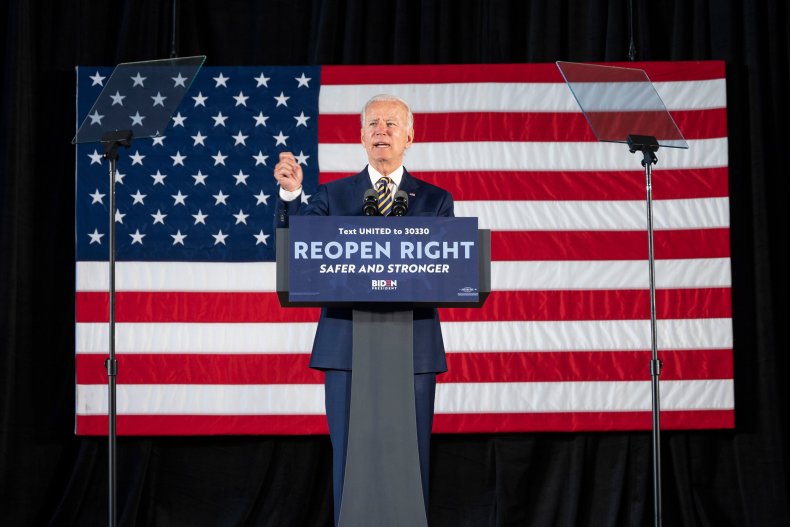 The Trump administration's handling of the coronavirus pandemic and its economic impacts, and the anti-racism protests sparked by the killing of George Floyd are likely to be issues in the election come November.
In the poll, 50 percent of voters approved of how Trump was handling the economy compared with 45 percent who disapproved. On the coronavirus pandemic, 38 percent approved of Trump's handling while 58 percent disapproved. On race relations, 33 percent approved of Trump while 61 percent disapproved.
The New York Times and Siena College poll was of 1,337 registered voters aged 18 or over, carried out between June 8 and June 22. The poll had a margin of error of plus or minus three percentage points.
The polling is more good news for Biden who is now close to being level with Trump in Texas, where a Democrat election candidate has not won since 1976.
A phone survey of the Lone Star state conducted on June 18 and 19 found that 46 percent of respondents would support Biden, only two points fewer than Trump. This two-point difference is within the three point margin of error from the Progress Texas/PPP poll. Meanwhile, a CNBC/Change Research poll last week also put Biden ahead of Trump in the six battleground states.
Despite the polling numbers in Biden's favor, former president Barack Obama warned Democrats against complacency, saying in a virtual fundraiser on Monday that "just because this energy is out there does not mean that it assures our victory."
"We can't be complacent or smug or sense that somehow it's so obvious that this president hasn't done a good job because, look, he won once," Obama added.
Newsweek has contacted the Biden and Trump campaigns for comment.