Joe Biden and Donald Trump Supporters Not Budging in Key Pennsylvania County
Luzerne County, Pennsylvania, has garnered nationwide attention and speculation as Election Day approaches, not only because Donald Trump turned the county red in 2016, but also because of its proximity to Joe Biden's birthplace.
The county, parts of which are a 20-minute drive to Joe Biden's hometown of Scranton, swung from victories for Obama of 8.41 percent in 2008 and 4.81 percent in 2012 to a Trump victory by 19.31 percent in 2016.
That margin helped him carry this key battleground state by less than 1 percent.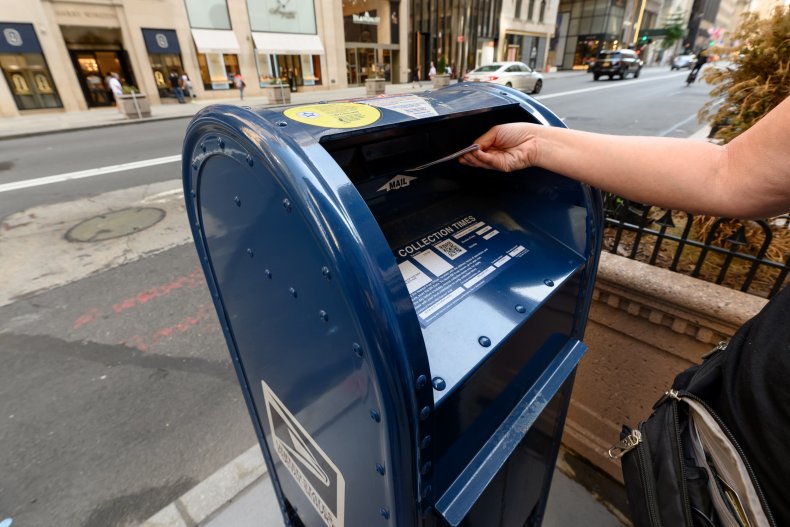 Now, just three weeks before Election Day 2020, Biden leads Trump in Pennsylvania by 7.3 percent in a Five Thirty Eight average of recent public opinion polls.
But minds change slowly in this northeast corner of Pennsylvania——if they change at all.
For David Thole of Wright Township, nothing he's seen or heard in the past few weeks, from the candidates debates to the president contracting COVID-19, has changed his mind.
"I'm still voting for President Trump," Thole told Newsweek.
As a Democrat he voted for Hillary Clinton in 2016, but he has since become a Republican.
He's been following the presidential campaign and reading and watching the various cable news networks to learn more about the candidates and their positions.
Like millions of other Americans last week, he was glued to his TV last week for the in-person debate between Vice President Mike Pence and Sen. Kamala Harris in Salt Lake City, Utah.
He said he thought the debate went much smoother than the Joe Biden-Donald Trump debate last month, and he was able to hear what Harris and Pence had to say.
Thole told Newsweek that he liked the ideas of making community college free and forgiving some student debt, concepts raised by Harris last week and a part of Biden's education program, but he wanted more details.
"It's got to be paid for somehow, and she didn't expand on how a Biden-Harris administration would pay for anyone who wants to go to college," Thole said. "There are many people out there, whether they went to community college, a four-year university, they may not be finished with their student loans and may not have a way to pay them back, or pay them in full."
Although he didn't have an opinion on Harris telling Pence, "Mr. Vice President, I'm speaking," or on similar moments that occurred, Thole said the candidates were mostly civil, especially when the two concurred that it's OK to disagree but not to the point of insults.
He said that's the way debates should be.
"They should give each other some space,"Thole said, "and allow each person to give their responses."
Kathy Bozinski, chair of the Luzerne County Democratic Party, said she and the women she was interacting with on social media and in texts real-time during last week's debate cheered on Harris's reaction to Pence.
"As a woman who has found herself, from time to time, in similar moments like that, I had to applaud her. Good for her," Bozinski told Newsweek. "Every woman watching has experienced moments like that, and we're proud to see that she stood up for herself and did not let that moment pass."
Bozinski bought a "Will you shut up, man?" T-shirt, which reflects the moment in last month's Biden-Trump debate when the former vice president made the remark to the president.
Bozinski said last week that Trump and the Republicans rushing through the Supreme Court nomination of Amy Coney Barrett weeks before Election Day is in stark contrast to the Senate GOP leadership's blocking Obama's March 2016 nomination of Merrick Garland, months before Election Day.
"Stacking the court is a great phrase to throw out there to scare people about what Democrats might do," she said. "But the reality is I don't think it's appropriate to rush through this nomination in the way it's being handled, especially when there are serious questions about the nominee's expressed beliefs both personally and professionally."
Bozinski said from her vantage point she's seen Democrats' energy growing over the past several months, and economic issues are top of mind for Luzerne County voters.
"To us here in Northeastern Pennsylvania things like the economy, of course
leadership on COVID-19," she said, "and, because we are an aging population in his area, the future of Social Security and Medicare are really, really key."
In 2016, more than two-thirds (67 percent) of registered voters in the county turned out for the presidential election, higher than the national turnout rate of 55.5 percent.
The county had 217,300 registered voters as of October 5 of this year, according to the Pennsylvania Department of State. Of those, 105,502 are Democrats and 84,359 are Republicans, with the rest registered with another party or with no party affiliation (NPA).