Biden Earns Bipartisan SOTU Applause for Medicare and Social Security
President Joe Biden earned a standing ovation across Congress Tuesday during the State of the Union address as both Republicans and Democrats showed their support for ensuring funding for Medicare and Social Security.
Biden has been in a longstanding battle with Republican lawmakers over raising the nation's debt ceiling since it reached its limit in mid-January. GOP leaders, such as Speaker of the House Kevin McCarthy, have promised to raise Biden's borrowing limit if Democrats agree to "structural" budget changes, with some Republicans proposing that those cuts come from federal programs like Social Security and Medicare.
In his address on Tuesday, Biden attacked the GOP's hesitancy to raise the debt limit, pointing to the fact that Republicans voted to raise the ceiling three different times under Trump's administration.
"Some of my Republican friends want to take the economy hostage, I get it, unless I agree to their economic plans," Biden said. "All of you at home should know what those plans are."
"Instead of making the wealthy pay their fair share, some Republicans want Social Security and Medicare to sunset," Biden continued. "I'm not saying it's the majority of you."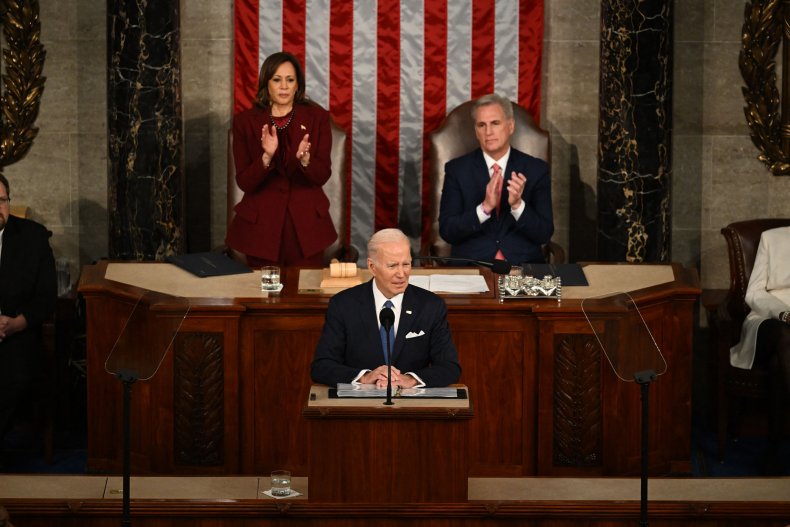 Biden's claim was met with loud boos from the Republican side of the room, including from Georgia Representative Marjorie Taylor Greene, who was caught yelling "liar" above the crowd.
The president responded to the pushback from the podium, saying, "Anybody who doubts it, contact my office. I'll give you a copy of the proposal."
After the chamber quieted again, Biden said, "So folks, as we all apparently agree, Social Security and Medicare are off the books now."
The agreement was met with applause from across the room, with the president shouting over cheers, "We got unanimity!"
As The New York Times reported in November, two Republican senators had put forth a proposal ahead of the midterm election that would reduce federal spending for Social Security and Medicare as a way to "rein in" government spending.
While many Democrats, including Biden, latched onto the proposal as a campaign boost in the final weeks before voting, Republican leaders never embraced the proposal.
On Monday, McCarthy addressed the nation's deficient in his own address to the nation, promising that cuts to Social Security and Medicare were "off the table" as discussion around the debt ceiling continues. At the time, however, it is still unclear what specific structural changes the GOP wants to see in exchange for raising Biden's borrowing limit.
Newsweek contact McCarthy's office for comment.
Update 2/7/23, 11:09 p.m. ET: This story has been updated with additional information and background.