Joe Biden Easily Wins Florida and Illinois Democratic Primaries As Coronavirus Pandemic Disrupts Voting
Democratic presidential candidate Joe Biden won the Florida primary on Tuesday, dealing three straight weeks of losses to his progressive rival Bernie Sanders' campaign and further cementing his path to the party's nomination.
With 72 percent of precincts reporting in Florida, Biden had secured 61.2% of the vote, while Sanders was at 22.6%. Moments later, Associated Press and the New York Times declared Biden the winner of Illinois.
Biden spent most of his winners speech tonight addressing COVID-19. "In keeping with the latest guidance from the CDC to avoid gatherings of more than 10 people, I'm speaking to you from my home in Wilmington, Delaware," he said in a live broadcast Tuesday evening. "Tackling this pandemic is a national emergency, akin to fighting a war. It's going to require leadership and cooperation from every area of government."
"Today, it looks like once again, in Florida and Illinois, we're still awaiting to hear from Arizona, our campaign has had a very good night," Biden added. "Sanders and I may disagree on tactics but we share a common vision for the need to provide affordable healthcare for all Americans."
Sanders dominated the early voting states, but he fell behind Biden after nearly all the other moderate candidates dropped out of the race before Super Tuesday and threw their support behind the former vice president for the Democratic nomination.
Newsweek reached out to Biden and Sanders' campaign for comment.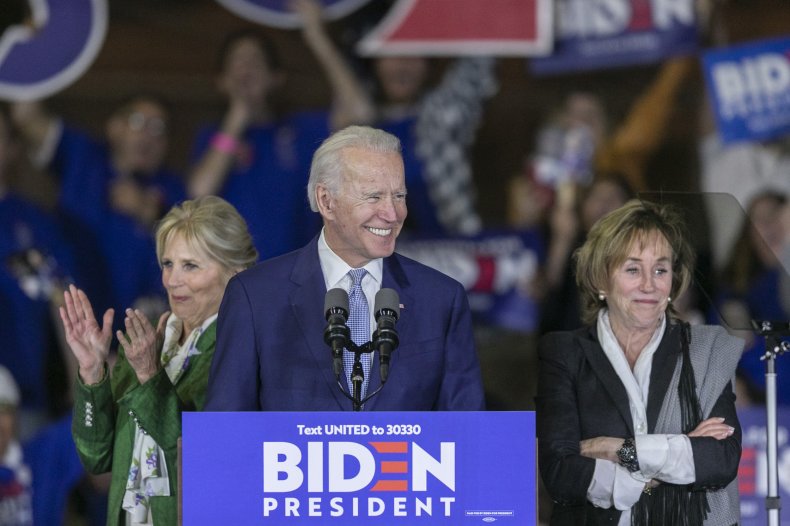 Biden's recent surge of momentum has also been helped by a strong showing among African Americans and working-class white voters across the United States. On Super Tuesday, the former vice president walked away with the most states and delegates, before winning Michigan a week later. Over the past month, since his South Carolina win, the Democratic establishment has coalesced around Biden, choosing him as the best candidate to go up against President Donald Trump in November.
Trump secured the Republican presidential nomination after winning more delegates in Illinois on Tuesday—an expected development in the race given his lack of GOP challengers.
Tuesday's election saw voters in Florida, Illinois and Arizona head to the polls. However, Ohio, another state that was scheduled to hold their elections today, shut their polls hours before voting began in an unprecedented move to stop the spread of the coronavirus, a novel virus that has threatened American life and rattled global economies.
The other states went through with voting, despite warnings from federal authorities to stay indoors as much as possible and not congregate in groups of 10 or more. Some locations reported issues at the polls. In Florida's Okaloosa County, roughly 24 poll staffers dropped out, leaving officials little time to find replacements. "We are at the honest end of the rope," Elections Supervisor Paul Lux said.
In recent days, Sanders has staged virtual rallies to avoid crowd gatherings amid the virus outbreak. The Vermont senator hosted a live broadcast on his social media platforms to announce his economic proposals to combat the spread of COVID-19 as voters headed to the polls this afternoon. One of his proposals was a monthly payment of $2,000 for every household until the pandemic ends to mitigate economic suffering.
"We need to provide a direct emergency $2,000 cash payment to every household in America every month for the duration of the crisis to provide them with the assistance they need to pay their bills and take care of their families," Sanders said.