Joe Biden Said 'You Gave Me Hell' to Elizabeth Warren, Shies Away From Attacking Her Before Democratic Debate
When then-Vice President Joe Biden swore Elizabeth Warren in to the Senate in 2013, he told her, "You gave me hell," referring to her opposition to a bankruptcy bill he supported as a senator in 2005 that ultimately passed. Warren laughed.
On September 12, Biden, the front-runner, and Warren, the only Democrat to make substantial gains in recent polls, will face off for the first time on a 2020 debate stage in Houston. It remains to be seen if and how hard they criticize each other on the three-hour, 10-candidate debate stage. But after a campaign event in South Carolina on Wednesday, Biden backed off taking hits on Warren.
"I'm just gonna be me. And she'll be her," Biden said. "Let people make their judgments. I have great respect for her."
He added: "I'm looking forward to getting to the place — assuming I'm still around — that it gets down to a smaller number of people so we can have more of a discussion instead of one-minute assertions."
Warren's campaign did not immediately respond to a request for comment from Newsweek on Thursday regarding the matchup, and declined to comment to Politico.
After a rally in April, however, Warren slammed Biden and touched on their past clashes.
"At a time when the biggest financial institutions in this country were trying to put the squeeze on millions of hardworking families who were in bankruptcy because of medical problems, job losses, divorce and death in the family, there was nobody to stand up for them," Warren said. "I got in that fight because they just didn't have anyone and Joe Biden was on the side of the credit card companies."
She concluded, "It's all a matter of public record."
Biden supported President Barack Obama when he appointed Warren as a presidential aide to start the Consumer Financial Protection Bureau.
But Warren has disagreed with Biden on other matters including when she was one of only a few senators in 2016 to vote against a health care bill with funds for a cancer "moonshot" initiative named after Biden's son who died of brain cancer the prior year.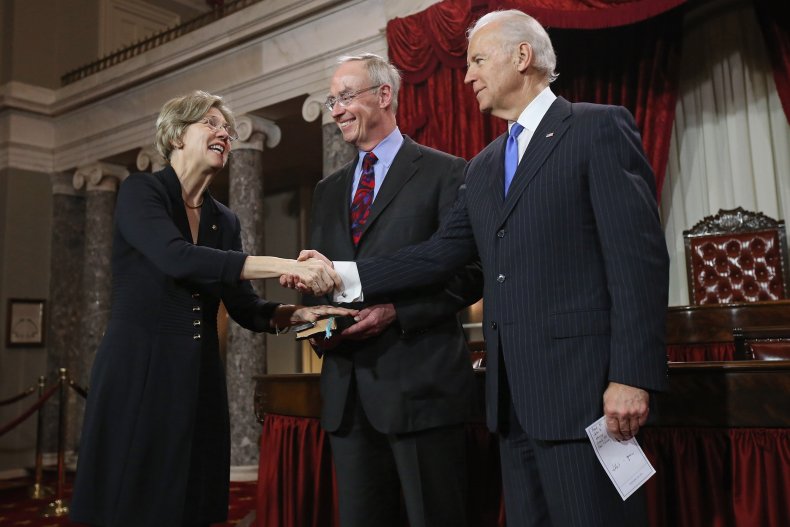 Biden's campaign did not immediately respond to a request for comment from Newsweek on his upcoming face off with Warren. Biden campaign spokesman Andrew Bates, like the former vice president, refrained from criticizing Warren in a comment to Politico.
"As Joe Biden said himself, he has deep respect for Elizabeth Warren," Bates said. "His campaign is not focused on running against any of the other candidates, but on making the case that he has an unparalleled record of delivering progressive change and that he is the best person to defeat Donald Trump and the atrocious values he represents."