Video of Joe Biden Saying 'End of Quote' Viewed Over 1 Million Times
A video edited to falsely imply President Joe Biden gaffed in his latest speech has been viewed over 1 million times on social media.
The 8-second clip came from a speech Biden' made yesterday on the economy during an event at the South Court Auditorium at Eisenhower Executive Office Building yesterday.
Political pundit Clay Travis posted the snippet to his Twitter alongside a reference to the Will Ferrell movie Anchorman: The Legend of Ron Burgundy.
The caption read: "Here's Joe Biden going full Ron Burgandy and reading "end of quote" off his teleprompter. He just keeps getting worse."
However, longer clips of this moment showed that President Biden was quoting the Walmart CEO Doug McMillon, not making a mistake with the teleprompter.
His full comment was: "By the way, you may have heard the CEO of Walmart yesterday on the steps we've taken.
"He said, and I quote, 'The combination of private enterprise and government working together has been really successful.
"He went on to say, 'All the way through the supply chain, there is a lot of innovation.' Because of the actions we've taken, things have begun to change. End of quote."
Journalist Robert Mackey addressed the comments from viewers who assumed President Biden had made an error.
He said: "Viral clip combines misleading video edit (cuts out Biden saying Walmart's CEO said, and I quote) with a tweet that makes zero sence.
"No one would write "end of quote" in a teleprompter as a stage direction. You have to say that *out loud* so people know where the quote ends."
He also addressed Travis on the issue in another tweet.
Mackey added: "The original video and transcript shows that Biden actually said "end of quote" a sentence later than he should have.
"But that's not mindlessly reading nonsense from the teleprompter, as Ron Burgundy did.
Travis wrote back: "Joe Biden is the king of mindlessly reading the prompter, bud.
"He has no idea what he's doing. He said "end quote" after his own sentence, not even the sentence he was trying to quote. It's embarrassing and farcical."
Newsweek has contacted the White House for comment.
Joe Biden ended his speech with a message of how proud he was to be president and reaffirmed his duty to the American people.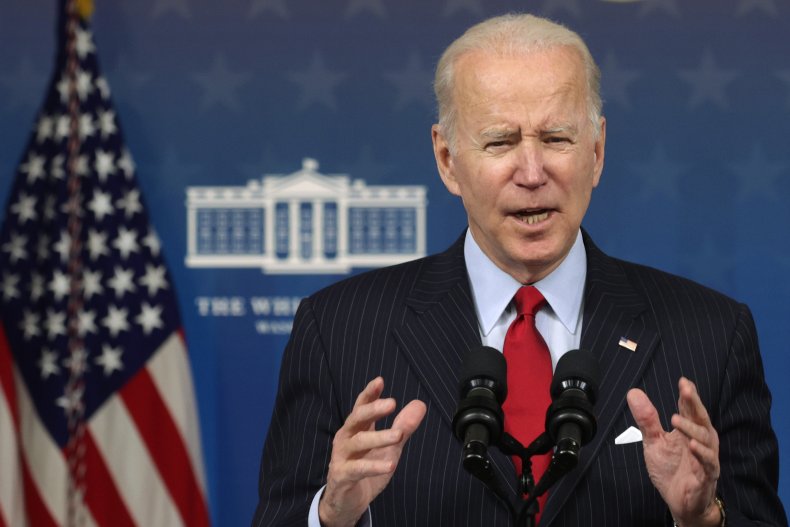 He said: "As you gather together with your family this Thanksgiving, I want you to know how grateful I am to serve as your president.
"And I promised you that I'll never stop working to address your family's needs and, together, we're going to confront challenges that we face and are going to face them honestly and that we'll keep building this economy around the hardworking folks who built this country.
"Happy Thanksgiving. And God bless you. And may God protect our troops.
"And I'm heading to a food kitchen to serve meals right now. Thank you for your time and effort. And I'll have plenty of time to talk to you later."