Joe Biden Endorsed by New Hampshire Newspaper That's Supported GOP Candidates for a Century
A prominent conservative New Hampshire newspaper made its first-ever endorsement of a Democratic presidential candidate in its more than 100-year history on Sunday, backing former Vice President Joe Biden over President Donald Trump.
The endorsement of Biden from the New Hampshire Union Leader came as President Donald Trump heads to the Eastern state on Sunday to rally supporters there. The newspaper, which was established after the merger of two Manchester papers in 1913, had previously only endorsed Republican presidential candidates until 2016, when it backed Libertarian presidential nominee Gary Johnson—the former GOP governor of New Mexico. The Union Leader is New Hampshire's largest newspaper and the only paper circulated statewide.
"Building this country up sits squarely within the skill set of Joseph Biden. We have found Mr. Biden to be a caring, compassionate and professional public servant. He has repeatedly expressed his desire to be a president for all of America, and we take him at his word. Joe Biden may not be the president we want, but in 2020 he is the president we desperately need. He will be a president to bring people together and right the ship of state," the Union Leader said in a Sunday editorial.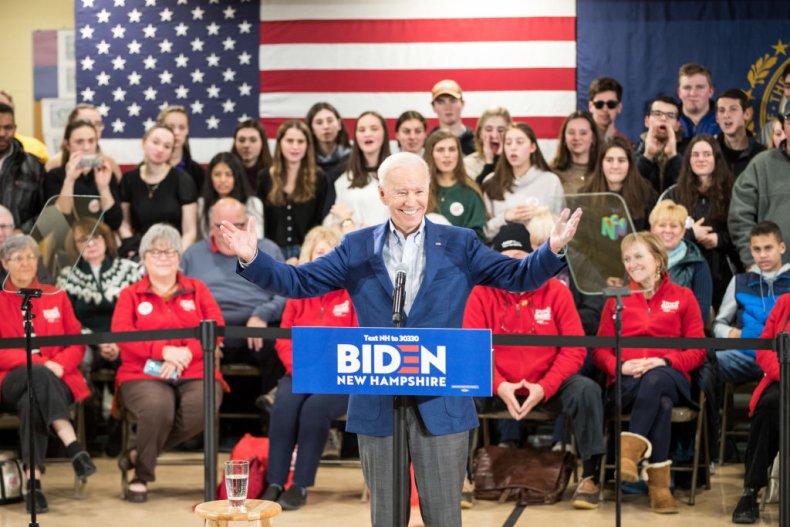 The New Hampshire paper criticized Trump, while also noting that it could "find much common ground with Trump supporters, including judicial appointments, tax policy, support for gun rights, even inroads to Middle East peace." However, the newspaper slammed Trump for allowing the national debt to explode "by more than 7 TRILLION dollars" and for having "weaponized" social media.
It took aim at his response to the COVID-19 pandemic as well. "We may be turning a corner with this virus, but the corner we turned is down a dark alley of record infections and deaths. Mr. Trump is a self-proclaimed expert on a wide variety of topics, but when pushed on basic topics he doesn't want to discuss, he very quickly feigns ignorance," the editorial said.
Although the paper endorsed Biden, it encouraged New Hampshire voters to back other Republican candidates, including incumbent GOP Governor Chris Sununu. "Our policy disagreements with Joe Biden are significant. Despite our endorsement of his candidacy, we expect to spend a significant portion of the next four years disagreeing with the Biden administration on our editorial pages," according to the editorial.
Newsweek reached out to the Trump and Biden campaigns for comment on the endorsement, but did not receive a response by the time of publication.
In a statement emailed to Newsweek about Trump's planned visit to the Eastern state, Biden said that New Hampshire families "deserve better" than the current president. "They deserve better than President Trump's attempts to divide our nation and distract us from the fact that he has no plan to protect us," the Democratic nominee said.
Trump narrowly lost New Hampshire to former Democratic presidential candidate Hillary Clinton in 2016. The president won 46.6 percent of the state's votes compared to 47 percent that went for Clinton. But three New Hampshire polls carried out in October show Biden with a wide double-digit lead over Trump.
A poll by the University of New Hampshire shows Biden ahead by 12 percentage points, with the support of 55 percent of the state's likely voters as opposed to just 43 percent who back the incumbent president. Polling by The Boston Globe/Suffolk University shows Biden leading by 10 percentage points, or 51 percent to 41 percent. And a survey by St. Anselm College in Manchester shows Biden with the backing of 53 percent of voters compared to just 41 percent supporting Trump—a 12-point margin in favor of the Democrat.