Gas Industry Group Warns Biden's Climate Pledge Means Higher Energy Prices
A group representing independent fossil fuel exploration and production companies has warned that new regulations proposed to curb methane emissions could cause job losses and "increase Americans' energy costs."
The comment by the American Exploration & Production Council (AXPC) which represents the country's major independent natural gas and oil exploration and production companies, followed President Joe Biden's declaration of war against the heat-trapping gas on Tuesday.
At the COP26 climate summit in Glasgow on Tuesday, Biden announced the Global Methane Pledge to cut international methane emissions by 30 percent from 2020 levels by the end of the decade.
He also outlined domestic policies to cut emissions of the gas across the U.S. Among the proposals in the Environmental Protection Agency (EPA) rule would be to plug methane gas leaks, more frequent leak monitoring, and the capture of natural gas found alongside oil.
Energy industry groups have largely reserved immediate judgement on the EPA proposals to curb methane which is 84 times more potent than carbon and so a critical target for combating climate change quickly.
However, AXPC CEO Anne Bradbury said: "The methane regulations proposed today by EPA will likely result in significant new costs associated with compliance.
"The new methane tax being proposed in the reconciliation bill, on top of the regulatory costs being imposed on our industry through compliance with EPA rules, would be an additional and punitive tax on industry," she said in a statement provided to Newsweek and other media.
While not mentioned in the EPA's proposal released Tuesday, a proposed methane tax is in the Democrats reconciliation infrastructure package.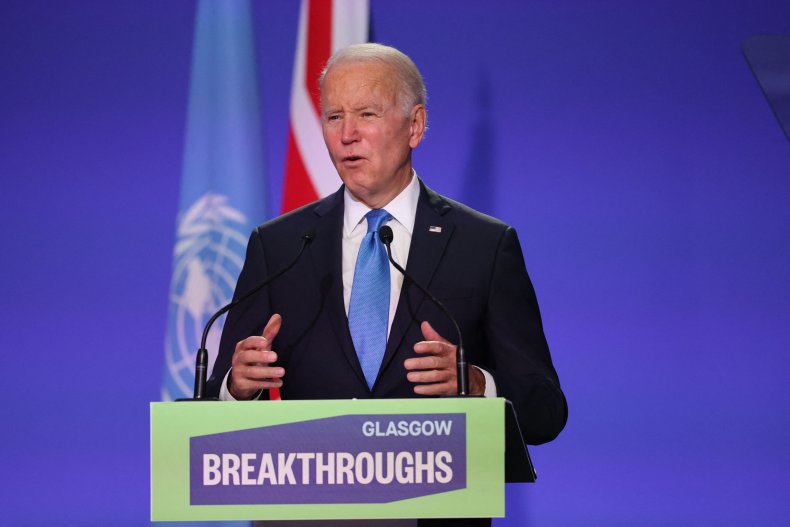 Energy industry groups have complained about the prospect of a fee being imposed on methane emissions from natural gas and petroleum production systems and related processes.
Earlier this year, the AXPC, along with the American Petroleum Institute (API) and the U.S. Chamber of Commerce flipped positions and backed the EPA imposing an expansion of direct regulation of methane to include infrastructure built before 2015.
But Bradbury said that reducing methane emissions should go through the EPA regulatory process, "rather than adding new, punitive taxes on the industry through a methane tax."
"This methane tax would disadvantage American producers and increase Americans' energy costs, cause 90,000 jobs lost across the country, and an additional $9 billion lost from our country's GDP," said Bradbury.
While the methane fees are in pending legislation and not part of the EPA, proposal, a spokesperson for the agency rejected claims its proposal would have a big impact on natural gas and oil prices for consumers.
Citing its Regulatory Impact Analysis (RIA), it said that from 2023 to 2035, any cost changes "would be small."
"In fact, the increased recovery of natural gas from leak prevention is valued at $690 million in 2030 alone. This product would otherwise go to waste," the EPA spokesperson told Newsweek in a statement.
Its proposal would build on the work of companies using the latest in cost-effective technology to reduce methane emissions, the agency said.
By 2030, the agency estimates that its measures would reduce methane emissions by 74 percent compared with 2005. They would also yield nearly $4.5 billion in net climate benefits a year, with total net benefits valued at up to $49 billion from 2023 to 2035.
"Overall, EPA's proposal would significantly reduce climate and health-harming emissions, with benefits that far outweigh the costs of compliance," the statement added.
API's senior vice president for policy, economics and regulatory affairs, Frank Macchiarola said in a statement that the EPA "has released a sweeping proposal, and we look forward to reviewing it in its entirety."
"We will continue working with the agency to help shape a final rule that is effective, feasible and designed to encourage further innovation," he added.
Christopher Guith, senior vice president at the U.S. Chamber of Commerce's Global Energy Institute backed direct regulation of methane and "increased voluntary reductions in a manner that allows for continued domestic energy production, technological innovation, and follows the appropriate process in the Clean Air Act."
Meanwhile, the Independent Petroleum Association of America (IPAA) said it was "encouraged" by its first look at the proposed regulations of the EPA, which has called for public feedback and plans to issue a final rule before the end of 2022.
IPAA CEO Barry Russell said the agency had "tried to be responsive to our concerns for improved cost-effective monitoring technology" for smaller producers which would face higher compliance costs, the Washington Examiner reported.