Joe Biden Event Interrupted by Climate Change Protest: 'My Generation Will Pay for the Corners That You Cut'
During a Claremont, New Hampshire campaign stop Friday, 2020 Democratic presidential candidate and former Vice President Joe Biden was confronted by a group of climate change protesters.
In footage captured by C-SPAN, Biden had been greeting Sullivan County supporters after a rally when a protester shouted, "My generation will pay for the corners that you cut, dude, don't forget."
Biden turned toward the protester but when they stopped shouting, he turned back toward the crowd of supporters. The same protester then shouted, "Listen to the kids."
When they received no response from Biden, the protester then began to chant, "2050 is too late," and was joined in voice by several others standing at the back of the room, all of them carrying signs emblazoned with similar environmental slogans.
Biden then made his way to the protesters. In the footage, he appears to be speaking with them, but his comments are not captured on audio.
"What?" the protester who led the chant asked, and approached Biden so they could speak. "Honestly, I don't understand why you believe that waiting so long is going to delay the inevitable," the protester said. Biden replied inaudibly. "Any scientist is going to say 2050 is too late," the protester said.
What the former vice president replied with is inaudible, but the protester seemed disappointed as Biden turned back toward the doorway and was escorted from the building, to another chorus of "2050 is too late."
The protesters' "2050 is too late" slogan referred to Biden's climate change plan, The Clean Energy Revolution, which aims to achieve an "100 percent clean energy economy" for America, with net-zero emissions, by 2050.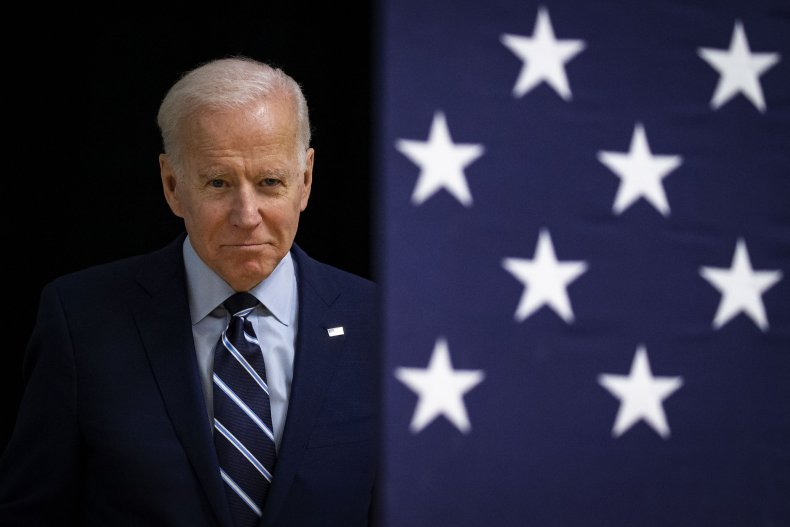 First unveiled in June 2019, the plan will cost $5 trillion to implement, and is broken down in $1.7 trillion chunks of federal spending across a ten-year period. It includes tax incentives for businesses who go green, new regulations against American pollution and tougher foreign policy when it comes to pollution on a global scale.
But environmental activists have said that it will take too long to put into place before global warming worsens, and some have said it's not tough enough on the fossil fuel industry.
Biden's Senate voting record on climate change was generally consistent. In 1986, he became one of the first politicians to introduce a climate change bill to the Senate, the Global Climate Protection Act of 1986. He supported a successful 2007 bill requiring increased fuel efficiency standards for cars and other motor vehicles, and supported a 2003 measure to cap greenhouse gas emissions. But he also missed voting on the Lieberman-Warner Climate Security Act, a climate change bill.
Biden's record and policies have earned him an 83 percent rating from The League of Conservation Voters.
As vice president, Biden supported many of the Obama administration's environment-protecting moves, including the Paris Agreement, several changes to fuel-economy rules which improved emission standards and stronger regulations on coal-fired power plants.
But President Barack Obama also oversaw the lifting of a crude oil export ban 40 years after its implementation, and licensed liquefied natural gas export terminals.
Biden's speech during the Claremont stop saw the candidate ruminate over the way the world will look after President Donald Trump's Senate impeachment trial concludes.
"The next president is going to inherit two things, especially after this impeachment trial. No matter how it goes, they will inherit a country divided and, two, a world in disarray," Biden said.
Biden went on to emphasize his experience, saying, "We will need a president who is ready on day one to command the world stage, lead our armed forces, be the commander in chief, rally our allies."