How Joe Biden's Executive Orders in First 100 Days Compare to Donald Trump's
President Joe Biden will soon mark his first 100 days in office. The Democrat was inaugurated on January 20 and had ambitious plans for his first few months on the job.
The first 100 days are an unofficial way to measure a new president's success in setting their agenda. Former President Donald Trump's 100 days ran from January 20 to April 30, 2017.
Both Biden and Trump issued a series of executive orders (EOs) during this period, which are recorded by the Federal Register.
Many of Trump's early EOs focused on national security but his first took aim at the Affordable Care Act (ACA), also known was Obamacare. That order reiterated a long-held Republican ambition to repeal ACA, though this was not achieved during Trump's time in office.
The EO authorized federal agencies and heads of executive departments to waive, defer or delay ACA requirements if they could impose a "fiscal burden" on a state or costs on individuals, families, patients, health care providers and others in the healthcare industry.
Trump's third EO focused on border security and committed to building a "physical wall" on the southern border, a key aspect of his 2016 presidential campaign. An order signed on January 30, 2017 sought to eliminate two regulations for every new regulation introduced, another long-standing Republican aim.
Many of Biden's EOs have unsurprisingly focused on tackling the COVID-19 pandemic, while others rolled back some of Trump's orders. His very first EO, issued on January 20, dealt with racial equality and sought to advance it through the federal government.
Biden's third EO, also signed on inauguration day, addressed the pandemic and appointed a COVID-19 Response Coordinator to organize the White House and federal government approach. That coordinator is Jeff Zients.
As part of the response to COVID, Biden also introduced a mask mandate for federal properties. That order also encouraged mask-wearing across the country. On April 9, Biden fulfilled a campaign pledge by issuing an EO establishing a commission to study possible reforms of the Supreme Court.
Below is a list of both sets of EOs that give a snapshot of the administration's differing agendas. EOs are often signed and published on different dates. This list uses the date the president signed the order and lists the EOs from earliest to most recent.
Joe Biden's Executive Orders
Advancing Racial Equity and Support for Underserved Communities Through the Federal Government
Ensuring a Lawful and Accurate Enumeration and Apportionment Pursuant to the Decennial Census
Organizing and Mobilizing the United States Government To Provide a Unified and Effective Response To Combat COVID-19 and To Provide United States Leadership on Global Health and Security
Preventing and Combating Discrimination on the Basis of Gender Identity or Sexual Orientation
Ethics Commitments by Executive Branch Personnel
Protecting Public Health and the Environment and Restoring Science To Tackle the Climate Crisis
Protecting the Federal Workforce and Requiring Mask-Wearing
Revocation of Certain Executive Orders Concerning Federal Regulation
Revision of Civil Immigration Enforcement Policies and Priorities
Ensuring a Data-Driven Response to COVID-19 and Future High-Consequence Public Health Threats
Ensuring an Equitable Pandemic Response and Recovery
Establishing the COVID-19 Pandemic Testing Board and Ensuring a Sustainable Public Health Workforce for COVID-19 and Other Biological Threats
Improving and Expanding Access to Care and Treatments for COVID-19
Promoting COVID-19 Safety in Domestic and International Travel
Protecting Worker Health and Safety
Supporting the Reopening and Continuing Operation of Schools and Early Childhood Education Providers
A Sustainable Public Health Supply Chain
Economic Relief Related to the COVID-19 Pandemic
Protecting the Federal Workforce
Enabling All Qualified Americans To Serve Their Country in Uniform
Ensuring the Future Is Made in All of America by All of America's Workers
Reforming Our Incarceration System To Eliminate the Use of Privately Operated Criminal Detention Facilities
President's Council of Advisors on Science and Technology
Tackling the Climate Crisis at Home and Abroad
Strengthening Medicaid and the Affordable Care Act
Creating a Comprehensive Regional Framework To Address the Causes of Migration, To Manage Migration Throughout North and Central America, and To Provide Safe and Orderly Processing of Asylum Seekers at the United States Border
Establishment of Interagency Task Force on the Reunification of Families
Restoring Faith in Our Legal Immigration Systems and Strengthening Integration and Inclusion Efforts for New Americans
Rebuilding and Enhancing Programs To Resettle Refugees and Planning for the Impact of Climate Change on Migration
Blocking Property With Respect to the Situation in Burma
Establishment of the White House Office of Faith- Based and Neighborhood Partnerships
Revocation of Executive Order 13801 (Trump EO on expanding apprenticeships)
America's Supply Chains
Revocation of Certain Presidential Actions
Promoting Access to Voting
Establishment of the White House Gender Policy Council
Guaranteeing an Educational Environment Free From Discrimination on the Basis of Sex, Including Sexual Orientation or Gender Identity
Termination of Emergency With Respect to the International Criminal Court
Establishment of the Presidential Commission on the Supreme Court of the United States
Blocking Property With Respect To Specified Harmful Foreign Activities of the Government of the Russian Federation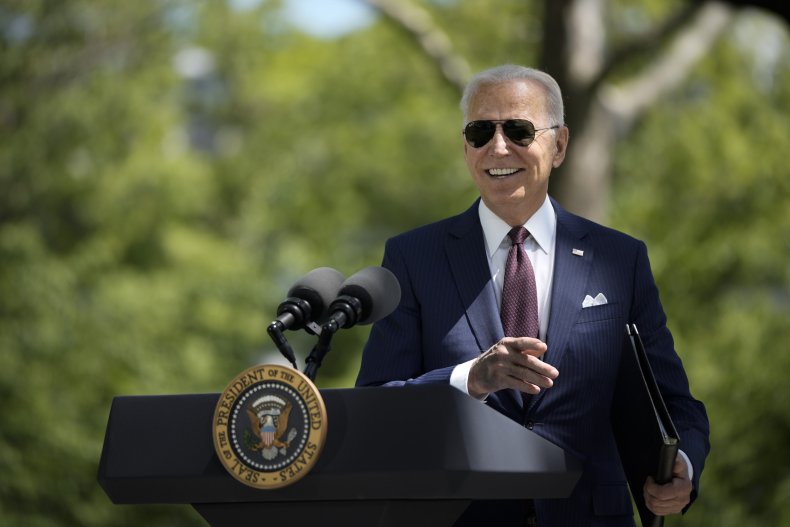 Donald Trump's Executive Orders (January 20 to April 30, 2017)
Minimizing the Economic Burden of the Patient Protection and Affordable Care Act Pending Repeal
Expediting Environmental Reviews and Approvals for High Priority Infrastructure Projects
Border Security and Immigration Enforcement Improvements
Enhancing Public Safety in the Interior of the United States
Protecting the Nation From Foreign Terrorist Entry Into the United States
Ethics Commitments by Executive Branch Appointees
Reducing Regulation and Controlling Regulatory Costs
Core Principles for Regulating the United States Financial System
Enforcing Federal Law With Respect to Transnational Criminal Organizations and Preventing International Trafficking
Preventing Violence Against Federal, State, Tribal, and Local Law Enforcement Officers
Providing an Order of Succession Within the Department of Justice (February 9)
Task Force on Crime Reduction and Public Safety
Enforcing the Regulatory Reform Agenda
Restoring the Rule of Law, Federalism, and Economic Growth by Reviewing the ''Waters of the United States'' Rule
White House Initiative To Promote Excellence and Innovation at Historically Black Colleges and Universities
Protecting the Nation From Foreign Terrorist Entry Into the United States
Comprehensive Plan for Reorganizing the Executive Branch
Revocation of Federal Contracting Executive Orders
Promoting Energy Independence and Economic Growth
Establishing the President's Commission on Combating Drug Addiction and the Opioid Crisis
Establishing Enhanced Collection and Enforcement of Antidumping and Countervailing Duties and Violations of Trade and Customs Laws
Omnibus Report on Significant Trade Deficits
Providing an Order of Succession Within the Department of Justice (March 31)
Buy American and Hire American
Identifying and Reducing Tax Regulatory Burdens
Promoting Agriculture and Rural Prosperity in America
Enforcing Statutory Prohibitions on Federal Control of Education
Review of Designations Under the Antiquities Act
Improving Accountability and Whistleblower Protection at the Department of Veterans Affairs
Establishment of the American Technology Council
Implementing an America-First Offshore Energy Strategy
Addressing Trade Agreement Violations and Abuses
Establishment of Office of Trade and Manufacturing Policy
Trump went on to issue a number of other EOs over the the four years of his term and it's likely Biden will do the same. Biden set a modern record for executive actions in his first week, but this included EOs and other measures.