Joe Biden Faces Criticism for Saying Undocumented Immigrants Should Have to 'Learn to Speak English' in Order to Gain Citizenship
Former Vice President and 2020 Democratic presidential candidate Joe Biden is facing scrutiny after suggesting undocumented immigrants should have to learn English in order to become U.S. citizens during a campaign stop in Iowa.
In video shared to Twitter by Trump campaign Deputy Director of Communications Zach Parkinson, Biden can be seen telling supporters about his plan to create a "pathway for citizenship for the 11 million undocumented" in the U.S.
However, Biden states, "like every other person who's come here, they have to pass, they have to learn how to speak English, they have to demonstrate they pay their taxes...But it's a pathway."
Biden's 2020 immigration platform does not outline any requirement for undocumented immigrants to learn to speak English to access a pathway to citizenship.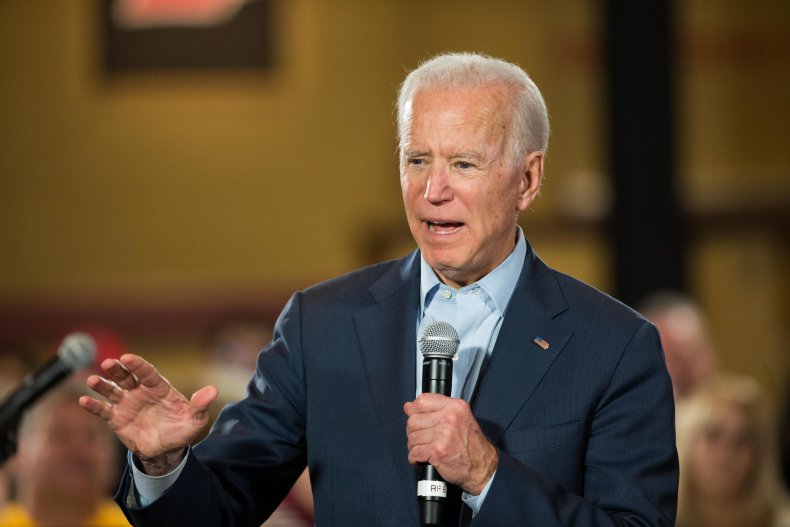 Instead, the Democratic hopeful's plan to "modernize America's immigration system" states that Biden will "aggressively advocate for legislation that creates a clear roadmap to legal status and citizenship for unauthorized immigrants who register, are up-to-date on their taxes, and have passed a background check."
While it does say that those in need of English language education support would be able to access it, it does not say that learning English would be a requirement to access a pathway to citizenship.
Undocumented immigrants, Biden's plan states, "are our mothers, fathers, brothers, and sisters. They are our neighbors, co-workers, and members of our congregations and Little League teams."
They also "contribute in countless ways to our communities, workforce, and economy," Biden's platform states, noting that the IRS collected $23.6 billion from 4.4 million workers without Social Security numbers in 2015, with many of those workers being undocumented.
Despite an optimistic platform for the future of citizenship for undocumented immigrants, Biden's comments on Sunday attracted criticism on Twitter from Juan Escalante, a prominent immigration rights advocate who is also undocumented.
"My parents have worked over the past 19 years, paid their taxes, and given back to their community. They're in their late 50's and are integral to the fabric of Florida," Escalante said.
"You're going to deny them citizenship over a language requirement should they come out of the shadows?" he questioned.
Newsweek has contacted the Biden and Trump campaigns for comment for this article.
In a statement sent to Politico journalist Alex Thompson, a Biden campaign official noted that "the verbal portion of the naturalization exam is administered in English (except for in very select cases) and our plan offers English language education support."
While that may be the case for naturalization, progressive groups like the Indivisible Guide, which is made up of former congressional staffers, have said that "emphasizing English as a prerequisite is an outdated idea that all of our candidates should be beyond."
Meanwhile, other critics have pointed out that the U.S. does not have an official language, raising questions as to why English would be required for undocumented immigrants already living in the country.
While Biden's platform does not outline any language requirement for undocumented immigrants hoping to become citizens, this is not the first time that the Democrat has faced scrutiny over his own beliefs on whether undocumented immigrants should have to learn English in order to gain citizenship.
In 2006, Biden also faced questioning after he suggested that undocumented immigrants should have to "earn their way into the deal" in part by learning to "speak English."
"The Democratic position also recognizes you've got 11 million aliens... illegal aliens here," Biden told MSNBC host Chris Matthews in a 2006 interview, which the "GOP War Room" resurfaced in YouTube in May. "They have to have a way to earn their way into the deal. This isn't amnesty. They're required to take 11 years work. They've gotta pay a fine. They've got to learn to speak English. They've got to pass testing... "
After Matthews suggested that the U.S. would have "problems like Canada" if it encouraged "people to keep their foreign language," Biden responded that he could not "think of a country that has two languages as their accepted languages that is doing all that well, including Switzerland and Canada."